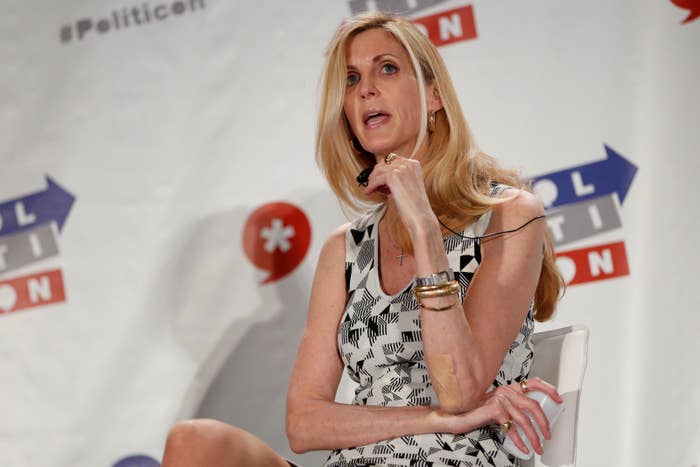 WASHINGTON — Ann Coulter downplayed Donald Trump's shift on immigration on Wednesday night, saying there had not been a real reversal.
Coulter, who has been one of Trump's biggest defenders and whose book Adios America! may have inspired some of Trump's immigration policies, told reporters at a party for her new book In Trump We Trust at Breitbart News' house in Washington that there had not been a change in Trump's position.
Trump on Wednesday signaled openness to allowing some immigrants in the country illegally to stay, in an interview with Sean Hannity — a significant policy break.
"It's not a reversal, there's no change," Coulter said. "I'm annoyed with the rhetoric. I'm annoyed enough with what he actually did without the media being hysterical about things he didn't do."
"He speaks in broad strokes," Coulter said. "Listen to Stephen Miller. He has the policy. He's the brains of the operation." Miller is a top policy adviser to Trump who used to work for Sen. Jeff Sessions, a Trump endorser who has been one of the most vocal immigration hawks in the Senate.
Coulter said earlier this week that it was a "mistake" for Trump to talk about "softening" his immigration stances, and that "It sounds like it's coming from consultants."
In Coulter's new book, she writes that "There's nothing Trump can do that won't be forgiven. Except change his immigration policies."
Later on Thursday night, after the book party, Coulter tweeted several times critically about Trump: "Well, if it's 'hard,' then nevermind. Trump: '... to take a person who's been here for 15 or 20 years ....It's a very, very hard thing.'"
Coulter's party took place at Breitbart's "embassy," a Capitol Hill house the site has used as an office and base of operations for years. Breitbart's chairman Steve Bannon recently became the Trump campaign's CEO.
Breitbart's political editor Matt Boyle gave the introductory speech for Coulter ahead of the book signing.
Other prominent immigration hawks who support Trump were in attendance, such as blogger Mickey Kaus, who told BuzzFeed News that "It seems to me like dialing back on detentions is a reasonable thing to do. It's not a crucial part of his message. There are other parts of his message that are crucial. But if you're going to do it, do it quickly and neatly and get it done with. I don't understand why they're dragging it out unless they have some strategy I can't figure out."
"He has a very strong anti-illegal immigration message whether or not he deports everybody immediately or just enforces the immigration laws strictly and builds the law and puts in place e-verify and does it all before any amnesty, that's a very strong package, I'm for him doing that," Kaus said, adding that deportations are a "secondary issue" to preventing future illegal immigration.
Kaus said Trump is "still head and shoulders better than Hillary on this issue," but that "I just think this one particular issue he's not handling as well as he should."