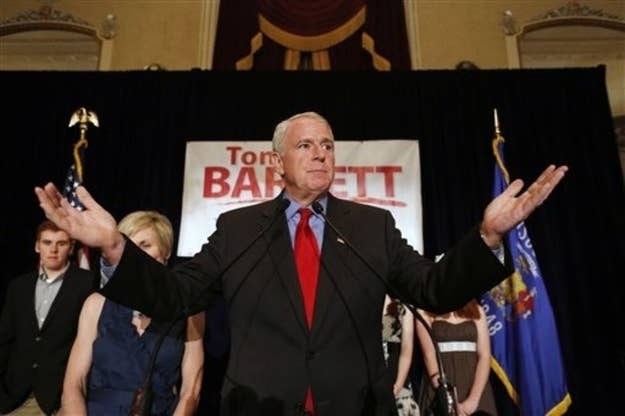 MILWAUKEE, Wisc. — For nearly two hours on Tuesday, Mayor Tom Barrett's election night party in Milwaukee took place in an alternate universe. Close to 9 p.m., voters were still at the polls. Governor Scott Walker was declared the victor. But Barrett staffers, panicked by the major networks calling the election for Walker, sent out surrogates to pre-empt the news.
"In the city of Milwaukee, people are still voting," said State Senator Jon Erpenbach said from the podium at a Hilton Hotel ballroom in downtown Milwaukee, to robust cheers. "Let's wait till all the votes are in."
Democratic Party of Wisconsin chairman Mike Tate followed Erpenbach: "We are not going to let the media corporations decide this election." Another huge round of applause.
But as the returns showed an undeniable Walker victory, reality set in — and the Democrats had to decide how to sell a loss that was a year and a half, millions of dollars, thousands of volunteers, and one remarkably rough campaign in the making. The message they chose: we were outspent, we regret nothing, and we keep fighting. Though most Democrats involved with the recall effort here say publicly that they don't resent the lack of outside support, the subtext is clear: where was President Obama and the national Democratic party?
The president tweeted his support of Barrett the day before the election, and his campaign sent out a fundraising email to supporters in Wisconsin that day as well. All of that happened in the last 24 hours before election day, and the president (and Democratic National Committee) have drawn criticism for not throwing their hat into the ring to the same extent as the Republicans.
Asked if Obama could have done more, Rev. Jesse Jackson, who stayed for nearly the entirety of the Barrett party and did multiple TV interviews, said "I can't answer that."
"I love the president, I'm one of his campaign co-chairs, but he's not from Wisconsin," former senator Russ Feingold said when asked the same question. "This is a Wisconsin fight."
Tom Barrett said earlier on Tuesday that "we're very pleased with the support that we've received," and Democrats involved with the recall rarely publicly stray from that message.
"We don't regret anything that we've done here," said Tate in a press availability following Barrett's concession speech.
"I'm very pleased with the effort the national party put in here," said Tate. "I know the president sent out an email and tweeted, and Debbie Wasserman Shultz, besides coming out here, was making get-out-the-vote phone calls for us today."
But emails, tweets, and phone calls don't stack up to a multi-million dollar cash advantage, as was proven tonight.
While supporters celebrated at Walker's rally in the GOP stronghold of Waukesha, Barrett fans, confused and anxious, waited for over two hours before the mayor finally came out and made his concession speech.
"I'm a train wreck," said Kymberlee Rosen, a mother of two from Fox Point.
When Barrett took the stage, supporters' cheers turned to boos when he said the words they had been dreading: he had called Walker to congratulate him on his victory.
"It's not over!" many yelled, drowning Barrett out. "Count the votes!"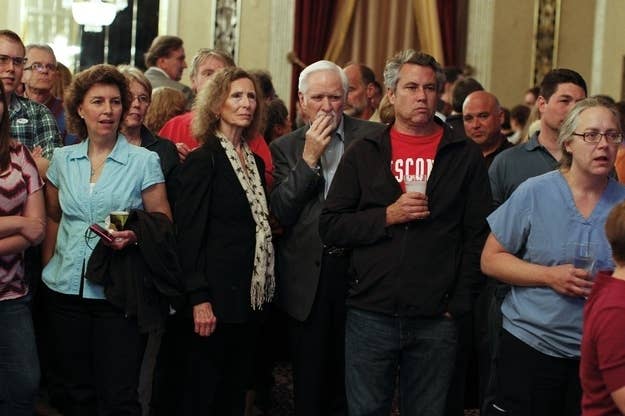 The crowd was so disgruntled, in fact, that one woman slapped Barrett in the face as he left the stage for the last time.
Almost immediately, the Barrett side of the recall needed someone to blame. But supporters say they don't blame the Barrett campaign or the state party. Their fingers are squarely pointed at the rich conservatives who funded Walker's campaign — and at President Obama.
"I worked hard for Obama," said Patty, a special-education teacher from Chicago who has been coming to Wisconsin since last year to volunteer with the recall. She didn't want her last name used.
"I was furious that he didn't come to Milwaukee," Patty said. "And I said, I wasn't going to work for him anymore."
"I'm sure he didn't come because he didn't want to be embarrassed," she said.
The Obama campaign participated in the recall just enough that it, too, had to deliver its own spin at the end of the night. Senior adviser David Axelrod tweeted "Bad night in Boston...WI raises big questions for Mitt." And the campaign sent out a statement saying "While tonight's outcome was not what we had hoped for – no one can dispute the strong message sent to Governor Walker."
Their response echoed labor's message; the AFL-CIO wrote on Twitter that "Win or lose, Scott Walker has joined ignominious company in suffering the humiliation of a recall election. 3rd ever."
Though exit polls in Wisconsin proved encouraging for Obama, the outcome of the marquee recall fight provided ample opportunity for Republican leaders to tout the Wisconsin outcome as bad news for the president.
"Tonight we sent a strong message to @BarackObama- see you in November," Republican National Committee chairman Reince Priebus, who campaigned hard for Walker and had the national Republican Party involved from nearly the beginning. Priebus also described Barrett's loss as "an absolute disaster for President Obama" in an email blast.
National implications aside, Barrett's election night party was a reminder that this race started local, and has retained its intensely personal, local aspect throughout. After Barrett's speech was over, as attendees filed out of the ballroom, the candidate lingered just outside talking to old friends and acquaintances (asked if he would chat with this reporter, Barrett declined: "I'm just being a normal person tonight. I'll talk tomorrow."). A young woman in a union t-shirt approached him, close to tears.
"Everything is great, everything is great," Barrett told her. "We tried."