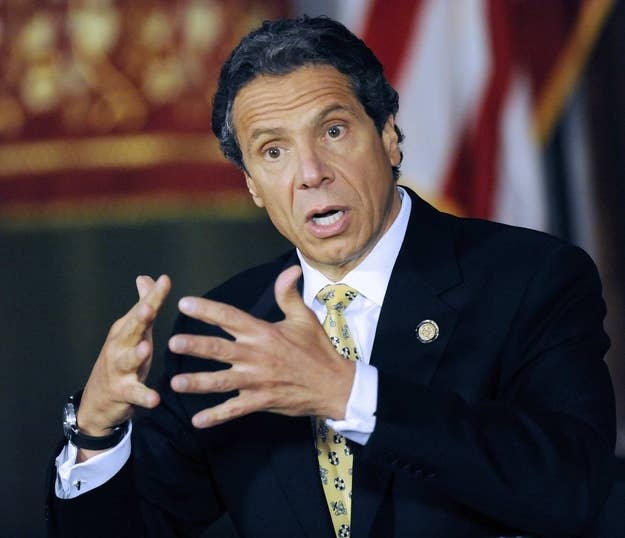 CHARLOTTE, N.C. — New York Governor Andrew Cuomo gave a spirited and unusually partisan (for him) speech to the New York delegation at a breakfast Thursday morning, criticizing national Republican policies and sounding like a candidate more than a sitting governor.
Cuomo began by praising a litany of New York political figures, then transitioned a few minutes into the speech into attacking Republicans — rare for a governor who usually avoids partisan attacks and has made compromise with Republicans in the state legislature a focus of his term.
"Last week I admit I was peeking at the Republican convention," Cuomo said. "I found it amusing, actually. It was theater. That's why the actors were so at home there."
"And watching that made my day, to tell you the truth," Cuomo said, referring to Clint Eastwood's now-infamous appearance.
Cuomo joined a host of other prominent Democrats in using the choice of Paul Ryan as Mitt Romney's running mate as a device for criticizing Republican politics more broadly.
"First they say, well, we have economic troubles," Cuomo said, his voice dripping with sarcasm. "Thank you for that startling revelation. I wouldn't have known if you didn't have a big party that we had economic issues."
"The Ryan budget is a paint-by-numbers picture of the America they want to bring to us," Cuomo said.
"President Barack Obama says almost the exact opposite," Cuomo said. "Philosophically he is saying almost the exact opposite."
Cuomo touted New York's successes while tying them to Obama: "We know the president is right. We know he can do these things, because we are doing these things in New York."
Cuomo spoke for nearly 20 minutes, finishing with a round of exhortations that had the crowd on its feet, cheering, using a "Do you believe" refrain similar to what Bill Clinton used on Wednesday night of the convention.
And Cuomo, who has generally cut a deliberately moderate figure, echoed the populist tone of other convention speakers, asking the audience, "Do you believe that the sweetest success is shared success?"
Cuomo is only attending one day of the Democratic National Convention. He is widely thought to be a contender for the Democratic nomination for president in 2016, though he hasn't said that he plans to run. Senator Chuck Schumer wouldn't speculate about Cuomo's plans after repeated questions from reporters today, and Cuomo himself left without taking questions.