An Off-Kilter Chuck Hagel Fumbles On Iran
The Secretary of Defense nominee struggles with explanations of his past and present stances on Iran.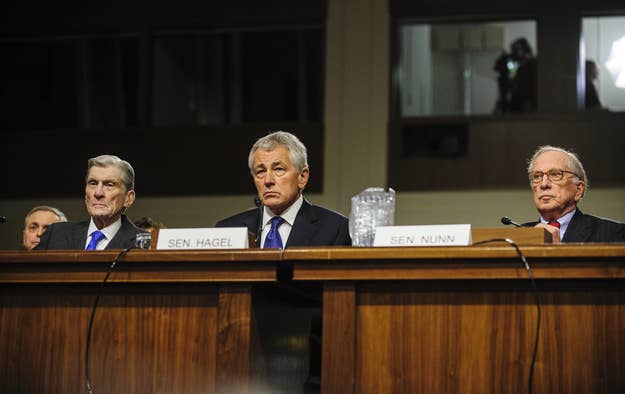 Secretary of Defense nominee Chuck Hagel repeatedly struggled with questions about perhaps the single most important policy decision he will play a role in, the U.S. relationship with Iran, during his confirmation hearing on Capitol Hill Thursday morning.
Hagel said at one point that he supports "containment" — typically meant to mean accepting a nuclear-armed Iran — and calling Iran's government "elected and legitimate."
In a response to a question about preventing Iran from getting a nuclear weapon, Hagel referred to "containment" — a Cold War-style tactic that is contrary to President Obama's stated favored policy of prevention. Hagel was then passed a note, looked at it, and took back his "containment" statement, saying that the administration was against that. It was a slip, as Hagel had said previously in the hearing that his position was "the same as president's, one of prevention and not of containment," but one that made Hagel seem slightly confused.
Hagel also referred to Iran's government — dominated by unelected clerics and whose elected arm also operates under the shadow of a deeply contested election widely viewed as neither free or fair — in unusually positive terms:
The comment was widely and instantly panned on Twitter, though Hagel was basically just making the point that Iran's government is considered legitimate by many of American allies "whether we like it or not."
He argued that the administration's "red line" against Iran "should not be debated in the public domain," saying that it would be smarter to keep such information closer to the vest — an argument unlikely to play well among Senate Armed Services Committee members.
As for his positions on unilateral sanctions — he was against them before he was for them — Hagel has seemed unwilling to really justify his former stances, just arguing that his previous votes were during a different atmosphere.
Throughout the hearing, Hagel has seemed slightly off-kilter, barely getting a word in during former friend John McCain's tough questioning over Hagel's positions on the Iraq surge and getting stumped on questions about Afghanistan troop levels and other policy issues.