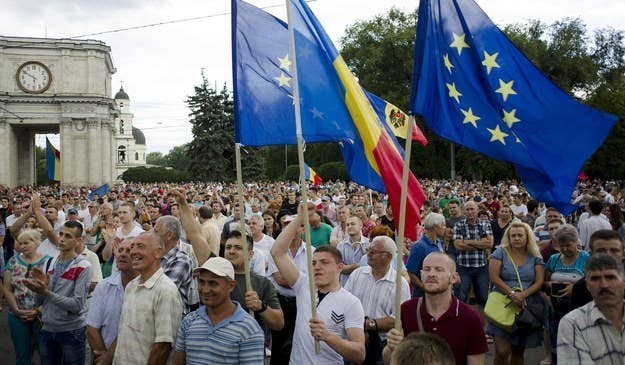 WASHINGTON — An American consultant working for a pro-Western politician in Moldova has been harassed by a rival pro-Russian politician to the point of having to leave the country, she told BuzzFeed News.
Molly McKew, a consultant who owns the firm Fianna Strategies, told BuzzFeed News this week that she has left Moldova because Renato Usatii, a pro-Russian mayor, has made videos suggesting that she is a murderer, published her passport information on his website, and stalked her in public.
McKew has been doing consulting and communications work since May of last year for Vlad Filat, the former prime minister of Moldova, a small country sandwiched between Ukraine and Romania. McKew has also represented Mikheil Saakashvili, the former Georgian president who presided over a military conflict with Russia in 2008. Filat, who was ousted as prime minister in 2013 following a no-confidence vote, is the leader of one of the leading pro-European parties in Moldova. Russia has a strong influence in Moldova, particularly in the breakaway section of Transnistria, which considers itself separate from Moldova and is de facto controlled by Russia.
McKew says she sees Usatii's apparent campaign against her as a political move against her client and his allies.
Usatii confirmed this to BuzzFeed News in a phone call on Wednesday. "Target number one is not Molly McKew but Vlad Filat," he said. He said he was calling from Moscow.

"I should say that Molly McKew is not the enemy of Renato Usatii, but the problem is, maybe you heard, about the story of one billion euro disappeared from Moldovan banks," Usatii said. The disappearance of one billion euros from Moldova's banking system last year has led to political turmoil and mass protests this fall. Usatii believes that Filat is paying McKew with money stolen from the banking system, and that this "is already a big crime from my point of view."
Usatii opposes the idea of Moldova joining the European Union, and audio surfaced before Moldova's legislative elections last November that purported to show Usatii admitting that he works for the Russian Federal Security Service (FSB). Usatii, who became rich from a contract with Russian Railways, until recently run by Putin ally Vladimir Yakunin, fled Moldova last year and went to Russia after the party he founded was disqualified from running in those elections because of allegedly violating campaign finance regulations. He returned six months later and was elected mayor of Balti, a city in Moldova's north, as the leader of a new party, Partidul Nostru ("Our Party"). Usatii denied being connected to the FSB and told BuzzFeed News, "it was a tale just to demonstrate to Moldovan people that Renato Usatii is very dangerous for Moldovan government and for European way of Moldova."
"Do I care that the FSB is willing to ruin my life to remove me from the equation in Moldova? Sure, I care about that, it really upsets me," McKew said. "But that's not the point. If they're willing to put this much attention and that many resources into taking me off the board, you can be sure that they're planning something serious to destabilize Moldova to remove the pro-European government, to force Moldova back into the sphere of influence of the post-Soviet Russian world."
McKew said the trouble started on Sept. 18 when Usatii released a video accusing her of entering and staying in Moldova illegally, of being under investigation in Romania, of having been paid with stolen money, and of having killed someone in Odessa, Ukraine, where Saakashvili is now the governor. Usatii also published McKew's immigration documents and a copy of her passport on his website and his Facebook page. He also published her firm's publicly available documents in the Department of Justice's Foreign Agent Registration Act database that show the meetings she has arranged between Filat and journalists, staffers, and officials in the U.S. "I declare that I have provided all the documents — this is only a small part of all that can permanently put an end to the political career of Filat and bring him to jail — where he belongs," Usatii wrote on his website.
Usatii declined to tell BuzzFeed News how he had obtained McKew's passport and immigration information, saying "I'm not ready to give you the names of the person who gave me all this."
Usatii told reporters last month that he had even raised the issue of McKew to the U.S. ambassador, and that the ambassador told him that she was a private citizen with no connection to the embassy.
It didn't stop there. McKew estimated that she's been mentioned in between 5 and 10 videos and two public speeches by Usatii. Then last week, after McKew had left the Chisinau café where she often works when in Moldova, Usatii showed up to ask where she was, the café's staff told her. Usatii denied this to BuzzFeed News, saying "no, believe me, I don't have time even to speak to my mother."
McKew is not based in Moldova but has spent considerable periods of time there in order to have face time with her client Filat.
"I'm fairly low profile," McKew said. "I don't do anything public in Moldova. I'm there a lot because Filat asked me to be. I've been in Chisinau more than I would be local for other clients."
Now, she's left the country after being "warned by individuals in the prosecutor's office that I should leave if I didn't want problems," she said. She said she is unsure of whether this will affect her ability to continue working for Filat, but that she hopes to continue her work with him.
The moves against McKew, and by extension Filat, come at a time of turmoil in Moldova, which has been roiled by protests since the beginning of September. Protesters are calling for the current pro-European president, Nicolae Timofti, and other high-ranking officials to resign and railing against corruption in the political system after $1 billion disappeared from the country's banking system last year. Tent camps have been set up in Chisinau and a reported 10,000 people protested on Sunday. Filat has been one of the targets of the protests, as his family members have been accused of taking part in the bank fraud. His brother-in-law and nephew had previously been detained for a month on suspicion of having participated in the fraud by obtaining a fraudulent loan worth 2.8 million euros. (McKew described this as politically motivated: "The only active investigation in the entire country about this case is against Filat and his family for some supposed 2 million euro loan from a bank to one of the companies that his brother-in-law owned. If you're talking about a billion dollars and the only thing you're looking at is a 2 million euro loan, it just doesn't make any sense.")
The protests, and accompanying loss of public trust in the pro-European government, present an opportunity for pro-Russian forces in Moldova like Usatii.
"His haunting of Molly is just one detail of Usatii's Moscow-appointed task to slander Moldova's last remaining competent pro-Western leader, Vlad Filat," said Vladimir Socor, an analyst at the Jamestown Foundation. "In this task, Usatii is allied with Moldova's richest businessman, Vlad Plahotniuc, who is Filat's nemesis. Usatii's anti-Molly — and implicitly anti-Filat — accusations would be laughed out of the court of public opinion in any Western country. But Moldova is none such."
"The productive way to approach this matter is to focus on Russia's political project via Usatii," Socor said.
McKew said that she had discussed Usatii's attacks with the U.S. embassy in Moldova, which she says advised her that "it's probably better if you're out because you know what it's like here."
"I understand that — I don't know what would happen and I don't want to find out," McKew said.
In an interview with BuzzFeed News, Usatii said he had more documents related to McKew and that he had only "demonstrated 30-40% of the evidences [sic] I have at this moment" but declined to say what kinds of documents he has, saying he is "not ready to speak about this now."
"I wish best regards to Molly McKew and the better way to discuss, if I meet Molly McKew and I explain everything to her personally, it's not a problem," Usatii said. "If Molly McKew is not guilty, why is she left Moldova?"