American Families Crushed By Russian Adoption Ban
Americans in the process of adopting from Russian orphanages grieve over a ban that looks likely to be made into law. "It has really slammed the brakes on everything right now."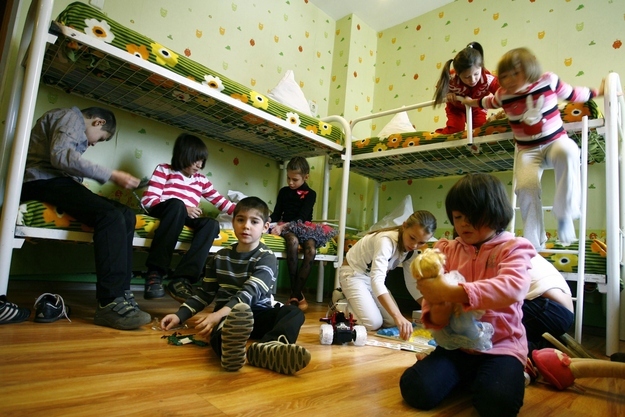 Bill and Val Deutsch yesterday completed the first major step in their process of adopting two orphans from Russia: they finished the 80 hours of training mandated by the Russian government and had their "home study" approved.
But the Virginia couple had their plans crushed by Vladimir Putin's announcement on Thursday that he plans to sign a bill that passed the Duma that will ban U.S. adoptions of Russian children — even ones that are currently in process or have been approved, as is the case with 46 adoptions. The clear subtext for the bill is retaliation for the Magnitsky Law that recently passed the U.S. Senate, which will bar any Russian nationals involved in human rights abuses from entering the United States.
The political tit-for-tat has real-world emotional consequences for the families and orphans involved, and has left parents hoping to adopt from Russia bewildered.
"It has really slammed the brakes on everything right now," said Deutsch, a fiscal security professional whose four biological children are mostly grown. "We are absolutely in a holding pattern. If Putin signs the bill into law, from everything I've seen this pretty much slams the brakes on all of it."
Deutsch worries about the fate of the older boy he and his wife were planning to adopt, who is 13 and will age out of Russia's orphanage system at 16.
"What tends to happen to older kids who age out, they end up in a precarious situation," he said. "We're talking about a little boy who has grown up in an orphanage."
Other parents have taken to blogs to express their dismay at the ban.
"It's hard not to take it personally, but after this many years, this much effort and the same disappointment...you eventually take wind of the hints you had seen all along but refused to acknowledge," one prospective mother, Elaine Vandiver of Washington state, wrote on her blog.
"I now exclusively follow only Russian government officials on Twitter," she wrote. "I have even acquired Russian word recognition." She and her husband had recently begun the adoption process.
"The day we had our court hearing to make the adoption official was the day this entire mess hit the papers in Russia," wrote Karissa and Luke Cruse on their adoption blog. "At the time it seemed that because our adoption was technically official and we were congratulated on being parents, that we would not be affected."
"Day by day it has come closer to reality and it seems that the goal is to prevent even one more child from leaving the country," they wrote.
The State Department is advising families currently trying to adopt from Russia to seek information on their adoption.state.gov website.
"We will seek to provide information directly to families that contact our office through email as it becomes available," the department says.
The National Council for Adoption is circulating an online petition that consists of a letter by 21-year-old Alexander D'Jamoos, a university student in the U.S. who was adopted from Russia at age 15 and has physical deformities in his limbs.
"These orphaned children, to whom I feel a very strong connection, are victims of an incentive-based, cruel political retaliation," D'Jamoos writes.
NCFA spokeswoman Lauren Koch described the adoption ban as "very, very sad" and accused the Russian government of being "willing to deny these children the most basic human right of all – a loving, permanent family."
Putin, for his part, has been dismissive of concerns about the bill.
"There are probably many places in the world where living standards are better than ours," he said on Thursday. "So what? Shall we send all children there, or move there ourselves?"
For the Deutsches, who wanted to "open up our home to some kids and give them a fighting chance," Bill Deutsch said, it's a setback with greater consequences than that.
"We were kind of looking at what the next stage of our life might be here," Deutsch said.