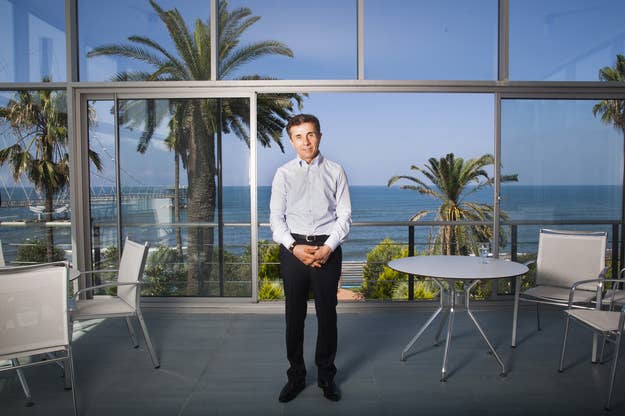 WASHINGTON — Allies of the Georgian Prime Minister Bidzina Ivanishvili will hold a roundtable at the U.S. Capitol this month days before presidential elections that will end the term of pro-Western President Mikheil Saakashvili.
The event is one of the first signs of Georgian efforts to curry favor in D.C. since it began scaling back its lobbying efforts after Ivanishvili's Georgian Dream coalition swept parliamentary elections last year against Saakashvili's United National Movement. Former Georgian government minister David Tarkhan-Mouravi, journalist Irma Inashvili, and activist Mirian Karaulashvili will be featured, along with at least one member of Congress.
The Friedlander Group, a New York-based communications and lobbying firm, set up the event which will take place on October 23, four days before the election. The Friedlander Group isn't registered with the Department of Justice to lobby for any Georgian entities, nor is it registered to lobby Congress on behalf of any Georgian entities under the Lobbying Disclosure Act.
"I don't lobby for this prime minister," said Ezra Friedlander, CEO of the Friedlander Group and a prominent political consultant and fixer in New York's Jewish community. "I'm putting together an event that will highlight the situation with human rights in Georgia. I'm not even getting paid for this to be honest."
Friedlander said he had been asked to set up the event by a friend in Israel, whom he declined to identify.
"A friend of mine called me from Israel to tell me that a group of human rights activists in Georgia will come to Washington and he asked me to put together an event as a favor to him," Friedlander said.
"I've known him for 20 years. He actually used to be a Jewish refusenik," Friedlander said, using the term for Soviet Jews who were prevented from emigrating abroad during the Cold War. "He's not a political guy at all."
"I don't think it's a political thing," Friedlander said. "There's a lot of human rights abuses all over eastern Europe."
Saakashvili is due to step down following the elections, forbidden by the constitution from seeking another term. Several of his allies have been arrested following his party's loss of power, prompting the U.S. to express concern that the investigations are politically motivated. The government of Ivanishvili, a billionaire who mainly built his fortune in Russia, has called those targeted "criminals."
Friedlander said "I have no contract" with the Georgians. "I know these laws. If I needed to I would register, and I've done that in the past and I'm very careful."
A spokesperson for the Department of Justice did not immediately return a request for comment.
According to the event's invite, the roundtable will be cosponsored by Rep. John Shimkus and Rep. Adam Schiff.
Asked about his involvement with the roundtable on Tuesday, Schiff's spokesperson asked BuzzFeed if the invite had listed him as a co-sponsor or as an attendee and later said the congressman would no longer be attending.
"Congressman Schiff was listed as a co-sponsor as a result of staff error and we've asked to be removed – he is not planning on attending," said Schiff spokesperson Patrick Boland.
Asked about the change of heart, Boland said: "Our office were under the impression that the request came from the Embassy of Georgia."
A spokesperson for Rep. Shimkus said he still planned to attend the event. "The Congressman's involvement is they asked him to participate through his work through the Baltic Caucus," said Shimkus spokesperson Steven Tomaszewski. Georgia is not in the Baltics.
Asked who "they" were, Tomaszewski said: "I don't know who 'they' is. We were reached out to, though."
The Georgians scheduled for the Capitol event appear to be close Ivanishvili allies. Tarkhan-Mouravi is described in the invite as a "friend to and instrumental figure in the election of current Georgian Prime Minister Bidzina Ivanishvili." Irma Inashvili, a journalist, is an "ardent opponent of Saakashvili's regime," according to the Georgia Times. Inashvili was behind the release of footage of abuse at Gldani prison that came out in Georgian media ahead of last year's parliamentary election and stoked anger among Georgians against Saakashvili. Inashvili and Tarkhan-Mouravi sued to expedite Saakashvili's exit from office in January. Mirian Kauralashvili, the third attendee, is an activist who has appeared multiple times on Inashvili's Obieqtivi news outlet's broadcast and is cited along with Tarkhan-Mouravi in a USAID-funded report by a Georgian NGO listing examples of hate speech in Georgian media. In an appearance on Obieqtivi, Kauralashvili decried the building of a mosque in the city of Batumi: "This means that everything Christian ends here, the influence of the Orthodox Christianity is exhausted and Batumi becomes the absolute outpost of the Muslim religion, the aggressive branch of this religion."
Also on Obieqtivi, Tarkhan-Mouravi suggested in a derogatory way that gay marriage was a centerpiece of Saakashvili's National Movement, according to the NGO's report. "When a man marries a man...a woman has a woman as a husband, and if you don't like this leading ideology, they label you as a homophobic," she was quoted in the report was saying.
A Georgian government spokesperson said that the event wasn't organized by the government or by the embassy in Washington, and that "Friedlander Group is not hired by the government or any ministry or government institution."
The full invitation (identifying and contact details have been removed):
Dear ;

We have previously sent you an invitation to this event. Please note that the date and location has change due to scheduling conflicts.

The Friedlander Group would like to cordially invite you, in your capacity as [ ] to participate at a round-table discussion luncheon in the United States Capitol, on October 23, 2013, 4-5pm in the U.S. Capitol Visitors Center, HVC-200 Conference Room, where we will discuss the current affairs in the nation of Georgia and how humanitarian concerns are being addressed and combated.

The event will be cosponsored by Representative John Shimkus and Representative Adam Schiff.

The small reception will follow the discussion from 5-6pm.

This event will bring together many prominent figures of the United States-Georgia Relationship, a bond that in recent years has been reaffirmed by both past and current presidential administrations. As a country in transition, Georgia deserves our utmost attention and support, and we will hope you will take this opportunity to learn more about a nation making huge strides in social justice that we as Americans place such high value in.

We are pleased to welcome to this event several Georgians who are prominent figures in their country and outspoken activists in support of the human rights of their people. Among them: David Tarkhan-Mouravi, former minister in several past Georgian governments and a friend to and instrumental figure in the election of current Georgian Prime Minister Bidzina Ivanishvili; Irma Inashvili, Director General of Obieqtivi Journalists Union; and finally Mirian Karaulashvili, a prominent Georgian Human Rights Activist who has recently directed his efforts towards freeing political prisoners held over from past regimes. In addition to welcoming several prominent guests, we will be screening the documentary: "Georgia: Beacon of Democracy?"

We hope this event will bring to light the efforts of many Georgians to address the humanitarian concerns and human rights abuses that have plagued their country in the past as they strive to promote social justice, equality, free media, and democratic values in the nation they call home. Attending this event will allow members of the United States Congress and their staff to meet with and form bonds with these Georgians who will be instrumental in allowing Georgia to realize its potential as a "beacon of democracy".

Please let us know soon if you are able to attend what promises to be an exciting afternoon to promote an exceptional and important step forward for the future of global transparency and justice.

For further information please do not hesitate to contact me at (212) XXX-XXXX x XXX or at xxx@xxxxxx.com.

Sincerely,

Ezra Friedlander
CEO
The Friedlander Group