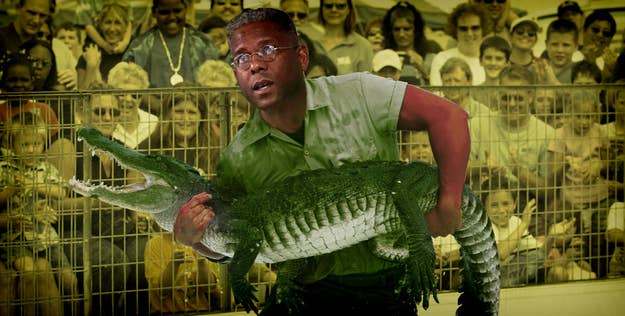 WEST PALM BEACH, Fla. — Palm City, Florida's Fall Fest is like any other small county fair in America, but like most things around here, a bit weirder. A minihorse named Rosalind roamed the swampy field where the event was being held under clear, cruelly hot skies. There was a psychic tent. A group of men had brought their old-fashioned, refurbished muscle cars onto the mud and popped the hoods, showing off the engines to other middle-aged men. A troupe of little girls sang Cee-Lo Green's pop hit "Fuck You," changing it to "forget you," from a makeshift stage.
Into this mix strode Allen West, the area's congressman, wearing a U.S. House of Representatives polo shirt tucked into a pair of jeans. His biceps bulged out of his short sleeves. He was accompanied only by his wife and his campaign manager, Tim Edson, a Virginia native complaining of the heat. West's mini-entourage emerged onto the scene without warning — no one apart from the friendly old ladies giving out bumper stickers in his campaign tent knew he was coming — but people flocked to him anyway.
West made a short, almost entirely football-focused speech to the crowd, and walked around shaking hands, lingering longer than most politicians on a campaign schedule would.
"I'm not going to sit at home and eat popcorn," he remarked to BuzzFeed. The remark came across as more intimidating than friendly.
West, 51, served in the Army for 22 years, taking tours in Iraq and Afghanistan and attaining the rank of lieutenant colonel. He never ascended higher because he shot a pistol next to the head of an Iraqi prisoner during an interrogation session, an act for which West was relieved of his command and nearly court-martialed. West moved his family to Florida, where he launched an unsuccessful bid for Congress in 2008.
2010 was West's year. He rode the Tea Party wave along with dozens of other inexperienced conservatives looking to block the president at every turn. And he quickly became the most visible freshman in the House, appearing on Fox News constantly, and supplying a steady stream of outrageous statements to feed the political media and liberal blogosphere.
West has accused the 80-odd members of the House Progressive Caucus of being Communists; he has called Barack Obama a "low-level socialist agitator"; said that Nazi propagandist Joseph Goebbels would be "proud" of the Democratic Party today; and called Obama supporters a "threat to the gene pool." West utters these statements with absolute conviction, his back always ramrod straight, and he never apologizes. There are too many moments to count, and they've made West a reviled figure among Democrats and a hero, much more so than nearly any other tea partier, on the conservative right.
The Florida freshman is enough of a hero, indeed, that West — once viewed as the softest of Republican targets, a fleck of Tea Party flotsam that would recede with the tide — is now the frontrunner against a well-financed Democratic opponent named Patrick Murphy, a 29-year-old construction executive from a powerful family in Florida. Murphy is well-spoken, good-looking, and is running on a pro-business Democratic platform (he would choose $1 million/year as the cutoff for extending the Bush tax cuts, for example). But he's behind by nine points in the latest survey from the Democratic firm Public Policy Polling, done in conjunction with local news station WPTV. (A poll done by Sunshine State News showed West with a much smaller lead of one point.) Despite pulling in more than $2.5 million by the end of July, Murphy can't compete with the fundraising machine that is Allen West, who has raised more than $10 million.
And as with anything West is involved in, this campaign is all about Allen West. And the bet that Democrats have made — that that very fact would be his downfall — doesn't appear to be working out.
After finishing his tour of the Palm City Fall Fest, West announced that he was hungry for funnel cake. He reappeared later that afternoon at a tea party rally in Vero Beach, about 45 minutes up the road in Indian River County, home of some of the best citrus fruit in the country.
About a thousand people turned up to sit on lawn chairs they toted out to the shadeless fairgrounds to watch the same tea party speakers who seem to appear at every event like this on what has become a kind of circuit — Tony Katz, a Los Angeles-based conservative activist who smokes cigars onstage, Deneen Borelli, FreedomWorks' director of minority outreach — as well as Connie Mack, the Republicans' struggling Senate candidate, and Bill Posey, the congressman for that district best known as the first Congressman to introduce legislation requiring birth certificates from presidential candidates. But it rather seemed that everyone was there to see Allen West.
Caroline Smith of neighboring Ft. Pierce sat to the side, wearing a star of David around her neck and an Allen West t-shirt and holding an Israeli flag. Her long-distance boyfriend, Jake Barnes of Green Bay, Wisconsin, was in town visiting.
"I think we need men with balls in Congress," Barnes said by way of praising West. "We need a resurgence of men with spines." Both Barnes and Smith said West's military background was important to them, and his support of Israel was most important for Smith.
Peter and June Page, 46 years married, of Vero Beach, attended the rally with a couple American flag lawn chairs. June, who had a sunhat and a sprightly manner, made sure that BuzzFeed took a picture of her pocketbook, to which she had duct-taped a bumper sticker that read "2012: End of an ERROR."
Though the Pages don't live in West's district, they contribute to his campaign (as is the case with many donors across the country, something Democrats have tried to turn into a line of attack).
Peter likes West for his "valiant effort to return the country to the 10 commandments, Judeo-Christian ethics, and the principles of the founding fathers," he said. Peter works for the government as a Homeland Security forensic dentist.
Asked what they thought of West's controversial quotes, like calling House Democrats "communists," both June and Peter agreed: perfectly great.
"They are Marxists," June said brightly. "And the proof of it is that Obama is proud that he supports socialism."
"What would be good for you as a reporter would be to look up the definitions of communism, socialism, and Marxism," Peter added.
June: "They're all related."
Peter: "It's just a matter of degree."
Back to West: "I think it's outrageously absurd for him not to have been promoted to full colonel," Peter said, referring to the pistol incident. The problem: "Your generation is going to be faced with the push of sharia."
In other words, West isn't playing to a tough crowd.
He took the stage to massive applause, thanking Posey, who introduced him, and quickly launching a broadside on his opponent, Murphy.
"He's a person who referred to you as extremists," West said. He pointed out that it was the same word that Secretary of State Hillary Clinton used to describe the people who attacked the American Embassy.
"You are not terrorists," West said. It's the kind of rhetorical leap he takes often, but with such total self-confidence that you can't blame people for nodding along.
In the same speech, West said that the actual unemployment rate was closer to 14.7 percent, not the 7.8 percent recently tabulated by the Bureau of Labor Statistics. He threatened America's enemies abroad with "the Angel of Death disguised as the American bald eagle," a line that debuted on his Facebook page after the Benghazi attacks but which really came to life with a full-throated delivery onstage. He boasted about Rush Limbaugh being one of his constituents.
"I know you're tired," he said near the end. "I know you're hot —"
"Keep going!" someone in the audience yelled.
West wrapped up his speech and exited to the rope line, where he was surrounded by adoring supporters.
West's bombast isn't just a personality trait. Whether or not it's accidental, it's a tactic that boosts his fundraising, as his opponent Murphy pointed out to reporters after their televised debate on October 19: "The vast majority of his fundraising comes after these divisive remarks," Murphy said.
As a somewhat surprising result, West's team welcomes the national media that comes for what would, in any other candidate, be gaffes. His spokeswoman pointed BuzzFeed to the Palm City fair even though West's appearance there hadn't been publicly listed, and provided specific directions for getting credentialed for the debate. By contrast, Murphy's spokeswoman tried to prevent BuzzFeed from coming to the debate by claiming, falsely, that press wasn't allowed in, and was generally evasive about Murphy's campaign schedule for the weekend.
With the West campaign's guidance, BuzzFeed was admitted to the debate, which took place in a chilly TV studio in West Palm Beach. Outside, a handful of protesters from a group called Stand Up Florida waved signs that said "Allen West! Your! Fired!" and "Allen West is a Carpetbagger!" (He's originally from Georgia.)
"I don't feel like he's really for the people," said one protester, Linda McSpadden, of West Palm Beach. "He's categorized a lot of people."
West's outspoken style "just makes it worse," McSpadden said. Meanwhile, an anti-West debate watching party was being held at the restaurant of Scott Van Duzer, the pizzeria owner who became famous for bear-hugging the president (Van Duzer explained by phone that he wasn't available to talk at the moment, but to look for him at the presidential debate Monday in Boca Raton, to which he's been invited by the White House).
Inside, the candidates sat around a table with three reporters from WPTV, the local NBC affiliate. Fireworks were kept at a minimum during the debate, which focused on jobs, the economy, and West's controversial statements.
"When we talk about the history of progressivism, I think it's real easy to talk about Marxism, socialism, and communism," West said in a neutral tone, echoing his supporters, the Pages. "I'm not going to be afraid of people just because they get upset."
Meanwhile, Roxana Trinko was barely able to contain herself in the studio ("He's a coward!" she whispered loudly during one of Murphy's responses). Roxana, 53, and her husband, Bill, are ardent West supporters from Boca Raton. They'd gotten tickets in to see the debate, for which there was room for only 30 people. Roxana wore tall patent leather heels and a gold anklet, while Bill sported an alligator vest made from the hide of two alligators he had killed with a stick in the Everglades.
"We hunt them ourselves," Roxana explained. "We're the Boca Raton hillbillies. I own a business, he's a retired firefighter, I've got the fingernails going on, and we go out in the Everglades and we hunt them and we kill them with permits from the state." Bill showed BuzzFeed a series of pictures of dead alligators on his iPhone.
Roxana hates Murphy's lack of pizazz above all.
"All he wants to do is blend in," she said. "It's not making a difference. It's not standing out. It's not a candidate who gives any hope or change, to coin the whole Barack Obama campaign."
After the debate, Murphy and West spoke to reporters briefly.
"Congressman West was interrupting me continually," Murphy said. He said that he'd tried to shake West's hand on the way in and had been rebuffed. "I'm tired of the bickering in this country.
Murphy wouldn't say outright that West tries to be controversial just to be covered by the media, but did say there was a "correlation" between the two: "Last I heard he's on Fox News more than any other member of Congress, and he's a freshman."
He's well aware that West has much higher name recognition, not only in the district but all over the place.
"Well, sometimes name I.D. is good and sometimes name I.D. is bad," Murphy said, smiling wanly.
West breezed out the door. A local TV reporter asked him whether the candiates should apologize to each other for the series of negative ads each has been running. One, from a Democratic super PAC mostly financed by Murphy's father, depicts West punching women. The anti-West ad also depicts him with a gold tooth, leading some of his suporters to charge that "it was a racist thing," as a campaign volunteer named Pauline Becker told BuzzFeed in Palm City.
West's hardest campaign punch is an ad that uses Murphy's mugshot taken after a bar fight when he was 19. West told BuzzFeed he had qualms using the mugshot of a college freshman. "I had 18, 19 year olds who were with me in Kandahar, Afghanistan."
"I'm the kind of guy that's not going to say something that I don't mean," West said. "What is there for me to apologize for?"
Asked about Murphy's suggestion that West is in it for the headlines, West looked dismissive.
"I'm not looking for headlines but I think I should be able to speak my mind," he said. "But if you guys want to write about it, that's on you."