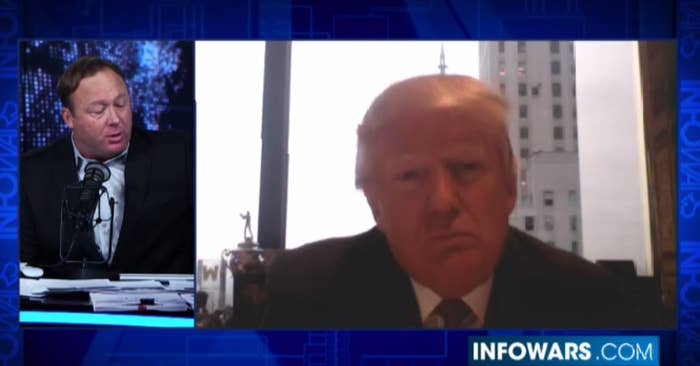 WASHINGTON — Republican front-runner Donald Trump appeared on conspiracy theorist Alex Jones' show on Wednesday in a lengthy display of mutual appreciation.
Appearing on a blurry video connection, Trump talked to Jones about Trump's false claims about Muslims in New Jersey cheering 9/11, Hillary Clinton, and Trump's book, among other topics.

Jones told Trump he had been "vindicated" in his claims.
"I know it happened and I held my line and people wanted me to apologize and I can't do that," Trump told Jones. "People like you and I, we can't do that so easily."
Discussing Clinton with Jones, Trump said he didn't think she should be allowed to run for president because "she's so corrupt."
At one point, Jones trepidatiously brought up the fact that Trump has had contact with the Clintons, though he assured Trump that he doesn't believe Trump is some kind of stalking horse for the Clintons.
"There are certain pundits out there saying you've played golf with Bill Clinton," Jones said. "Promise us that you're not gonna drop out at the key moment, keeping all the other Republicans out of view, and then Hillary races to the head or Jeb Bush does, because as you know folks are claiming you're a Clinton operative."

Going on Infowars is an unusual move for a frontrunner. Though fringier candidates like Ron Paul have gone on the show (and his son Rand did so shortly after winning his Senate seat in Kentucky), Jones' conspiracy theories are simply too out there for mainstream candidates to risk being associated with. Jones believes 9/11 was an inside job, and that the Sandy Hook shooting and Boston Marathon bombing were false flags, among other theories. But on Wednesday, Trump showed absolutely no compunctions about doing the show and heaped praise upon Jones at certain points.

Aside from the line of question on Trump being a Clinton operative, Jones made it clear that he's a fan of Trump's, and said that his 13-year-old son had gotten him to become an even bigger fan.

"I get it," Jones told Trump at one point during the interview. "You are a true maverick." Jones said he estimates that 90 percent of his audience are Trump supporters — an estimate, by the way, that is key to understanding why Trump would do this interview in the first place.
Trump reciprocated.
"Your reputation's amazing," Trump said. "I will not let you down."
In the interview, Trump praised former adviser and longtime GOP political operative Roger Stone, calling him "so loyal and so wonderful." Trump said Stone had been the one who wanted him to do this interview, prompting speculation that Stone might be back on Trump's team. Stone left the Trump campaign in August; he said at the time that he left of his own volition, while the Trump team maintained he had been fired.
Reached by phone, Stone told BuzzFeed News he still "has no formal or informal role with his campaign" but said he remains a strong supporter of Trump's and talks to him from time to time.
Stone confirmed that he had recommended Trump to do the show.
"I recommended it most definitely, because I was in Texas on my own book tour, I was on the Alex Jones show and I thought it went very well, he was very sympathetic to Trump, I recommended a Trump interview with him, end of story," he said.
A spokesperson for Trump didn't respond to an inquiry about what Trump thinks of Jones' advocacy for conspiracy theories such as 9/11 truth.