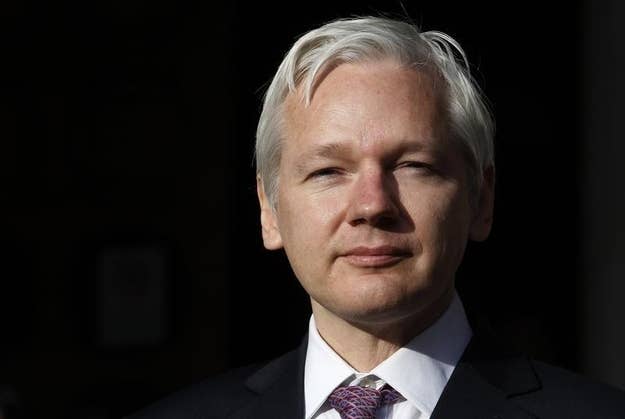 WASHINGTON — Al Jazeera offered WikiLeaks money in exchange for access to the diplomatic cables that WikiLeaks amassed in 2010, according to the accounts of Julian Assange's former ghostwriter and of a former WikiLeaks employee.
In "Ghosted," a story by Andrew O'Hagan in the London Review of Books about his experience ghostwriting an autobiography of Assange that was never published, he alleges that Al Jazeera offered Assange $1.3 million in exchange for WikiLeaks data.
"That night, a guy from al-Jazeera was talking to the group," O'Hagan wrote of a night in January 2011. "The group was usually just Sarah, who lived there, and Joseph Farrell, a pleasant twenty-something whizz kid who came and went. Another guy, an activist and academic from Canberra University, was drinking wine and talking about how to mobilise the world. It turned out that the guy from al-Jazeera was hoping to strike a deal with WikiLeaks – that's to say, with Julian. He was offering $1.3 million to get access (via encryption keys) to the data. He also wanted to organise a conference in Qatar on press freedom."
According to James Ball, a former WikiLeaks employee, another meeting with Al Jazeera executives took place in December 2010 in the office of Mark Stephens, then Assange's lawyer. Ball and WikiLeaks spokesman Kristinn Hrafnsson represented Assange's side, while two high-level Al Jazeera employees, one described as the "third-in-charge" and one introduced as the head of investigations, represented Al Jazeera, according to Ball.
"It was a strange and uneasy meeting: we'd read in the cables a lot on political interference with Al Jazeera at the high levels, and Kristinn and I had talks wondering whether it was Al Jazeera or Qatar trying to get the cables," Ball said. "Julian was, however, very keen to close a deal and get some revenue."
"Kristinn and I were trying to suggest a journalistic collaboration which gave Al Jazeera only limited access to cables. They were adamant they needed direct access to the cables. This could, of course, have been for reasons of editorial independence," Ball said.
According to Ball, the Al Jazeera executives offered to fly the pair to Doha and "make us comfortable." They offered other things too: "I remember a remark along the lines of noting the women there were very lovely, and very friendly," Ball said.
At the end, one of the executives asked the men, "What would it take to make you happy?" Ball said.
Al Jazeera commonly pays for hotel accommodations and other travel expenses for "guests," Al Jazeera spokesman Osama Saeed told BuzzFeed in December. The network paid expenses for Yasser Arafat's widow Suha Arafat during the process of reporting their controversial story citing a contested Swiss report that said Arafat was killed by polonium poisoning.
"I've asked some colleagues but no one knows about this," Saeed said Monday when asked about O'Hagan's and Ball's accounts. "If you let me know who this alleged individual was, I can certainly find out more for you. As it stands, this was years ago, we've got hundreds of reporters, and multiple channels. It is strange that there are all these alleged details but no one has a name."
Hrafnsson said that Al Jazeera and WikiLeaks were planning on collaborating on a series of news programs.
"We expanded our media collaboration to broadcast in the Iraq War Log
release. In co-operation with The Bureau of Investigative Journalism
(TBIJ) news programs where produced, based on the war logs, for Channel 4
and Al-Jazeera (English and Arabic)," said Hrafnsson. "The meetings you are referring to where an exploration into creating a series of news programs for Al-Jazeera as part of Cablegate. I believe we discussed 10 half-hour programs."
Hrafnsson said the $1.3 million number cited by O'Hagan "does not seem far off, considering the scope of the production," but said he could not confirm the amount and said that the deal was not signed. "This did not materialize and I believe it would be a fair description to say we never entered into formal negotiations."