AIPAC Mobilizing Members To Pressure Democrats To Attend Netanyahu Speech
An email obtained by BuzzFeed News shows the group asking members to directly appeal to congresspeople who have not publicly said whether or not they will attend the Israeli prime minister's speech to Congress.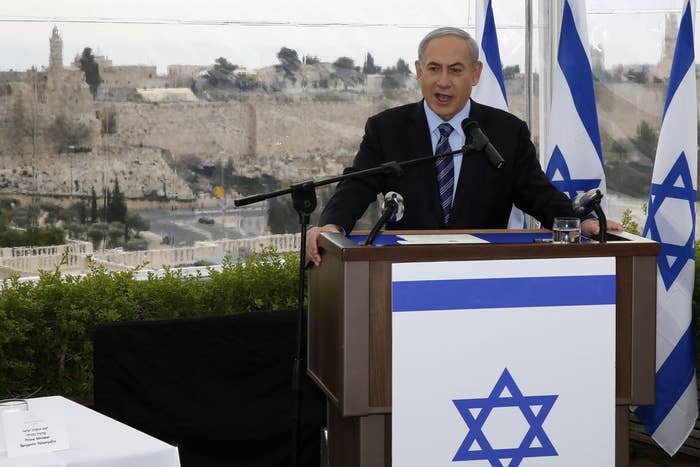 WASHINGTON — The American Israel Public Affairs Committee (AIPAC) is asking its members to urge members of Congress to attend Israeli Prime Minister Benjamin Netanyahu's controversial speech in Washington next week.
A message from board member Jeffrey Snyder was sent to AIPAC activists Thursday morning in an email obtained by BuzzFeed News. It calls on them to contact the offices of two Democratic members — Reps. Chris Van Hollen and Gerry Connolly — who have not publicly said whether they will attend Netanyahu's speech. More than two dozen Democratic members of Congress have said that they will not attend Netanyahu's planned speech about the Iranian nuclear program to a joint session of Congress next week, an event which has led to a severe upset in relations between the Israeli government and the Obama administration.
The email, which appears to have been sent to activists in the DC metro area from AIPAC activist Harvey Hanerfeld, says, in all caps: "IT IS IMPERATIVE THAT THE PRO-ISRAEL COMMUNITY COMMUNICATE TO THESE MEMBERS HOW IMPORTANT IT IS FOR THEM TO ATTEND TUESDAY'S SPEECH BY THE PRIME MINISTER."
AIPAC has said publicly that it wants all members of Congress to attend the speech, though the powerful lobby was not informed of the speech before it was announced by House Speaker John Boehner's office. Boehner issued the invitation to Netanyahu.
The group plans to hold its annual policy conference starting this weekend, where Netanyahu will also speak. The conference has been particularly fraught as the tension between the administration and the Israelis has grown. The administration, after floating the idea of not sending any officials to AIPAC as a response to the speech, said Thursday that it would send Samantha Power, U.S. Ambassador to the U.N., and National Security Adviser Susan Rice, who said in a television interview on Wednesday night that Netanyahu's decision to carry through with the speech is "destructive" to the U.S.-Israel relationship.
The move to pressure Democrats to attend the speech could lead to some accusations of partisanship; AIPAC is a bipartisan organization.
"Instead of working overtime on using their relationships and political capital to ensure that Israel doesn't become more of a partisan issue, this is what they decide to do?" said one Jewish Democrat activist who requested anonymity. "I'd think they'd want to use all of their resources to be talking with offices about the serious policy issues surrounding Iran's nuclear weapons program, not spending their time promoting this highly controversial speech."
An AIPAC spokesman didn't immediately return a request for comment.
The full email, which misidentifies Connolly as a Republican:
From: Harvey Hanerfeld
Subject: URGENT ACTION ITEM
Date: February 26, 2015 at 8:22:17 AM EST
To: undisclosed-recipients:;

FROM JEFFREY SNYDER
PLEASE DO NOT FORWARD THIS EMAIL.
URGENT ACTION NEEDED IMMEDIATELY

On Monday, March 2, Prime Minister Binyamin Netanyahu will address the more than 16,000 people attending the AIPAC Policy Conference. On Tuesday, March 3, he will address a joint session of the United State Congress on the topic of Iran's pursuit of nuclear weapons capability.

As I'm sure everyone knows, the invitation for this speech has been surrounded in controversy which has taken a partisan tone. With the hyped news headlines, many of our friends on the Democratic side of the aisle are under significant pressure not to attend the speech from groups who are primarily partisan in nature and see the invitation as an offense to President Obama. Of our local Members, Congressman Delaney (D-MD-6), Congressman Beyer (D-VA-8) and Congresswoman Comstock (R-VA-10) have indicated they plan to attend the Prime Minister's speech.

Two local members - Congressman Van Hollen (D-MD-8) and Congressman Connolly (R-VA-11) have not yet decided whether to attend or not. As these Members make their decisions, IT IS IMPERATIVE THAT THE PRO-ISRAEL COMMUNITY COMMUNICATE TO THESE MEMBERS HOW IMPORTANT IT IS FOR THEM TO ATTEND TUESDAY'S SPEECH BY THE PRIME MINISTER.

A few guidelines for your communication with the Congressman's office:

1. Both Congressmen are long time supporters of the US-Israel relationship and deserve our thanks and our respect. Please shape your message accordingly. Remember, our goal is to express the view of the community and encourage them to attend.

2. The message:
- Whatever the circumstances of the invitation, the Prime Minister is coming to Congress to address an issue of existential importance to Israel and of critical importance to the United States and its allies throughout the world. Your presence at the speech is critical to gaining an understanding of this crucial issue that will come before Congress for action.

- Having Democrats not attending the speech will simply exacerbate and extend the partisan nature of the discussion. We ask you to show bipartisan support for the US-Israel relationship by attending the speech.

- Your attendance is of critical importance to your constituents in the pro-Israel community.

Please communicate your position and then contact all of your friends who support the pro-Israel community to communicate their position as well. To be effective, we need a large response. If they do not hear from us, they will assume the issue is not that important to us.
TIME IS SHORT. PLEASE TAKE A FEW MOMENTS AND ACT TODAY!!
Communications can be sent to their offices as follows:
VAN HOLLEN - (202) 225-5341
Bill Parsons - Chief of Staff - bill.parsons@mail.house.gov
Ken Cummings - Foreign Policy LA - ken.cummings@mail.house.gov
Joan Kleinman - District Director - Joan.Kleinman@mail.house.gov
primarry office contact - http://vanhollen.house.gov/contact

CONNOLLY - (202) 225-1492
James Walkinshaw - Chief of Staff - James.Walkinshaw@mail.house.gov
Collin Davenport - Foreign Policy LA - collin.davenport@mail.house.gov
Primary Office Contact - https://connollyforms.house.gov/contact-gerry1