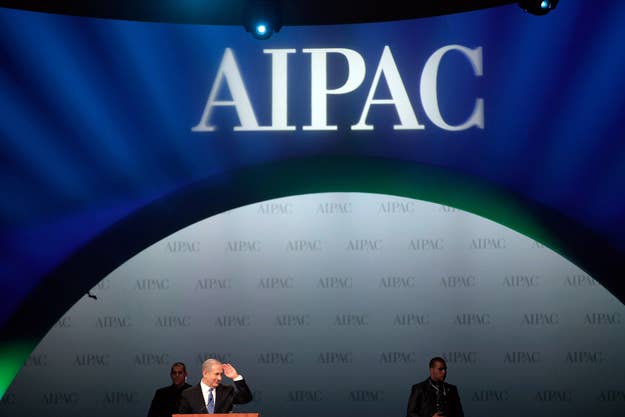 GENEVA — The American Israel Public Affairs Committee (AIPAC) has declined to comment on signs that it may be backing the Obama administration over Israel when discussing estimates of the amount of sanctions relief being offered to Iran.
An AIPAC-backed letter sent to the Obama administration on Wednesday and signed by pro-sanctions senators, including Lindsey Graham, Robert Menendez, and John McCain, puts the dollar amount in sanctions relief that could result from ongoing Geneva negotiations over Iran's nuclear program at as much as $10 billion. "We regard this as a major concession on our part that would not be justified by the concessions the Iranian regime would be required to make in return," the senators wrote.
AIPAC also sent out a story in their morning clips roundup on Wednesday that highlighted the same number.
Israeli officials, meanwhile, have floated a range of much higher estimates, ranging from $15–$40 billion in sanctions relief.
The U.S. government has pushed back against Israel's estimates and administration officials have said that the amount on the table would not exceed $10 billion, closer to the number in the AIPAC-backed letter, and reportedly told lawmakers that it would not exceed $9 billion. U.S. Ambassador to the U.N. Samantha Power said on Thursday that sanctions relief would amount to $6 billion.
Asked about the numbers in the letter it backed and in the clip it sent out, AIPAC spokesman Marshall Wittmann declined to comment. Wittmann also did not comment on whether AIPAC has a position on the amount of money that Iran could get out of the interim deal currently being discussed in Geneva.
"I am not authorized to speak on the record," Wittmann said.
AIPAC has denied reports that it was one of four major Jewish groups that agreed to hold off on publicly lobbying for new Iran sanctions following a request from the Obama administration, and said it supports additional sanctions on Iran.
AIPAC president Michael Kassen praised Senate Majority Leader Harry Reid's decision to back new sanctions legislation in a statement on Thursday, saying "This announcement, and the subsequent bill, is an important statement about the resolve of Senate Democrats and Republicans to prevent Iran from acquiring a nuclear weapons capability."
Clarification: A previous version stated that AIPAC was one of four Jewish groups that agreed to hold off on publicly lobbying for new Iran sanctions. That report was immediately denied by AIPAC.