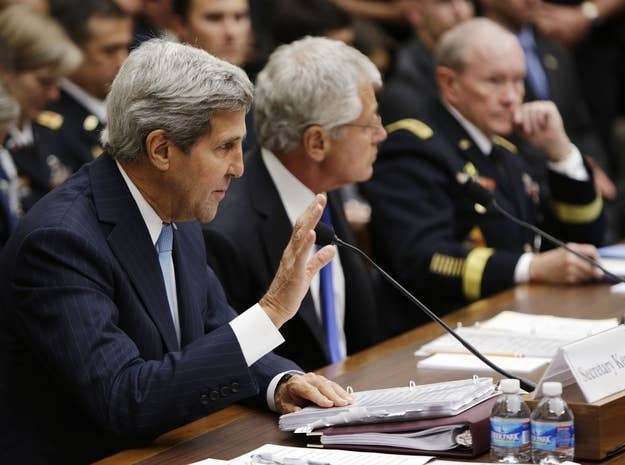 WASHINGTON — The Obama administration's explanation of how a Russian proposal to get rid of Syrian chemical weapons came to be has morphed rapidly in the past 24 hours from being portrayed as an unexpected slip-up to — in its new incarnation — a plan that U.S. officials were involved in as early as last week.
"I had some conversations about this with my counterpart from Russia last week," Secretary of State John Kerry said during a House Armed Services Committee hearing on Tuesday, referring to Russian Foreign Minister Sergei Lavrov. "President Putin raised the issue with President Obama at St. Petersburg. President Obama directed us to try to continue to talk and see if it is possible. So it is not something that — you know, suddenly emerged, though it did publicly. But it cannot be allowed to be a delay."
Later, under questioning by Rep. Hank Johnson, Kerry said he had not made a mistake when he suggested the proposal in a press conference in London on Monday.
"I didn't misspeak," Kerry said. "I was asked about it. I responded because I was asked."
A State Department official confirmed to BuzzFeed that Kerry and Lavrov had spoken about getting rid of Assad's chemical weapons stockpiles last week.
"He has been talking with the Russians about the importance of securing chemical weapons back to his trip to Moscow and before," the official said. "That is what he was talking about."
Russian President Vladimir Putin mentioned the Kerry-Lavrov discussions in a speech on Tuesday, saying he had instructed the two diplomats to "get in touch" and "try to move this idea forward" and that he and Obama had "indeed discussed" the idea on the sidelines of the G-20.
The administration has quickly changed its line on an idea that it scrambled to play down yesterday in the White House and State Department briefings even as the Russians immediately followed up by making the proposal to the Syrians, who "welcomed" it.
Kerry "was making a rhetorical statement about a scenario that we find highly unlikely," State Department deputy spokesperson Marie Harf told reporters yesterday.
Harf said the administration would "take a hard look" at the proposal but that "we have serious and deep skepticism that the Syrian regime would actually do this." She presented the plan as purely a Russian proposal, saying that "the secretary was not making a proposal."
Deputy National Security Adviser Tony Blinken echoed Harf in the White House briefing on Monday, telling reporters that "I believe [Kerry] was answering questions, speaking hypothetically about what if Assad were to do this."
A senior administration official even described Kerry's statement as a "major goof" to CNN.
The administration's tone changed abruptly Monday night, with President Obama himself throwing his weight behind the idea in a series of television interviews.
"It's certainly a positive development when the Russians and Syrians both make gestures towards dealing with these chemical weapons," Obama said, while cautioning that the plan will only make sense if it is "real."
The shift comes as support for the administration's Syria war plan dwindles on Capitol Hill, and as Senate Majority Leader Harry Reid has delayed a plan test vote on Wednesday to see whether the Russian plan will work out. And a plan that yesterday looked like a slip of the tongue is now being fed into the international policy machine, as Obama has agreed to a United Nations discussion and potential U.N. Security Council resolution — bringing the Syria issue back to the international community the administration wanted to bypass.