A New Low In Israel Lobby-Obama Administration Relations
AIPAC hits Kerry.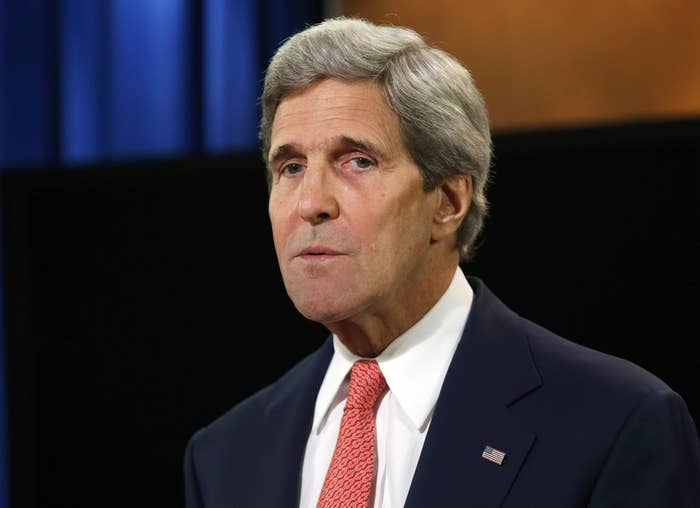 WASHINGTON — The Obama administration's relationship with Israel's biggest proponents appears to have publicly hit a new low after a tape of Secretary of State John Kerry saying that Israel could become an apartheid state was leaked.
The powerful American Israel Public Affairs Committee released a rare statement on Monday slamming Kerry for the comment and calling it "deeply troubling":
The reported remarks on apartheid by Secretary of State John Kerry on Friday are deeply troubling. Any suggestion that Israel is, or is at risk of becoming, an apartheid state is offensive and inappropriate. The Jewish state is a shining light for freedom and opportunity in a region plagued by terror, hate and oppression.

Israel is the lone stable democracy in the Middle East, and protects the rights of minorities regardless of ethnicity or religion. The Jewish state is proud to have a robust free press and elections, respect for women's rights, and the representation of minorities across its government, including the twelve Arab members of its legislature and Salim Joubran on its Supreme Court.

AIPAC shares President Obama's perspective that while there is a political conflict between Israel and the Palestinians that needs to be resolved, the use of the term "apartheid" to characterize Israel is inaccurate and unhelpful. As the president said in 2008, "There's no doubt that Israel and the Palestinians have tough issues to work out to get to the goal of two states living side by side in peace and security, but injecting a term like apartheid into the discussion doesn't advance that goal. It's emotionally loaded, historically inaccurate, and it's not what I believe."

At this critical moment, the true focus of those who support peace should be on urging President Abbas to revoke his destructive agreement with the terrorist organization Hamas, and continue peace negotiations with Israel without preconditions.
Other groups have made similar statements, despite the fact that Kerry did not say that Israel is currently an apartheid state, but that it risks becoming one.
"It is startling and deeply disappointing that a diplomat so knowledgeable and experienced about democratic Israel chose to use such an inaccurate and incendiary term," said Abe Foxman, president of the Anti-Defamation League. "We appreciate Mr. Kerry's deep concern for Israel and his desires to ensure that it have a future of peace and security. Even if he used the repugnant language of Israel's adversaries and accusers to express concern for Israel's future, it was undiplomatic, unwise and unfair. Such references are not seen as expressions of friendship and support."
But farther to the left on the pro-Israel side, Kerry has his defenders. On Monday, J Street president Jeremy Ben Ami, who once called his group Obama's "blocking back" in Congress, said that critics had distorted what Kerry said and noted that Israeli officials had also warned of a potential future apartheid situation.
"Israel today is not an apartheid state, and that's not what John Kerry is saying," Ben Ami said. "For over a year now, Kerry has argued that, without a two-state solution, Israel is risking its future and its values as it moves toward permanent rule over millions of Palestinians without equal rights. Former Prime Ministers Ehud Barak and Ehud Olmert have used the 'apartheid' term as well to describe this possible future. Instead of putting energy into attacking Secretary Kerry, those who are upset with the Secretary's use of the term should put their energy into opposing and changing the policies that are leading Israel down this road."
The flap over the Kerry tape comes as peace negotiations between the Israelis and Palestinians have been all but left for dead. Martin Indyk, the top member of Kerry's negotiating team, has left Israel and has no current plans to go back, State Department spokeswoman Jen Psaki said on Monday. And it comes after a protracted struggle over negotiations with Iran over its nuclear program, as AIPAC supported sanctions legislation that ended up never coming to a vote.