A New Group Is Bringing A Far-Right Hungarian MP To Congress
Jobbik comes to the Hill. Dana Rohrabacher will meet with the MP.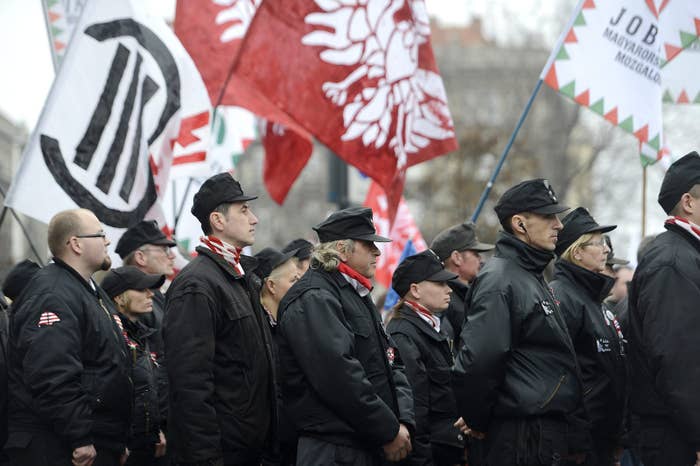 WASHINGTON — A new group advocating for closer ties between Hungary and the U.S. is bringing a delegation to Capitol Hill next week that includes a politician from Jobbik, Hungary's far-right ultranationalist party.
A group calling itself the Hungarian American Institute is inviting members of Congress to meet with several Hungarian politicians and business leaders next week, according to an invitation sent on June 30 and seen by BuzzFeed News. The list includes László Kucsák, a member of parliament for ruling party Fidesz, Márta Demeter, a member of parliament for MSZP, the socialist party, as well as Gábor Staudt, a Jobbik MP who was a member of the Magyar Gárda, a nationalist paramilitary organization connected to Jobbik that was banned in 2009.
The delegation is trying to meet with members of the House and Senate foreign affairs committees, particularly members of the subcommittees on Europe, next week, according to Ben May, corporate counsel for Policy Impact Communications, the firm helping organize the visit. May said that the list of which members are taking the meetings has not been finalized.
Reached by BuzzFeed News on Friday, the press secretary for Rep. Dana Rohrabacher, Chairman of the Subcommittee on Europe, Eurasia and Emerging Threats, confirmed that Rohrabacher will meet with the delegation including the Jobbik politician, saying "It's the whole cross-section of Hungarian politics right now, so that is why he's meeting with them. I don't know why you would want to extract that one person and make an issue of that."

There's little information about the Hungarian American Institute online, as the group is new, having "only been around for a couple of months at this point," May said. Its website, parts of which have not yet been filled out, says it "is an international association devoted to promoting trade and business relations between Hungary and the United States, as well as policies in both nations that provide economic growth, personal opportunity, peace, and security for individuals and families."
A congressional source told BuzzFeed News that at least one congressional office sought clarification from the State Department after receiving the request for a meeting made on behalf of the previously unknown institute.
Jozsef Szamosfalvi, a Hungarian-American businessman, told BuzzFeed News he had founded the group because "we don't like the current lack of communication and where the relationship between the two countries is going, and we decided to do something about it.
"We don't have a political dog in the fight," Szamosfalvi said. "We're not affiliated with political parties either here or in Hungary."
He said the group had no connection to the Hungarian government and that it is seeking donations from U.S. businesses that want to do business in Hungary and vice versa and is structured under the tax code as a 501(c)6 non-profit.
The Hungarian government currently has three official lobbying contracts in Washington, with SLI Group, Liberty International Group, and Levick Strategic Communications, respectively.
The group's board is composed of Paul Horvath, the CEO of Orchard Global Asset Management, former diplomat (and father of conservative journalist Tucker Carlson) Richard Carlson, Utah banker Lew Cramer, former Congressman Ernest Istook, and Georgetown professor Michael Czinkota.
Relations between Hungary and the U.S. have turned frosty in the past few years as Hungarian Prime Minister Viktor Orban has grown closer to Russia and shown signs of wanting to imitate Vladimir Putin's repressive style of government. Orban, who leads the ruling Fidesz party, said last year that he wants Hungary to be an "illiberal state" rather than a liberal democracy, and cited China, Russia, and Turkey as models.
Hungary has also seen a rise in popularity for Jobbik; nearly one million voters cast their vote for the party in the 2014 parliamentary elections. Jobbik has been known for its extreme anti-Semitic and anti-Roma rhetoric. The party's platform accuses the Roma people of depending solely on government benefits and of being criminals. And Jobbik politicians have made headlines around the world for extreme statements about Jews, like when a party leader called in 2012 for a list of Jews who posed a "national security risk" to be drawn up, or when a Jobbik MP spat on a Holocaust memorial in 2011.
"Frankly, I'm surprised that, after we banned those Hungarian officials last year on corruption grounds, a prominent member of the anti-Semitic Jobbik party is still welcome in Washington," said one congressional staffer familiar with the issue. Last year, the U.S. denied entry to several Hungarian officials who were accused of being involved in corruption.
"We try to reach out across the board," Szamosfalvi said when asked why his group had included the Jobbik MP on the list of politicians available to meet with members of Congress. "As you can see, we do not want to meet with one party only, but we wanted a selection of all of them."
Staudt, the Jobbik MP, was in the U.S. in April, visiting Boston, Washington, and New York.
Far right European leaders have visited the Hill before; in 2011, Marine Le Pen, the leader of France's Front National, had what was described as an "awkward" time in Congress visiting then-Congressman Ron Paul.
In the past couple months, Hungary has had an unusual level of focus in the House Foreign Affairs Committee; a hearing devoted to Hungary was held in May in the Subcommittee for Europe, Eurasia, and Emerging Threats, which is chaired by Rep. Dana Rohrabacher.