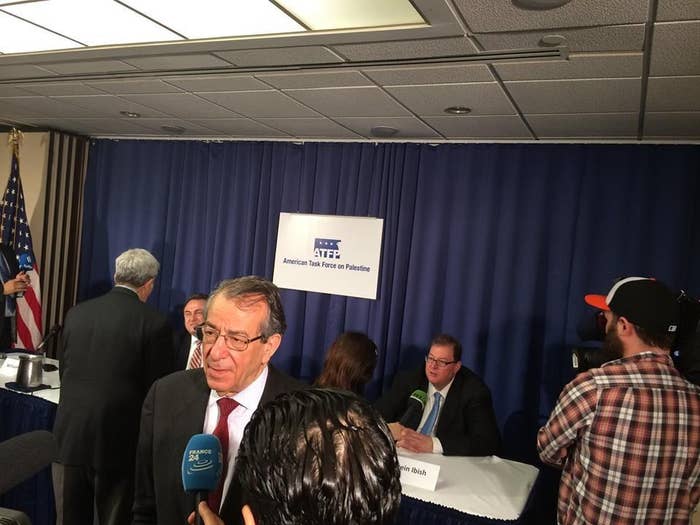 WASHINGTON — The American Task Force on Palestine launched in 2003 with the goal of bringing the cause of Palestinian statehood into the mainstream of the U.S. political establishment. Since then it has hung on, with a tiny budget and staff, and its yearly gala often counts high-ranking U.S. government officials and other Washington eminences among its attendees.
Policymakers have seen ATFP as representing the best in Palestinian politics, partly due to their association with former Palestinian prime minister Salam Fayyad, who was praised in the West for his approach of institution-building. Hillary Clinton gave a speech at the group's gala in 2010, while still serving as secretary of state.
But things changed for ATFP this year. This summer's war between Israel and Hamas and the breakdown of U.S.-mediated peace talks between the Israelis and Palestinians aiming to broker a two-state solution, which is core to ATFP's mission, have proven to be a toxic combination to the nonprofit. The group has decided to cancel its annual gala this year, which usually brings in half of its annual fundraising. And its founder says it will have to cut staff and office space. ATFP's situation is a casualty of a larger shift: The hope for a two-state solution, which is official U.S. policy and regarded by the establishment as the only legitimate way to end the conflict, is running out of steam, causing a major existential crisis for some of those most dedicated to it.
In an interview on Tuesday with BuzzFeed News at ATFP's office in downtown Washington, Founder and President Ziad Asali outlined the problems the organization is facing. He said the group had officially canceled its gala, which had been slated for this Tuesday, back in August — two days before the ceasefire in the Gaza war.
According to Asali, a Jerusalem-born medical doctor who practiced in Illinois for decades before moving to Washington to work on the Palestinian issue, the combination of failed negotiations and war this year proved extremely demoralizing.
"The way [negotiations] ended so completely as a failure without any pretense of a fig leaf was quite a setback," he said. "Not just to the negotiations but to the concept of a two-state solution, to the political expectations of any role in this the U.S. plays and its ability to impact it, so that was bad enough. And all that impacted us of course, because we are nothing but an organization that has a defined mission of a two-state solution."
"In one year we had negotiations and war, both of them with devastating results," he said.
The canceling of the gala has big repercussions for ATFP, since it usually represents a major chunk of the fundraising — the group's annual budget hovers around just $1 million. But Asali and his team came to believe that the political situation was simply too difficult for them to hold the event this year. They canceled it in 2012, but that was because of its proximity to the presidential election, which they feared would affect turnout.
"Not having a gala is detrimental to our health as an organization, it's not a decision we take lightly," he said. "Our issue is now number 17 of the priorities of the Middle East, let alone the world. We are not interested in a failed gala."
Thinking about the gala gave ATFP an entrée to think about its larger mission as an organization, and how it should shift.
"We, as part of the serious people in this establishment that deals with the Middle East in this country, have to figure out where do we fit, what is our thinking," Asali said. "And that is the subject of lively conversation within the organization that was partly related to this gala thing, frankly, and discussion started months earlier with the real lack of success of negotiations."
"We are more occupied with Syria and Iraq than we ever were," he said. "What happened in Egypt is of tremendous importance to us. The possibilities that have opened up in the whole region now are very interesting, how you can have a dialogue beyond Palestine-Israel in a serious way."
Internal Palestinian politics have also proved inauspicious. Asali said the group "saw the writing on the wall" when Salam Fayyad, the former Palestinian prime minister, resigned last year. Fayyad, a respected figure in the West who championed institution-building in the West Bank, never quite found a real constituency at home. Asali's group was "integrally engaged" in Fayyad's state- and institution-building program, he said, and so Fayyad's being forced out of power was a big setback.
Add to this the fact that ATFP is operating on, in Asali's words, a "shoestring budget." Like Fayyad, it has struggled to find a real constituency, and members of the Arab-American community who may have once been allies consistently attack the group from the left. Part of this, Asali thinks, is because ATFP deals with Israelis and with Jewish groups; for example, ATFP came under fire from the anti-Israel blog Mondoweiss after listing a pro-Israel donor as one of its donors on its 990 form. Hussein Ibish, a senior fellow at ATFP, has especially feuded with elements from the left of the debate who do not believe in a two-state solution.
"That is part of the problem with raising money," Asali said. "The mere fact that we talk to the Israelis publicly, here and in Israel, and to the Jewish organized and non-organized community has presented a major obstacle in our communication with our community."
"We are for dealing with the establishment that deals with Palestine and Israel," he said. "Which means by necessity that at least half of it would be Jewish or Israeli."
It's unclear what the path forward is for ATFP, and whether there is one. Asali said they are "trimming both the office and staffing," but the extent of that "will depend on how things evolve in the next few weeks." Asali and his wife and Co-Founder Naila Asali both already work with the organization on a volunteer basis to save money. As the idea of a two-state solution to the conflict appears more and more tenuous, ATFP is facing a tough reality.
"We have the will, but we're no Don Quixote," Asali said. "We have the will but it has to be goal-oriented and focused will; that is why the conversation is very serious."
ATFP, he said, "is perhaps the only real organization on this side of the aisle that is totally committed to a two-state solution, and there is a certain symbolism involved in its lack of ability to raise funds to exist."