A Clue To Rand Paul's Israel Views
Paul is being represented on his Israel trip by an unlikely conservative firm.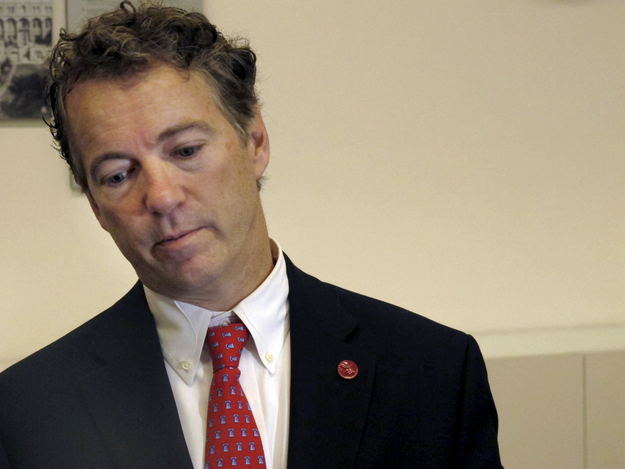 Senator Rand Paul has a new ally in his attempt to fit his libertarian foreign policy views into the Republican Party's hawkish pro-Israel stance: The Israeli public relations firm Lone Star Communications, which has also promoted American figures from Glenn Beck to Mike Huckabee, and also works with a leading Israeli opponent of Palestinian statehood.
The firm, run by Texas-born Charley Levine, sent out a press release Wednesday morning about Paul's visits with Benjamin Netanyahu, Shimon Peres, Mahmoud Abbas, and King Abdullah of Jordan.
"Historically America has sought stability with very mixed results around the world by arming both sides of conflicts," Paul is quoted as saying in the release. "I fear that one day our Israeli friends might face American-made F-16s and Abrams tanks that our foreign aid has been providing to some very questionable countries that sit on Israel's border."
The identity of Paul's Israeli guides suggests that the Kentucky Senator may be more in agreement on Israel than on other issues with the rest of his party, who are if anything to the right of the Israeli government in their skepticism of Palestinian independence and, in some cases, doctrinal belief that Israel has a right to the land. Lone Star has worked with Danny Danon, a pro-settler Israeli parliamentarian who challenged Benjamin Netanyahu from the right for party leadership, as well as helping out on similar trips by American politicians figures including former U.N. Ambassador John Bolton.
The scope of Paul's arrangement with Lone Star is not clear; a spokesperson for Paul didn't immediately respond to a request for comment, nor did Levine.
Levine himself became a subject of some controversy when his relationship with former New York Times Jerusalem bureau chief Ethan Bronner came under attack from Max Blumenthal in Columbia Journalism Review, and was then explored by the Times ombudsman. Levine, the ombudsman wrote, is "a figure of the Israeli right, who counsels prominent Zionists and serves as a reservist in the Israeli Defense Forces Spokesperson's Unit." Levine lives in Ma'ale Adumim, a settlement in the West Bank just outside of Jerusalem.
Paul, who has been criticized for calling on the U.S. to cut aid to Israel (and every other country), is visiting the Jewish State until next week. He is a recent appointee to the Senate Foreign Relations Committee and meeting with pro-Israel figures in the U.S.
Update 3:28 p.m.: According to Levine, the firm is helping with P.R. during the duration of Paul's trip.
"We reached out to him when I heard he was coming," Levine told BuzzFeed on Wednesday afternoon. "One of the services that my company offers here is helping with media when political leaders from all over the spectrum and all over the world come to visit."
Paul is a "very intelligent, articulate fellow, I've discovered over the last couple days."
Levine took issue with this article's characterization of him as conservative, saying that "it wasn't good journalism," and noted that he has done work for Julian Castro, the keynote speaker at the Democratic National Convention this year.