8 Things To Know About Rob Ford, Toronto's Ousted Mayor
The mayor of Toronto was just kicked out of office by a judge for breaking conflict-of-interest laws. He's been the biggest character in Canadian politics for years.
1.
He was once busted with weed in his car in Florida.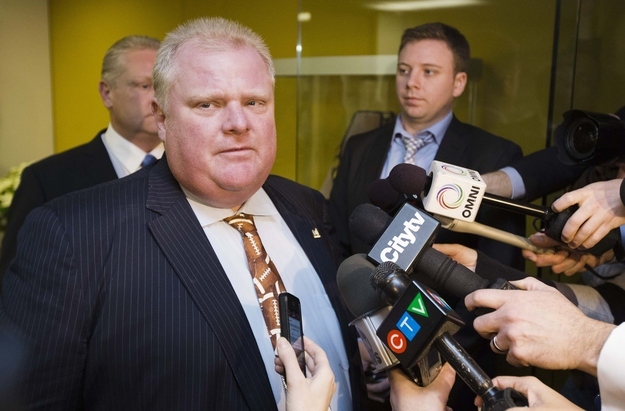 Ford freely admitted to the Toronto Sun that he did have marijuana in his car when a Florida police officer pulled him over in 1999 on a vacation with his wife, despite the fact that the charges were dropped against him.
"It was nothing," Ford said in 2010, the year he was elected mayor of Toronto. "It wasn't a major issue. There's more serious things in life."
Ford was a city councillor at the time. "That is a verbal assault!" Ford yelled. "This is a public space! Why did you say that? Why are you running?"
3.
He was sort of accused of trying to kidnap his own kids.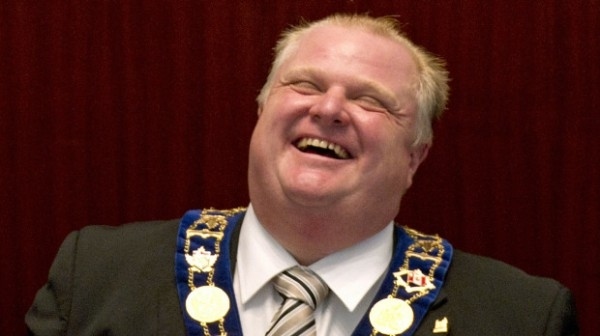 Ford's mother-in-law called the cops in the wee hours of Christmas morning last year to report that a drunk Ford was trying to take his children to Florida without the consent of his wife. The Toronto Star had heard reports of other 911 calls regarding domestic disputes at the Ford home in previous years, as well. The issue of the alleged botched kidnapping was dropped.
4.
The special guest at his swearing-in was a hockey commentator who wore an elaborate pink jacket and blasted "left-wing pinkos."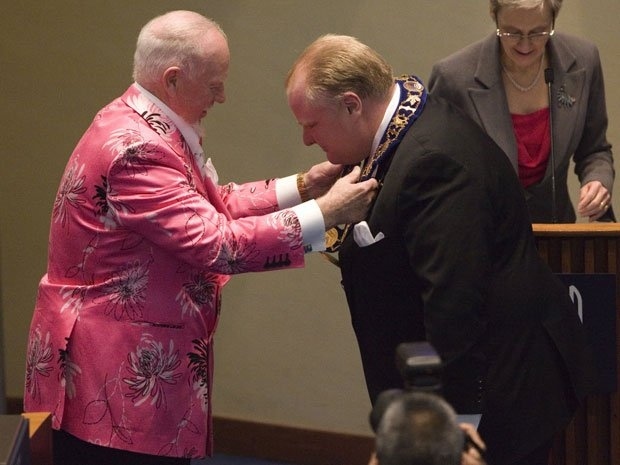 Don Cherry is a hockey commentator for the CBC known for his outré style. He was also a special guest at Ford's swearing-in ceremony and put the chain of office around Ford's neck, something normally done by the city clerk. "I'm wearing pinko for all the pinkos out there that ride bicycles and everything. I thought I'd get it in," Cherry said. "Put that in your pipe, you left-wing kooks." Ford's invitation to Cherry came under some criticism.
5.
He once accidentally wandered into the Calgary football team's locker room in search of a bathroom.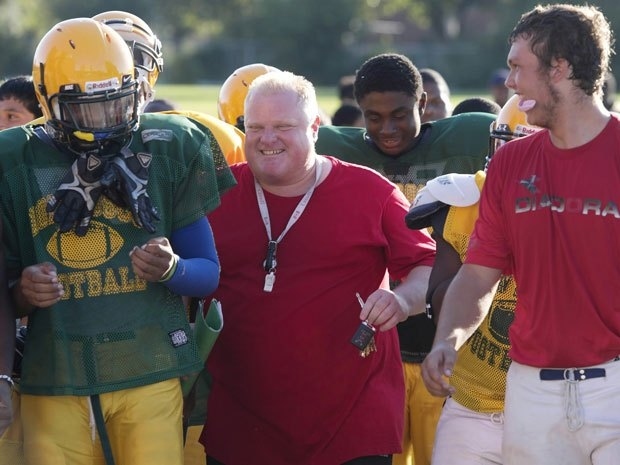 "I just wanted to find a washroom," Ford told the Calgary Herald. "I went to the doors and went through the locker room and that was it." During the same swing through western Canada, Ford was seen wandering lost through the streets of Edmonton.
6.
He was caught reading while driving and fully admitted it.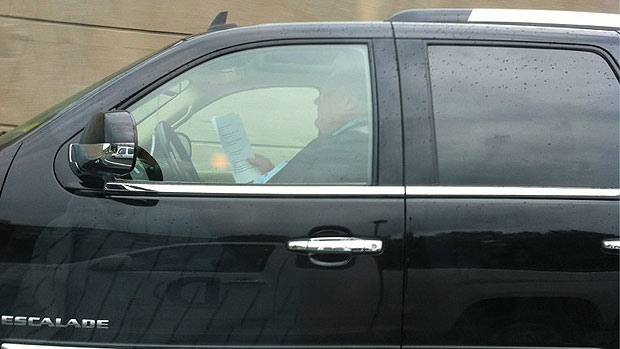 The CBC transcribed the exchange at a press conference later that day:
Reporter: "Sir, there's a picture that went out on Twitter this morning of you reading while still driving on the Gardiner [Expressway]."

Ford: "Yeah, probably. I'm busy."

Reporter: "So you read while driving?"

Ford: "Yeah, probably, yeah. I'm try[ing] to catch up on my work and you know I keep my eyes on the road, but I'm a busy man."

Reporter: "You don't see a problem doing that on the Gardiner?"

Ford: "Well, I'm busy. I got to be — I don't know what that has to do with a trade mission, but anyways. Ridiculous questions sometimes, seriously."
Ford was not pleased to see the character Marg Delahunty from comedy show This Hour is 22 Minutes, who approached him outside his house wearing a Xena: Warrior Princess outfit.
8.
He's vowing to fight "tooth and nail" to keep his office.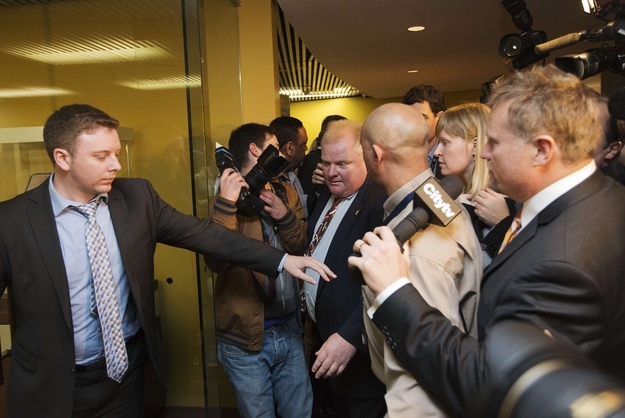 Ford was ejected from his post Monday after a judge ruled that he had broken conflict-of-interest laws by using city resources to fund-raise for his football charity.
"This comes down to left-wing politics. The left wing wants me out of here and they'll doing anything in their power to," Ford told reporters on Monday. "And I'm going to fight tooth and nail to hold on to my job. If they do for some reason get me out I'll be running again whenever the next election is, if there's a by-election. My name will be the first one on the ballot."