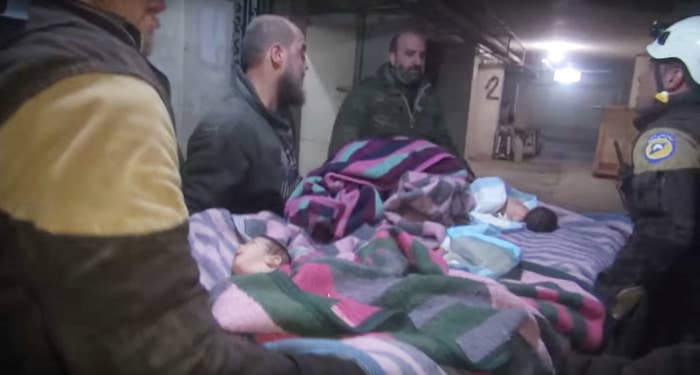 Harrowing footage of babies being evacuated from intensive care on stretchers after the hospital they were being treated in was bombed has emerged from Syria.

A video shared by activists earlier this week shows the chaotic and horrific aftermath of an airstrike blamed on Russian forces.
In the footage, screaming babies, some of whom seem to be struggling to breathe, can be seen being carried out of Al-Ma'ara National Hospital on blankets by White Helmet volunteers.
While the world's attention has largely moved on from the horrors of Syria's civil war, it has entered a new, nightmarish phase where Russian and Syrian regime airstrikes have dramatically escalated.
The United Nations has reported at least 10 health care facilities have been targeted in one province in the past two weeks.

"When I went in, what I saw was overwhelming," Hadi al-Abdullah, a Syrian activist and journalist, told BuzzFeed News on the phone from the Idlib province, where Al-Ma'ara hospital was bombed and where recent airstrikes have been focused.

Al-Abdullah was at the scene shortly after the hospital was targeted. "There was fire all around it: the ambulances and cars were on fire."
Al-Abdullah described how doctors and the White Helmets were trying to get the wounded to safer ground. "I saw women on stretchers and in wheelchairs, I saw elderly patients also being transported out, and some of them were crying. They kept trying to get everyone out as they were afraid of more airstrikes."

But he said the worst moment came when he got to the infants' ICU ward, "It was chaos and everyone was screaming and crying."
Al-Ma'ara had one of the few neonatal intensive care units left in the province. One of the airstrikes — which al-Abdullah said he knew to be Russian — had struck next to the ward, so the incubators had been partially destroyed by shrapnel.

"The removing of the infants from the incubators and carrying them on blankets and stretchers and taking them elsewhere was the saddest to see," he said. "There was a doctor that was crying because of what happened to the infants.
"Each of them was the size of my hand, they were too small."
"Each of them was the size of my hand, they were too small, they're tiny children, barely moving, it was a very worrying sight and just brought me to tears.
"The circumstances that these infants were evacuated in was very alarming and painful."
In total, eight babies were rescued from the building and transferred to other medical facilities — some hours away, and all already overwhelmed with injured people.
The destruction of Al-Ma'ara National Hospital was particularly "devastating," according to Mohamad al-Hosni, a doctor with the Syrian American Medical Society (SAMS), who visited the hospital in December.
"This is one of the main health facilities that people go to to get different medical care that is needed. All specialities, not just certain specialities. So for surgical, medical, outpatient clinic, all those services are provided here," he told BuzzFeed News over the phone from the US, where he is now based.
Al-Hosni described the recent attacks as "cruel," but said, "really we have seen this over and over again. This is obviously not the first time that any medical facilities have been intentionally attacked."
The Syrian conflict — raging for almost seven years — has become notorious for the use of violence against civilian facilities, especially hospitals. SAMS reported that since the start of 2018, there have been 34 attacks on health care sites, one every 24 hours.
"I won't lie when I tell you that people are afraid of being near a big hospital because they know it is a target for airstrikes," al-Hosni said. The creation of a new health care facility was "always a concern" for locals, he said, because they knew it would "affect the safety of that town or that city."
The attacks on hospitals in the Idlib province is particularly brutal as the area is part of a cease-fire deal, agreed to in September 2017 between Turkey, Russia, and Iran — all of which have a complicated stake in Syria's civil war. Although the established safe zone initially led to a drop in casualties, in the past month the attacks have intensified, activists and doctors told BuzzFeed News.
Jad Salem, a doctor with UOSSM (Union of Medical Care and Relief Organizations), explained to BuzzFeed News, "People are not coming to hospitals because they are afraid they will be military targets now."
In order to reach a doctor, "people have to make a journey of two to three hours, with bleeding injuries," Salem said. "It is not only the distance, but you have to go the safe route. With no petrol, diesel, no cars, no public transportation. Walking most of the time."
Salem said the situation in Idlib was like "we are in the first world war."