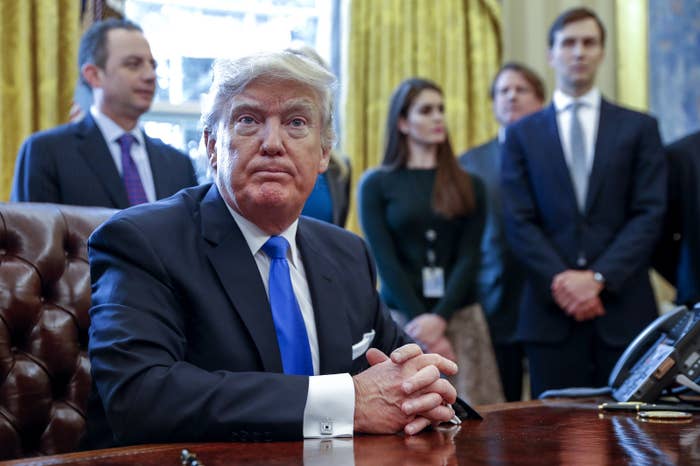 President Donald Trump tweeted Wednesday that he will ask officials to begin an investigation into voter fraud, a day after the White House continued to push the patently false claim that millions of illegal ballots cost Trump the popular vote.
Officials have said there is no evidence to suggest a widespread scheme involving millions of votes cast by undocumented immigrants meant Trump lost the popular vote to his rival Hillary Clinton, as he has repeatedly claimed.
But writing on Twitter on Wednesday, Trump said that he would ask for "a major investigation into voter fraud, including those registered to vote in two states, those who are illegal and even, [sic] those registered to vote who are dead (and many for a long time."
"Depending on results, we will strengthen up voting procedures!" he tweeted.
Earlier this week, the president again falsely claimed during a meeting with congressional leaders that votes from millions of unauthorized immigrants had cost him the popular vote.
On Wednesday, Trump told ABC News that he believed millions of people voted fraudulently by registering in multiple states.
Being registered to vote in multiple states is not a crime, and there is no evidence that people who are registered in multiple places did so as part of a voting fraud scheme.
"They're registered in New York, in New Jersey. They vote twice," Trump said. "There are millions of votes in my opinion."
But as recently as Tuesday, White House press secretary Sean Spicer told reporters that the administration had no plans to investigate the supposed conspiracy because Trump was "comfortable" with his victory.

"He's very comfortable with the depth and breadth of the support he got from the American people," Spicer said Tuesday.

"If 3 to 5 million people voted illegally that is a scandal of astronomical proportions. Doesn't he want to restore Americans' faith in their ballot system?" a reporter asked. "Wouldn't he want an investigation into this?"

"We'll see where we go," Spicer replied, "but right now the focus that the president has is putting Americans back to work. [His remarks to congressional leaders were] a comment that he made on a longstanding belief."
Voting rights groups told BuzzFeed News they were waiting to see if Trump would actually follow through with the investigation, but warned that such a move would be a mistake.

"We've seen this before during the Bush administration's large scale investigation into allegations of voter fraud," said Dale Ho, director of ACLU's Voting Rights Project. "And they didn't find anything except scattered instances of some people making mistakes, but not engaging in intentional wrongdoing. I hope we would've learned our lesson by now."

Ho said that the outcome of such an investigation would "damage people's lives if used to prosecute or deport people," and would be used to "demagogue immigration and voting restrictions that are unnecessary and demonize non-citizens and immigrants."

"It's no surprise that the same president who wants to build a wall is also blaming his loss of the popular vote on non-citizens," Ho said.

However, Ho was unsure if Trump would follow through with his proposal for an investigation. "Trump was criticizing Arnold Schwarzenegger earlier on Twitter but his job on Celebrity Apprentice is still safe," Ho said.

"The basis on which this investigation is premised has been debunked frequently," Myrna Pérez, leader of the Center's Voting Rights and Elections project at the Brennan Center for Justice, told BuzzFeed News. "If people's rights are violated, we stand ready to vigorously defend the rights of Americans."

Trump's false allegations of widespread voter fraud date back months.
In November he tweeted that in addition to "winning the Electoral College in a landslide, I won the popular vote if you deduct the millions of people who voted illegally."

Responding to Trump's Wednesday tweets, Ohio's secretary of state, Jon Husted, a Republican, said it was "hard to cheat" at the ballot box.
"Knock this off," Republican Sen. Lindsey Graham urged the president on Tuesday. "People are going to start doubting you as a person if you keep making accusations against our electoral system."
A number of Democrats said Tuesday they could support an investigation into voter fraud — purely to debunk the Trump administration's claims.
"They're making these allegations, but we're going to the attorney generals and saying, is there voter fraud, and what proof is there?" Maryland Rep. Elijah Cummings, the ranking member of the House Committee on Oversight and Government Reform, told BuzzFeed News.