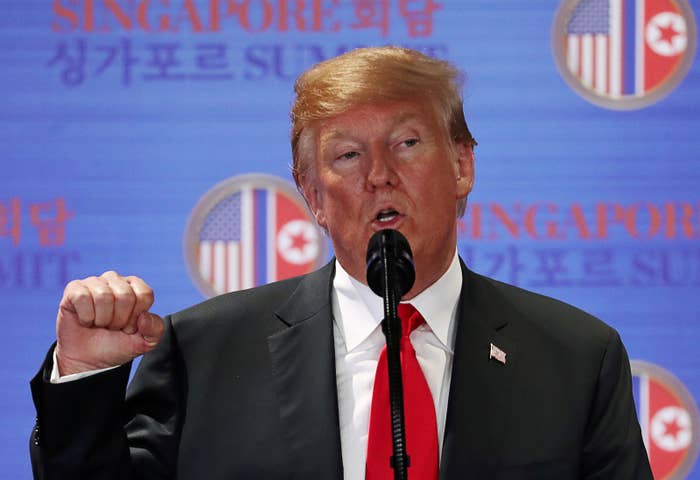 SINGAPORE — President Donald Trump has said he will end annual joint military exercises with South Korea, in a major concession to North Korea following his summit with Kim Jong Un.
Addressing reporters at a press conference after the conclusion of his meeting with Kim in Singapore, Trump said the exercises were "provocative."
"We will be stopping the war games, which will save us a tremendous amount of money, unless and until we see that the future negotiation is not going along like it should," he said.
It is unclear whether the Trump administration informed South Korea about Trump's statement on joint military exercises before he made it.
The statement is likely to cause consternation in the country, reviving a doubt over US commitment to its relationship with South Korea that emerged during Trump's campaign.
But in a statement, South Korean President Moon Jae-in praised Trump, saying he "achieved a feat that no one else has ever delivered."
"Chairman Kim Jong Un will also be remembered as a leader who made a historic moment by taking the first bold step toward the world," he added. The statement made no mention of Trump's remarks during his press conference.
North Korea has long demanded an end to the war games, and has described them in terms similar to the language Trump employed at the press conference.

Suggesting the exercises are a provocation mirrors North Korean rhetoric. The US has long held that they are necessary for defense.
Trump also said he still hoped to one day withdraw the 32,000 US soldiers stationed in South Korea.

"At some point, I have to be honest — I used to say this during my campaign, as you know probably better than most — I want to get our soldiers out. I want to bring our soldiers back home," he said.
Secretary of Defense James Mattis told reporters on Monday that the US and South Korea were "not engaged in any reduction-of-US-forces talk."
"I think we all wait until after this settles and we go forward," he said.
Following Tuesday's summit, the first time a sitting US president had met with a North Korean leader, North Korea made a promise to pursue denuclearization. However, the pledged largely mirrors an earlier statement made after Kim met South Korean President Moon Jae-in earlier this year.