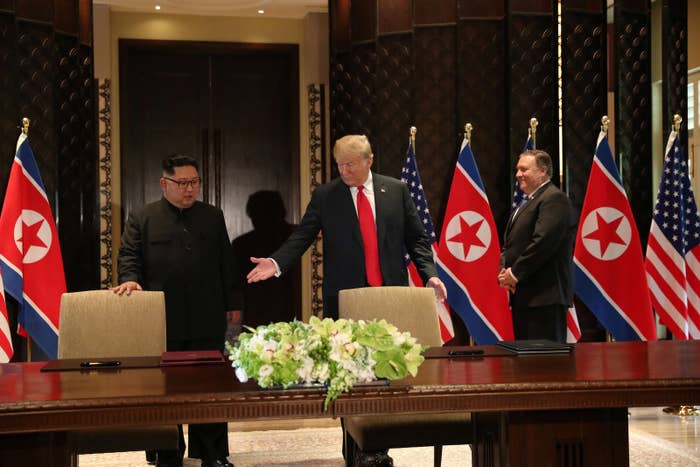 Donald Trump and Kim Jong Un signed a document at the end of their summit in Singapore agreeing to establish new relations for "peace and prosperity" between the US and North Korea.
According to the agreement, North Korea repeated promises first made in an earlier summit with South Korea to work toward denuclearization of the Korean Peninsula.
But in a press conference after the historic first meeting between a sitting US president and a leader of North Korea, Trump provoked more questions than he answered.
The 65-minute conference covered ending the long-standing arrangement of joint military exercises with South Korea, attempting to bring home the thousands of US troops stationed in the country, and suggesting that North Korea should build condos on beaches currently used for military exercises.
"We will be stopping the war games, which will save us a tremendous amount of money, unless and until we see that the future negotiation is not going along like it should," Trump said, in an unexpected announcement that was not part of the agreement signed with Kim.
It was unclear whether the Trump administration informed South Korea about Trump's statement on joint military exercises before he made it, but South Korean President Moon Jae-in later praised Trump, saying he "achieved a feat that no one else has ever delivered."
At his press conference, Trump then veered into a bizarre discussion about how he had suggested to the North Korean leader could revitalize his country's economy by building hotels and condos on beaches usually used for military exercises. "I said, boy, wouldn't that make a great condo," Trump said.
"You see that whenever they're exploding their cannons into the ocean."
Ahead of the press conference, the main focus was on the wording of the "comprehensive" agreement Trump said he and Kim had signed, in which North Korea committed to "work toward complete denuclearization" of the Korean Peninsula.
Although the agreement appears to fall short of a binding deal, and was light on details, Trump told reporters in a brief exchange after the signing that the process of denuclearization would start "very, very quickly."
The document says Trump and Kim "conducted a comprehensive, in-depth and sincere exchange of opinions on the issues related to the establishment of a new US-DPRK relations and the building of a lasting and robust peace regime on the Korean Peninsula."
North Korea's commitment in the document "to work toward complete denuclearization of the Korean Peninsula" has been seized upon as significant. However, this wording had already been agreed during the summit between South Korea's Moon Jae-in and Kim earlier this year. Significantly, the US does not make the same commitment.
Trump described the documents as "very comprehensive" and — prior to the text being released — said he thought "both sides will be impressed with the result…We're very proud of what took place today."
Kim, speaking through an interpreter, expressed his gratitude to Trump after he told the room of reporters that "the world will see a major change." He said that the two leaders had "decided to leave the past behind."
"The way to come here was not easy. The old prejudices and practices worked as obstacles on our way forward but we overcame all of them and we are here today."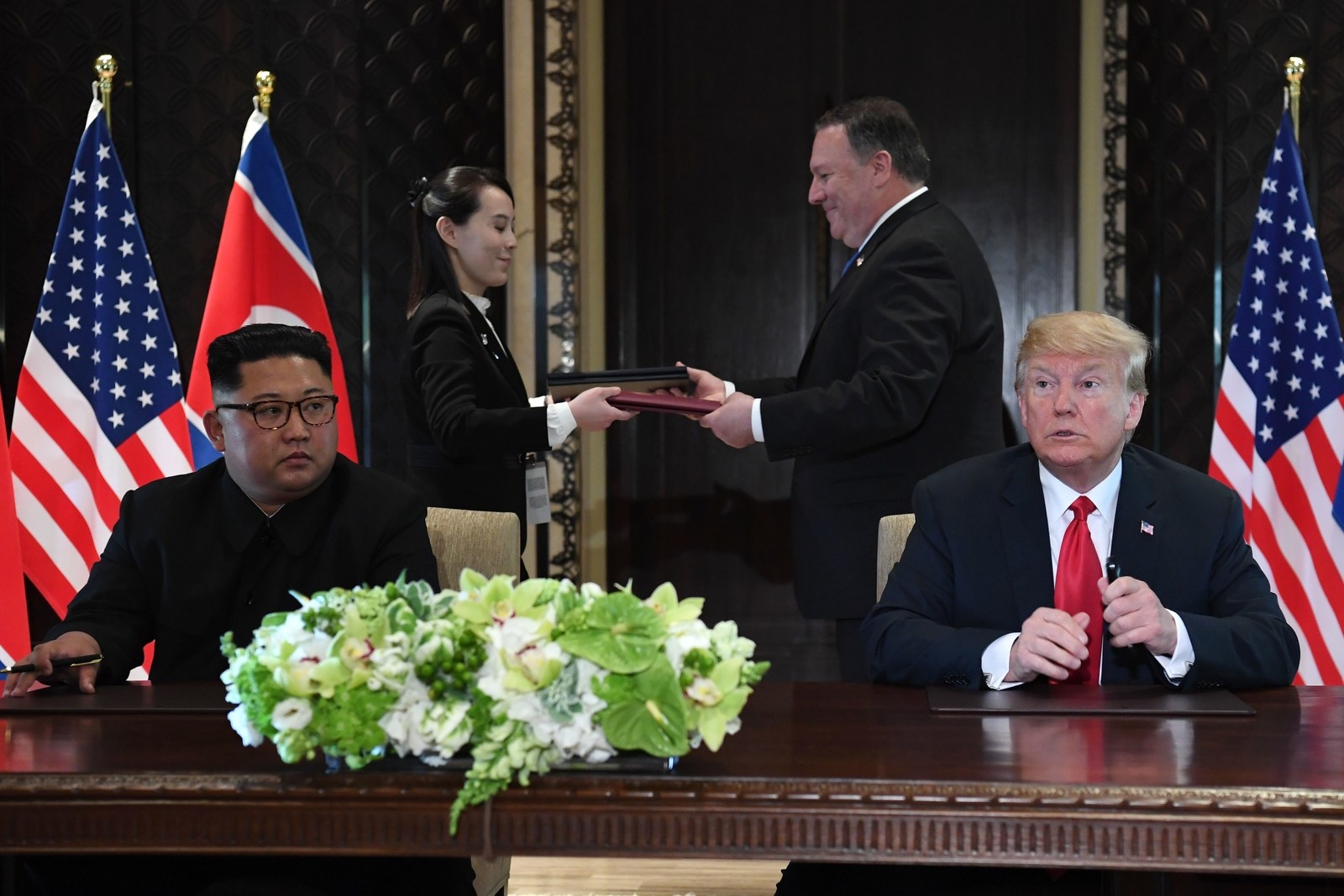 Asked by reporters whether he would invite the North Korean leader to the White House, Trump replied, "Absolutely I would," saying that he and Kim had developed a "special bond" during the day's talks.

In an interview with ABC News' George Stephanopoulos, Trump said that he had spoken to Kim before. In the wide-ranging interview — one of just two that Trump has granted — Trump said that he trusts Kim.
"I do trust him, yeah," Trump said. "Maybe in a year you'll be interviewing and I'll say I made a mistake. It's possible. We're dealing at a high level, a lot of things can change, a lot of things are possible."
Trump seemed optimistic about the success of the summit, telling ABC News that the process of denuclearization was going to "start very quickly."
The historic meeting between the two leaders Tuesday morning lasted for 40 minutes. Both men were accompanied only by their interpreters.

Afterward, the leaders were joined by small delegations for a working lunch. US Secretary of State Mike Pompeo and national security adviser John Bolton were part of Trump's team, while former spy chief Kim Yong-chol, often referred to as Kim's right-hand man, and foreign minister Ri Yong-ho were at the table representing the North Korean leader.
The speed of this signing has taken many by surprise. Only months ago the two leaders were slinging insults at each other. The appearance of North Korea at the Winter Olympics was the first sign of a significant thaw in relations — nearly derailed by Bolton — that led up to this point.

Following the press conference, international reaction was mixed. The UK's Foreign Secretary Boris Johnson said in a statement he welcomed the summit and its results.
"There is much work still to be done and we hope Kim continues to negotiate in good faith towards complete, verifiable, and irreversible denuclearization. The UK will continue to support the United States in its efforts to achieve denuclearization of the Korean Peninsula," Johnson added.