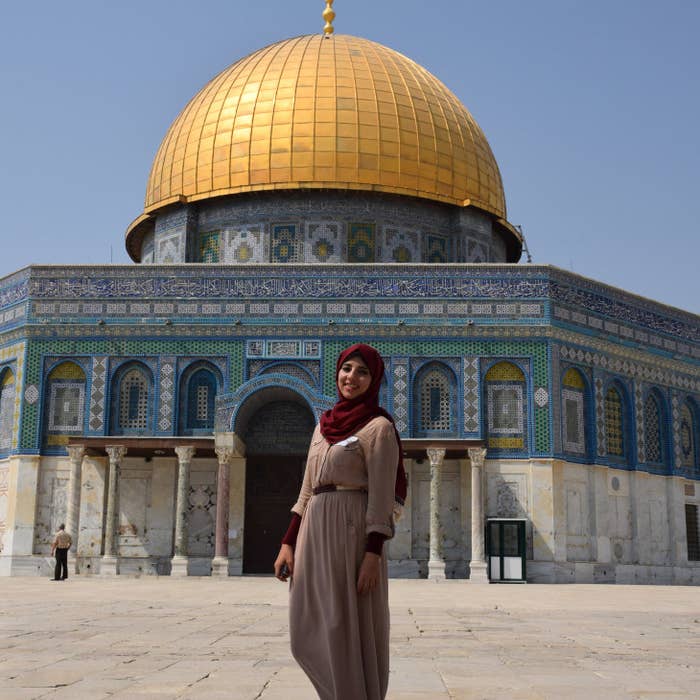 Dalia al-Najjar, a 23-year-old student living in Istanbul, told BuzzFeed News that her family's group chat has turned into a nightmare after two of her cousins were killed by the Israeli Defense Forces within days of each other in Gaza this week.

"I have a funny family, so the WhatsApp group is just a great place to laugh — but lately, it has been just … news," she said. Najjar is currently living in Istanbul, where she's taking a language course. "I thought getting out of Gaza would be the end of the nightmare, but it turns out that it was only the beginning."
Over a hundred people have been killed since the beginning of Palestine's #GreatReturnMarch, a six-week protest campaign that's been going on since March. More than 13,000 people have been injured.
Over the weekend, Najjar's 21-year-old cousin Razan was shot in the chest while she was working as a medic in Gaza. She had apparently intended to pull an injured protester, who had managed to cut through the wire fence separating the territories, back to safety and treatment. It was then that members of the IDF opened fire, first with tear gas, then using live ammunition.
Fellow medical worker Rida Najjar (no relation to Razan al-Najjar) told Al Jazeera it was clear as they approached the fence they were aid workers: "There were no other protesters around, it was just us."
An initial investigation conducted by the IDF found that Razan was not deliberately targeted. Days after her death, the official IDF Twitter released a short cut of an interview Razan gave before her death; in the longer version she describes herself as being a "human shield and rescuer for the injured on the front lines." In the cut shared by the IDF, this is reduced to her stating: "I am here on the front lines to act as a human shield."
In the days following her death, tributes appeared across social media, many under the hashtag #AngelOfMercy.
"She literally gave everything," her cousin said.
Three days later, Dalia discovered that another cousin, Ramzi, had been killed in Gaza as well.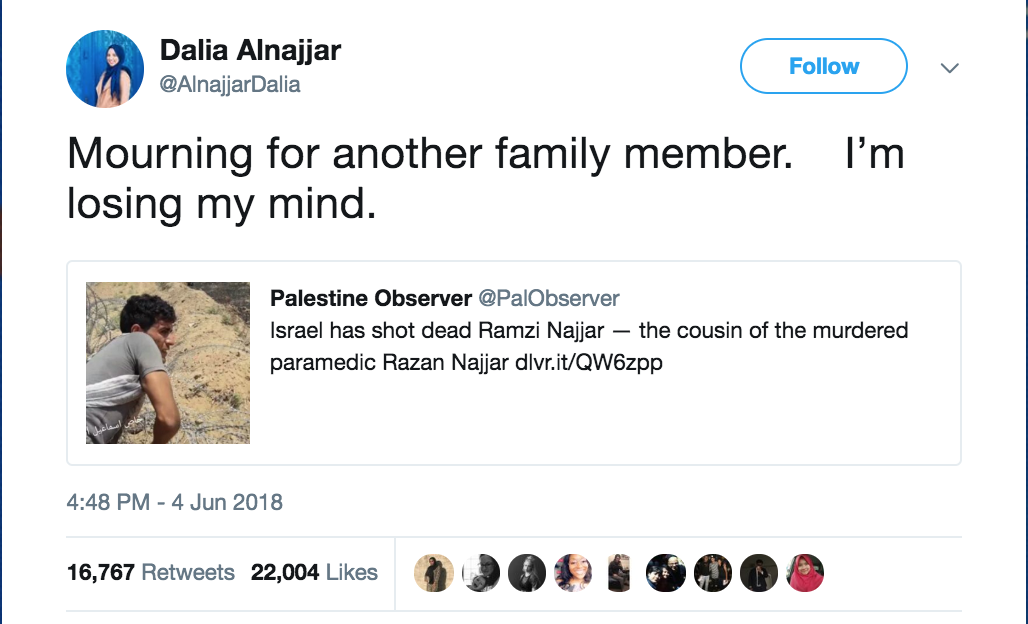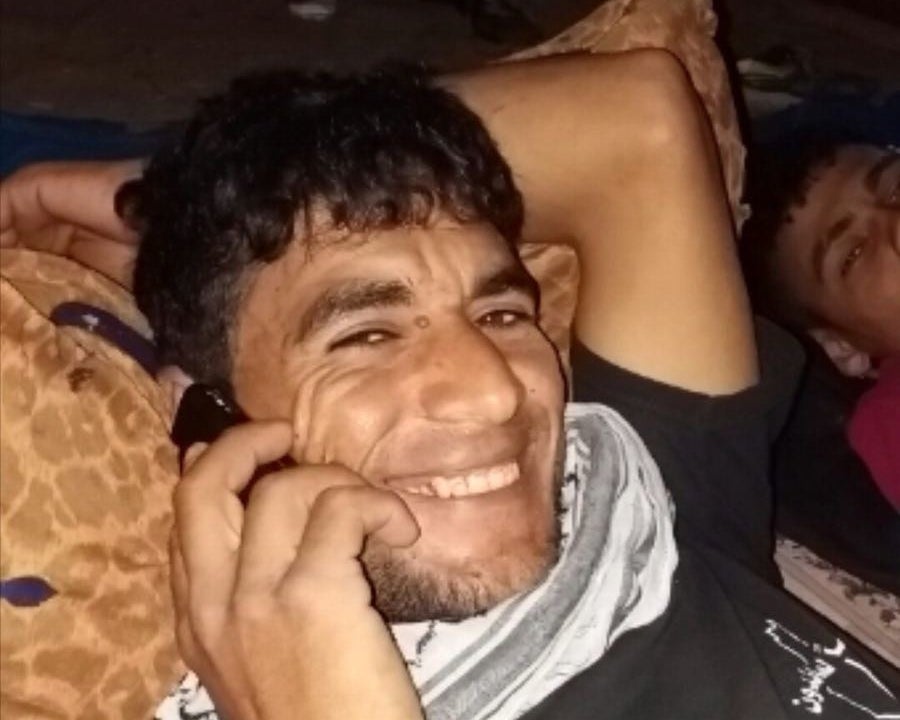 According to reports, Ramzi, 30, was running toward the border fence when he was shot by members of the IDF on June 4, three days after Razan had been shot nearby. According to reports he had approached the fence with another young man, who has not been named, and was attempting to break through with an axe.

"His body is still with the IDF, so we can't have a funeral for him," Dalia al-Najjar said. "He's not just a story, he is just a human being who lived his life, seeking freedom and a better future."

"It is crazy that I have to talk to people about humanizing Razan and Ramzi, but at least I can be a voice for them. This is the least thing I can do," she said.
News of Ramzi's death was shared across social media, as well as tributes to his cousin, Razan.
Najjar's baby cousin, born this month with respiratory distress, also died in Gaza this week. Her aunt went into labor early, and with medical supplies severely limited due to an Israeli-enforced blockade, civilians are dying of ordinarily treatable illnesses.
"The doctors told us there was no hope because we don't have the medicine that we need to help the baby," she said. "They didn't have anything they could do."
Her baby cousin's death is indicative of the dire medical situation in Gaza. The International Committee for the Red Cross has said need in the area is "overwhelming." In February the World Health Organization said Gaza lacked 40% of basic medicines, in addition to hospitals having to cope with electricity and fuel shortages, with supplies severely limited due to an Israeli-enforced blockade.

"My aunt was in great pain. For any mother, you are carrying your child, you are preparing for it, you buy the clothes and everything for it, and then..." Najjar said.
"How many people do I have to lose?"

In May, Gazans endured the bloodiest day since 2014 — with 58 killed and more than 1,200 injured — shortly after the Trump administration's decision to move the US Embassy to Jerusalem. But Najjar said that even these deaths rarely moved the needle.

"It is disgusting. We are all the same. Why are we doing this? Why are we discriminating against each other?" she said. "But if we lose someone in an attack in France, or whenever in the first world, it is suddenly a tragedy and we need to change our profile pictures and write 'Je suis whatever.'"

International pressure over Gaza is growing. The British prime minister, Theresa May, said she was "concerned" about the loss of life. France's leader, Emmanuel Macron, condemned the deaths, and stated that the US Embassy's highly contentious move to Jerusalem had fanned the violence.
Najjar said she was still traumatized from the 2014 war with Israel. In the seven-week conflict, more than 2,000 Palestinians were killed and just over 70 Israelis lost their lives. "I consider myself one of the people who suffered the least in Gaza, truly. I didn't lose my house, I didn't lose my neighborhood, I didn't lose a brother or someone like that. I feel privileged," she said.
"I don't know, I honestly don't know how I am coping," she said. "I don't want to talk about it, but I have to talk about it, because everyone has a role in the Palestinian cause and I think the least thing I can do is to share my story."
BuzzFeed News has reached out to the IDF for comment.