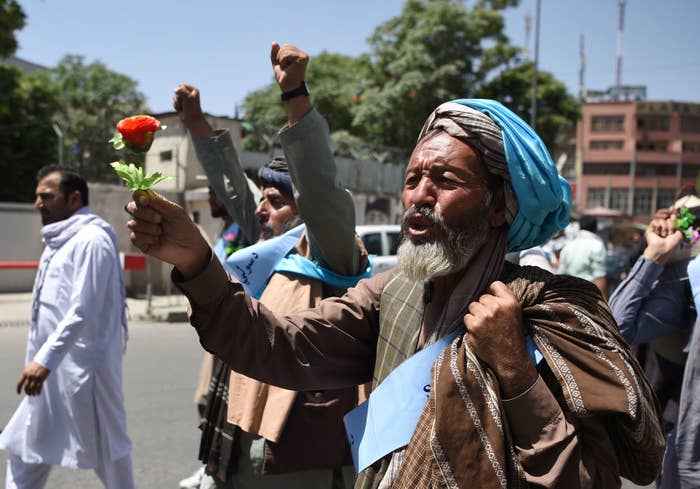 Scores of Afghan men have arrived in Afghanistan's capital Kabul after walking hundreds of miles in a peaceful demonstration for the end of the war.
The Peace March started spontaneously at the end of March after a suicide attack in Helmand province killed 13. Families who had had relatives killed gathered around a tent pitched in the provincial capital, Lashkar Gah, and refused to move.
Their blood had become too cheap, the young men told the New York Times.
Instead of dispersing, nine men began a long march through the southern – and most damaged by war – provinces, snaking up towards Kabul. They marched through 40°C (104°F) heat, during Ramadan, and over the weeks they were joined by other supporters collected at small villages and towns' mosques.
Moday, they walked into the country's capital city, Kabul.
"It was amazing, there were boys younger than me and men as old as my father, or even my grandfather and they all came calling for peace," Ali Latif, a freelance journalist based in Kabul who saw the march arrive, told BuzzFeed News.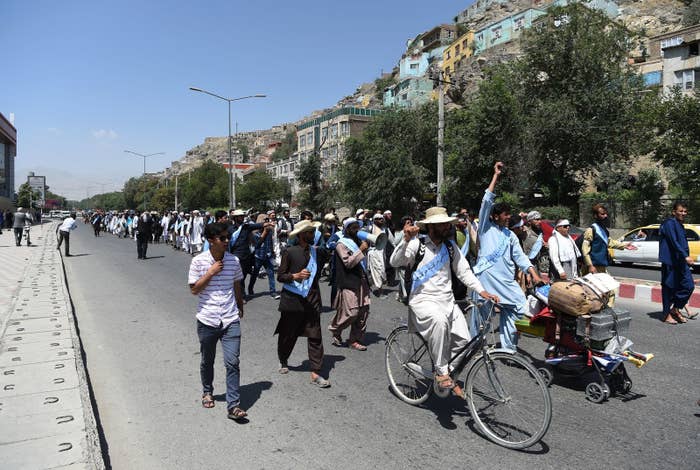 "They weren't part of a huge warlord convoy or a political rally for another politician, these were ordinary people willing to walk from some of the most insecure provinces in the country throughout Ramadan."

The convoy arrived around 6 a.m. local time, with the men who made up the single-file groups utterly exhausted. The group was mixed, with some of the men seriously injured from the past decades of war.
Zaheer Ahmad Zindani, 27, pictured below, was among those. He was blinded several years ago when a roadside bomb detonated. "We are tired of this war and bloodshed," he told AFP last month. "Both sides should sit down for peace talks. We want a permanent and sustainable peace."
Images shared on social media showed many having to receive emergency medical attention as they were dehydrated and hurt.

Modaser Islami, a consultant based in Kabul, also saw the procession arrive and said they were accompanied by around 200 people.
Islami, speaking to BuzzFeed News via messenger, said the group was exhausted, but that they would spend the day visiting mosques around the city and speaking to people. "They walked a LOT and couldn't take proper food as well," he said.
Latif said the men were carefully escorted by the police through the capital. "It really felt like a people's movement, because everyone felt embraced and welcomed and there were no special concessions made for some warlord or some politician," he said.
A groundbreaking cease-fire was announced by Afghanistan's leader Ashraf Gani, coinciding with Eid celebrations. For the first time in 23 years there was a formal pause in the fighting, with Taliban fighters entering cities like Kabul.
Latif said it was extraordinary to see "enemies embracing on the street, acknowledging that they are brothers tired of a war that is separating them."

But although some celebrated the ceasefire, many questioned letting the fighters back into the city — and whether the brief pause in hostilities would last.
Sadly, the violence was not stopped entirely: a suicide bomber detonated his device in a crowd in Jalalabad, killing at least 18, and the Islamic state claimed an attack on a group of Taliban leaders that killed 36.
But, Latif explained, today the city came out to embrace the young, injured, and old men who had made the journey – shrugging off their tiredness after celebrating Eid. "The Abdur Rahman mosque was full of people, media, supporters who had come to greet them, including women, and of the marchers themselves," he said.
It had been a remarkable week, he said, "seeing people willing to risk so much, and put up with so much difficulty, walking through the heat, hungry and thirsty through Ramadan, just to call for peace."