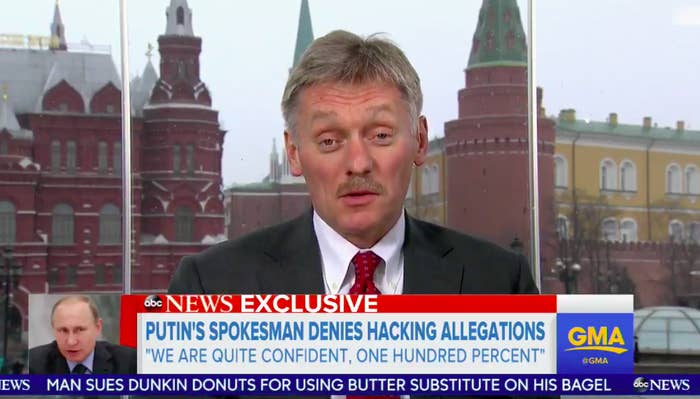 There is "no evidence" that Russia interfered in the United States' domestic affairs, a spokesperson for Vladimir Putin's government has said, adding any suggestion it did so — following Mike Flynn's comments yesterday — would be "slander".
Dmitry Peskov, speaking to George Stephanopoulos on Good Morning America, said Russia was "100% confident" that any testimony from the former national security adviser Michael Flynn would not reveal links between Russia and the US election.
Flynn resigned from his role as national security adviser after revelations that he had misled Vice President Mike Pence about a meeting he had with Russian ambassador Sergey Kislyak.

Yesterday, the Wall Street Journal reported the former general was seeking immunity in exchange for testifying to the FBI and members of Congress about whether the Trump campaign coordinated with Russia to try to sway the US presidential election.
Peskov, in a forthright if seemingly good-natured interview, shut down any such suggestions. "We insist that any blame that Russia could have interfered in the domestic affairs of the United States is slander. It has no evidence at all," he said.
"We understand pretty well that there are some people who are doing their utmost to keep this issue on the agenda. Well, let them do it before the audience is bored."
He also dodged suggestions that Trump was the candidate favored by Putin. "It's not about preferring someone," he said. "It's about whose ideas are more close to you, and whose ideas are more welcomed in Russian public opinion."
When Stephanopoulos asked whether relations between the two countries were as bad as during the Cold War, the Russian president's spokesperson said they were "maybe even worse".
Asked to elaborate on why, he mentioned the "present presidential administration's actions", citing the "illegal actions against Russia property in Washington and New York, extraditing Russian diplomats and all that stuff".
President Barack Obama's administration had expelled 35 Russian diplomats in December, after accusations the Russian government hacked the Democratic Party to help Trump win.
Peskov added there was a chance to improve relations between the two countries, should Putin and Trump meet to "exchange views, and if they decide they want to reestablish a dialogue then there will be a chance for our bilateral relations to get better".