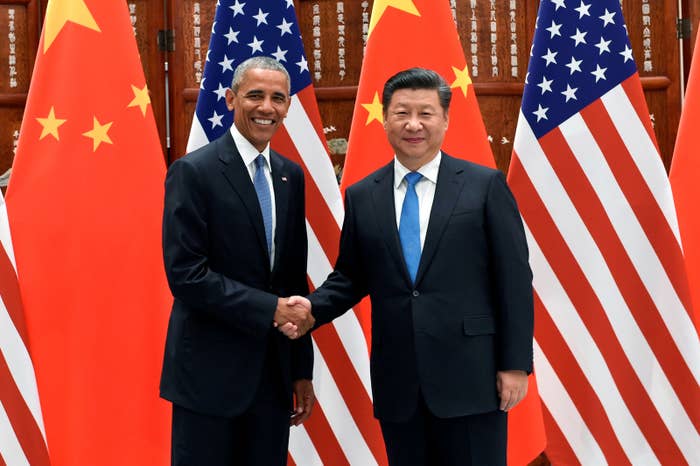 The United States and China, which between them account for a third of global greenhouse gas emissions, on Saturday ratified a global climate agreement ahead of the G20 summit in Hangzhou.
"We have a saying in America — that you need to put your money where your mouth is," President Obama told reporters. "And when it comes to combatting climate change, that's what we're doing, both the United States and China. We're leading by example."
"I believe that history will judge today's efforts as pivotal," he said.
The Paris Agreement, hammered out in France last year after decades of negotiations and false-starts, laid out a series of provisions to change the way the world uses fossil fuels, and curb the release of greenhouse gases.

However, it will only be enacted when 55 nations, representing 55% of worldwide emissions, ratify its terms. Prior to China and America's agreement Saturday, 23 countries – representing just 1% of emissions – had agreed to the terms set out.
The US and China's ratifications are momentous because together the two countries account for roughly 38% of global emissions. There is hope their agreement on climate change may spur nations such as Canada, the UK, and Brazil to act as well.
Both countries have now submitted their plan to join the agreement to UN Secretary General Ban Ki-moon who is in Hangzhou to witness the ratification, Reuters reported.
China's National People's Congress Standing Committee agreed to the proposal Saturday morning, the official Xinhua news agency reported.
Speaking at a joint conference with Obama after the agreement Chinese President Xi Jinping said: "Our response to climate change bears on the future of our people and the wellbeing of mankind."
In further remarks, Obama voiced hope for the two countries to work together:

Where there is a will and there is a vision and where countries like China and the United States are prepared to show leadership and to lead by example it is possible for us to create a world that is more secure, more prosperous and more free than the one that was left for us.

Despite our differences on other issues we hope that our willingness to work together on this issue will inspire greater ambition and greater action around the world.
US Secretary of State John Kerry also praised the agreement. In a statement, he said when China and the US came "together to take action on climate, it moves the needle in a way that no two other nations can accomplish."
China and the US are expected to clash over a number of issues, notably human rights, during the G20 Summit in China. World leaders – among them the UK's new prime minister Theresa May – have started arriving in Hangzhou.
Meanwhile, the agreement was welcomed by global environmental groups.
Greenpeace labelled the news as sign of a "new era in global efforts to address climate change" in a statement online.
"Presidents Xi and Obama's joint announcement this evening sends a strong signal to the world that Paris has moved from agreement to action," senior climate policy adviser Li Shuo said in a statement. However, he cautioned the agreement should be seen as a "starting point, not the finale" of action to tackle climate change.

May Boeve, executive director of 350.org, an organisation that works to bring environmental groups together to affect change, said: "The Paris Agreement could be the next nail in the coffin of the fossil fuel industry if governments actually follow through on their commitments."

In a statement, she also cautioned against being too optimistic: "While people celebrate the agreement, let's remember there is still a dangerous gap between what the governments are signing up to, what they are doing, and the real ambition we need to avert the worst impacts of climate change."