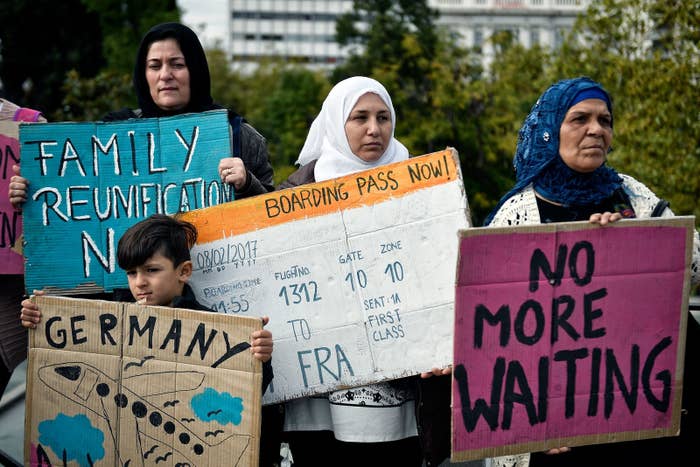 Hundreds of refugees who have been granted asylum and are waiting to be reunited with their families are being forced to pay overpriced fares for their flights, Syrian refugees told BuzzFeed News.

Three Syrians — two men and a woman — who had been living in Athens for months, and asked that they be identified by their first names only because they feared they'd face immigration difficulties, were approved under the EU reunification scheme to travel to their families in Germany.
The three of them said they were among hundreds of refugees directed by Greek asylum officials to the Athens-based company Himalaya Travel.
Refugees were then told they needed to pay the company within two days for their tickets to Germany, at prices that were up to double the cheapest available fares online.

Charities Tent to Home and Help Refugees both confirmed to BuzzFeed News that the only travel company Greek Asylum Service officials directed refugees to was Himalaya.

"When they told me that I have to buy my own tickets I was in shock," Maher, a 39-year-old Syrian Kurd, told BuzzFeed News over WhatsApp.

Maher has been Greece for 16 months, and is waiting with his wife, their 11-year-old daughter, and their 4-year-old son to be reunited with their 14-year-old son in Germany — whom they have not seen in two years.
Earlier this month, Maher was told that traveling with his family would cost €1,200.
"I haven't slept for two days, believe me," Maher said. "We all haven't slept. Even my little son here asked me if we were going to his brother. I told him yes, God willing, we will go to him."
Himalaya Travel's manager and owner told BuzzFeed News that the company did sell tickets to refugees at a higher price. However, he defended overcharging the refugees because, he said, the tickets needed to be transferable and refundable as European authorities often left it until the very last moment before asking refugees if they could fly.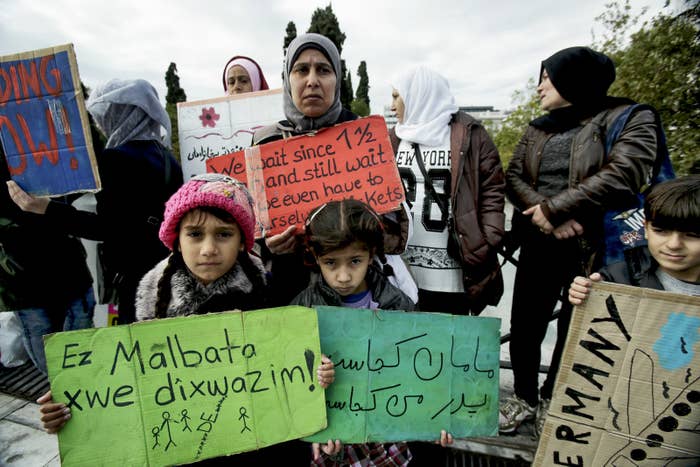 "If we get them the cheapest ticket, you lose the money 100%," said George Dimopoulos, the owner, in a phone interview from Athens. "You cannot change the date, you cannot refund that ticket, and change that ticket for another date one week later or two weeks later."

The company was treating and charging refugees "like normal people," Dimopoulos said, and it was European nations — he blamed Berlin's local authorities – that were responsible for the higher fares, as they imposed strict rules on admitting refugees.

Individual refugees with a child or parent already in Germany can apply for reunification once they are in Europe. The asylum scheme has proved controversial in Germany and Greece, where many refugees recently protested over delays in processing their applications.

Refugees should not have to wait longer than 11 months to be reunited with their families, according to the European Union's Dublin III guidance. After they register with Greek authorities for reunification, Greece's asylum service has three months to contact the country that the individual's family is in, and ask them to take over the asylum application.
The host country then has two months to decide whether to accept the application, and if it's accepted, Greek authorities have to send the refugee there within six months.

Member states and the European Commission have a responsibility to financially assist refugees attempting to be reunified with their families, according guidelines from the UNHCR, the UN refugee agency.
After being sent to Himalaya Travel by Greek officials, refugees said they are given only one or two days to come up with the money — sometimes as much as €240 to €280 each. The market value of these one-way tickets is closer to €50 to €100, according to Google searches for flights on similar days.
Dimopoulos, of Himalaya Travel, said the refugees were booked on more expensive tickets because many of them had a lot of luggage, and cheaper airlines would require that they book two seats for one passenger.
He also said refugees needed to produce the money in two short days because of the booking system. "If we lose the pre-booking then we will lose the booking, and have to probably ask for a different price," he said.
Two Syrian brothers, Salar, 23, and Shiyar, 14, have been in Greece since 2016. Desperate to be reunited with their parents in Germany, they were told by the Greek asylum office earlier this month that they would have to buy their tickets from Himalaya Travel.

"I told them I cannot because I do not have the money," Salar told BuzzFeed News from Athens in a WhatsApp message earlier this month.
Salar and Shiyar later got their tickets through assistance from Tent to Home volunteers, and were finally reunited with their family on Nov. 16.
Documents seen by BuzzFeed News show their Aegean flights cost €520 for both of them, compared with the cheapest tickets on the same day, available for as little as €62 in total.
A Help Refugees field manager, based in Greece, told BuzzFeed News: "These prices [from Himalaya] are extremely high and nearly impossible to pay for a large family whose only income is through the cash system."

Refugees living in Greece are given a small stipend, approximately €125 a month, to live on, depending on the size of their family, from Greek officials.

The charity Tent to Home, part of Love Without Borders, said it was aware of at least three families who had all been approached by Himalaya Travel since September.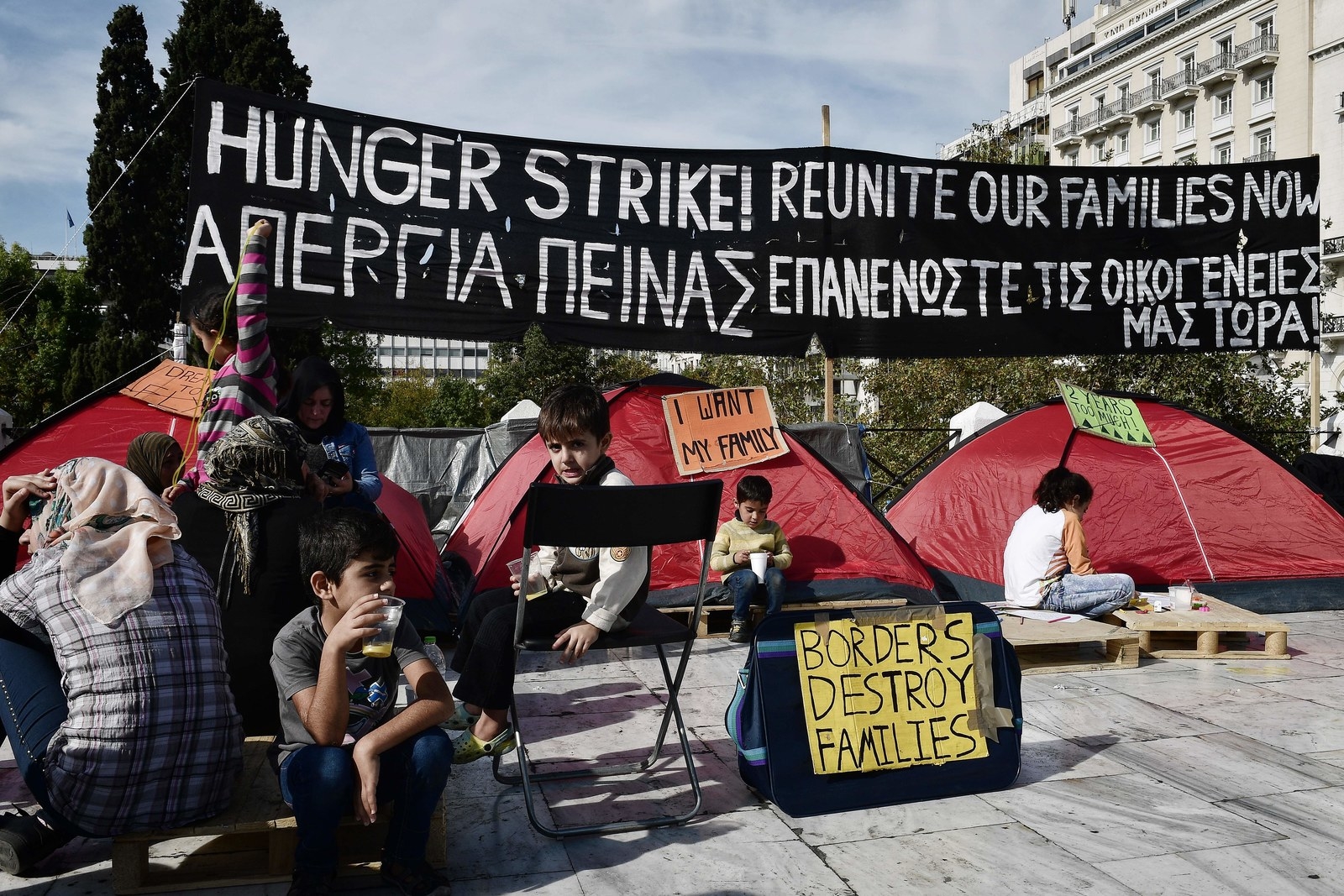 "None of this is in writing — they do it all in person and on the telephone," Anna Segur, an American who volunteered with the group over the summer, told BuzzFeed News. She said volunteers with Tent to Home were concerned that the costs of reunification were being passed on to the refugees themselves.
"The families are depressed, anxious, and forced to endure another yet another indignity and exploitation," Segur said.
Kayra Martinez, founder of Love Without Borders, said the monthly stipend given to refugees was barely enough to cover their living costs, let alone to pay for expensive flights through Himalaya Travel.
"Some families are using all their last financial means to pitch in," she said. "It is putting everybody under a bit of stress."
Another Syrian stranded in Greece, Natalia, a 29-year-old mother of a child with disabilities, had been on a waiting list for reunification until September, when she was told she and her child could fly to Germany to reunite with her husband. She was asked to pay €570 for two tickets.
"They asked me if I had enough money to pay for the tickets," Natalia told BuzzFeed News. "I told them I don't have the money they were asking for."
She was finally put on a plane to Germany after Tent to Home paid for her tickets.
A spokesperson for the Greek Asylum Service confirmed that refugees were only being directed to Himalaya Travel, and that those tickets were more expensive than fares available online. The spokesperson did not explain why the office was sending all refugees to just one company, and instead said refugees could choose to wait if they couldn't pay.

"The problem is that refugees are stuck in Greece for quite some time," the spokesperson said, pointing to a longer waiting period because of the backlog caused by the closure of the northern border, following the EU–Turkey deal. "If they don't pay, they can wait, but of course it is a hard and harsh choice."