Suspect Arrested In Connection To Brussels Bombings, Say Belgian Authorities
The man has been named as Ali E.H.A. by the Belgian federal prosecutor's office.
Belgian authorities have arrested another individual in connection with the Brussels bombings.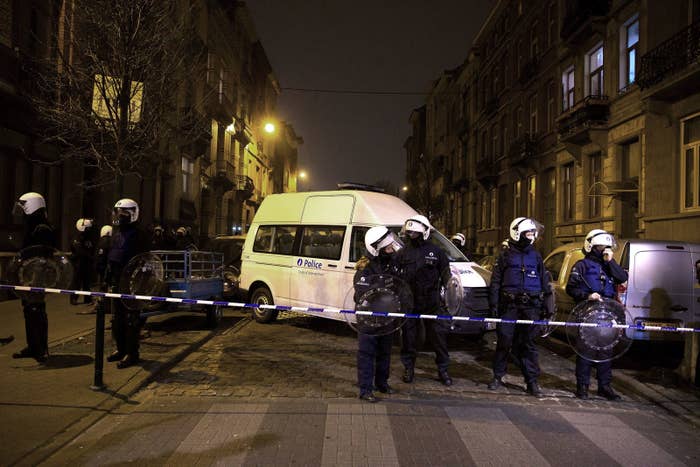 The 31-year-old man, identified by federal prosecutors only as Ali E.H.A., was arrested after Belgian police raided a property in the Schaerbeek area of Brussels on Thursday, AFP reported.
He was arrested on suspicion of participating in "terrorist murders."
Three suicide bombers killed 32 people on March 22 at Zaventem airport and Maalbeek metro station in Brussels in the worst coordinated terror attacks endured by the country.
The 31-year-old is the 10th individual to have been arrested in connection with the attacks, the BBC reported. Several individuals have been charged in connection to both the Brussels bombings and the Paris attacks last year.
In a statement, the federal prosecutor's office said: "The Belgian national Ali E.H.A., born on 23rd September 1984, was arrested and later put in detention by the investigating judge for participation in the activities of a terrorist group, terrorist murders and attempted terrorist murders, as a perpetrator, co-perpetrator or accomplice."
Authorities confirmed no further information about the suspect would be released, so as not to hamper the investigation in the March attacks.
Local newspaper La Derniere Heure reported that the man is suspected of playing a role in hiding some of the men accused of planning and carrying out the attacks.
The arrest comes the day after the approval of the extraction to France of Mohamed Abrini, who is suspected of crucial involvement not just in the Brussels attacks, but also the November Paris attacks, in which 130 people were killed.
According to the police, Abrini has confessed to being the "man in the hat" photographed walking through the airport who later fled the scene without detonating his device.
The two other men, who were killed in the attack on the airport, were Ibrahim el-Bakraoui and Najim Laachraoui. The metro bombing was carried out by Bakraoui's brother, Khalid el-Bakraoui. ISIS would later claim the attacks.