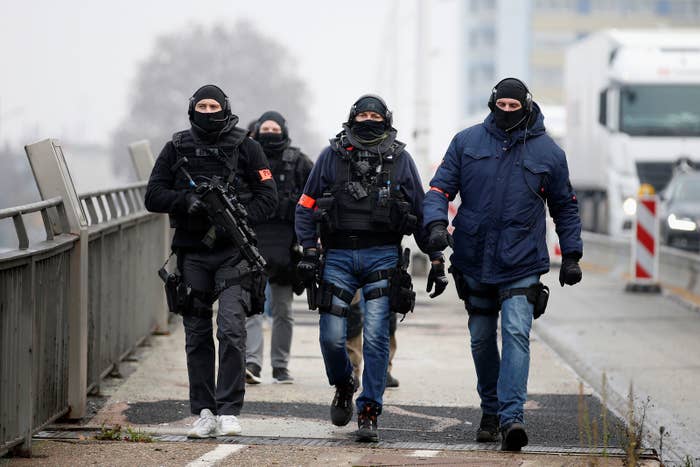 A huge manhunt is underway for the man suspected of opening fire on a Christmas market in the eastern French city of Strasbourg, killing at least two people.
The suspect was named Wednesday by police as Chérif Chekatt, a 29-year-old who was born in Strasbourg. French officials have said the shooting was an act of terror.
Paris public prosecutor Rémy Heitz said the attack had left two people dead, one person brain-dead, and 12 others injured. The death toll had previously been stated as three.
Heitz, giving a press conference after visiting the scene of the shooting, confirmed Tuesday's shooting was being treated as a terrorist attack.
He said that eyewitnesses had claimed Chekatt — who he only identified at this stage as Chérif C. — had shouted "Allahu Akbar" during the attack.
Chekatt, Heitz said, was known to police prior to the attack, having already been convicted for 27 minor and serious theft offenses across France, Germany, and Switzerland. In 2011 he was reportedly imprisoned for two years, including spending six months for allegedly assaulting a 16-year-old with a bottle shard in a shopping center in Strasbourg.
In 2016 he was flagged on "fiché S," the French terrorist watchlist, by the Directorate General for Internal Security.

"He is known by prison authorities for having been radicalised, and having tried to radicalise others in 2015," Heitz said.
Heitz declined to give further details about the suspect but said four individuals, who were not named, linked to Chekatt. had been arrested overnight and remain in custody.
An unverified image, purported to be of Chekatt, has been shared online. On Wednesday afternoon, police released an official photo of Chekatt on Twitter as the manhunt continued.
The attacker was armed with a gun and a knife and escaped the area in a taxi after shooting at French soldiers in the area.
He remains at large, with a huge police and security operation unfolding in France to catch him. An estimated 350 French officers have been pulled into the search, although France's Deputy Interior Minister Laurent Nuñez admitted earlier on Wednesday that he may have already left the country. Strasbourg is close to the German border.
Chekatt's home — or last known address — was searched this morning, Le Point and the BBC reported. A search of the premises found a grenade, a rifle, four knives, and ammunition.
Strasbourg Mayor Roland Ries said the Christmas market would be closed on Wednesday, and ordered flags to be lowered to half mast.
Ries also said the attack was "indisputably a terrorist attack" Wednesday morning.
French President Emmanuel Macron shared a message of solidarity with the victims and their families on Twitter.