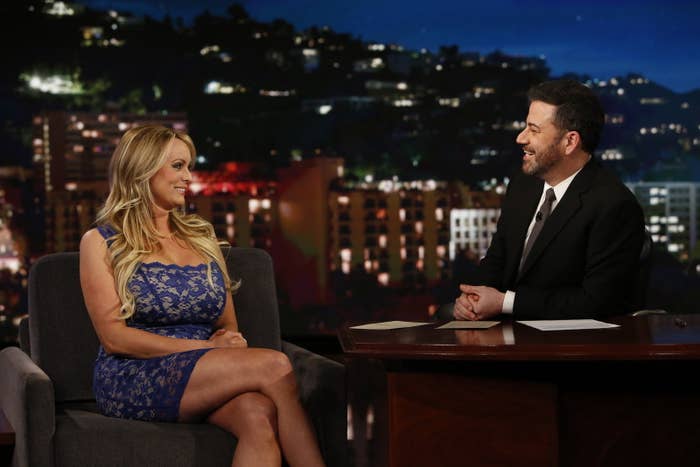 The adult film actor who was allegedly paid $130,000 to keep quiet after a consensual sexual encounter with President Donald Trump appeared to cast doubt on her own denial that the affair ever took place, issued just hours before an interview with Jimmy Kimmel on Tuesday night.

Stephanie Clifford, who performs as Stormy Daniels, released a statement prior to her appearance on Jimmy Kimmel Live denying that the alleged sexual relationship ever took place.
"I am not denying this affair because I was paid 'hush money' as has been reported in overseas owned tabloids. I am denying this affair because it never happened," the statement said.
Earlier this month, the Wall Street Journal reported that Clifford, 38, had allegedly been paid weeks before the 2016 election to prevent her going public about an affair she had with Trump in 2006.
Following the Journal's story, Clifford had declined to comment on the allegations around the alleged encounter, although the full transcript of an interview she gave with In Touch Weekly magazine in 2011 apparently discussing in detail her sexual encounters with Trump — and his apparent fear of sharks — was subsequently released.
Tuesday night's statement, which even appeared to deny that a nondisclosure agreement existed, initially threw Kimmel, who had planned to ask Clifford about her alleged encounter with Trump. "I had a pretty clear idea of what I wanted to ask you tonight but then about, like, three hours ago I go on the internet and I get — I see this letter," he said.
He then pulled out some of her previous signatures, and showed the audience a comparison.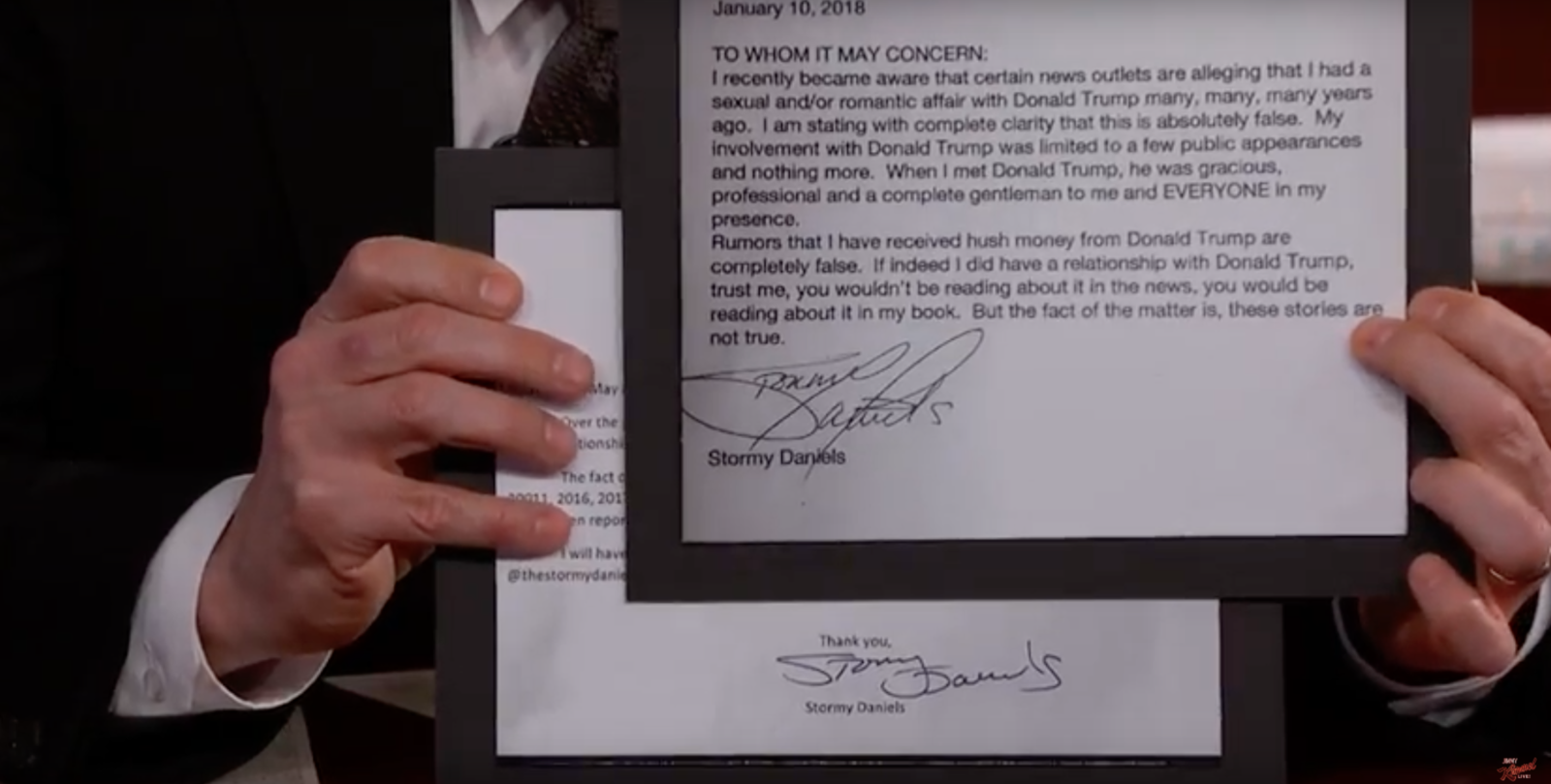 Kimmel asked Clifford directly if she had signed the new statement, to which she responded, "I don't know, did I?"
She then said that she did not know where the statement had come from, and commented, "That does not look like my signature, does it?"
She remained withdrawn when Kimmel pressed her on the details of her alleged encounter with Trump — barely moving when earlier in the segment the talkshow host placed three carrots in front of her, asking her to pick one.
Clifford continued to decline to comment, and then the interview somehow got even weirder.

Kimmel pulled out two puppets, one of Clifford and one of Trump, and asked her a series of questions in the form of a game of "never have I ever," including "Never have I ever had sex with a married man," with Clifford animating the puppet depending on her answer.
To add to the confusion, in the moments after the show's conclusion, Clifford's lawyer released another statement, confirming his client had denied any sexual encounter with Trump, and said she had indeed signed the statement that Kimmel questioned.
"She was having fun on Kimmel and being her normal playful self," the lawyer said.
Last week, Melania Trump criticized reports about her husband's alleged affair, declaring them "salacious and flat-out false reporting."

Trump himself and his lawyer Michael Cohen — who allegedly arranged the payment of $130,000 to Clifford in 2016 — also both denied the alleged affair in earlier statements to BuzzFeed News.