Over the last week, a number of Russian accounts have been tweeting memes of a girl from Aleppo at a Syrian journalist. Let's discuss how we got here:
The Syrian girl is Bana Alabed — an 8-year-old who became widely followed online after she started tweeting from Aleppo during the government siege of the city last year.
Bana has often been trolled by pro-Assad Syrian and Russian Twitter accounts, as well as by some Russian media outlets. Her images are frequently shared, usually without her knowledge or consent.
Syrian journalist Leith Abou Fadel is among those who have tweeted about Bana. He's also been on her case for a while.
As a result, he's been on the radar of a number of Russian accounts, including @Antikaratel, who has been tweeting — almost entirely without response — at Fadel since November 2015.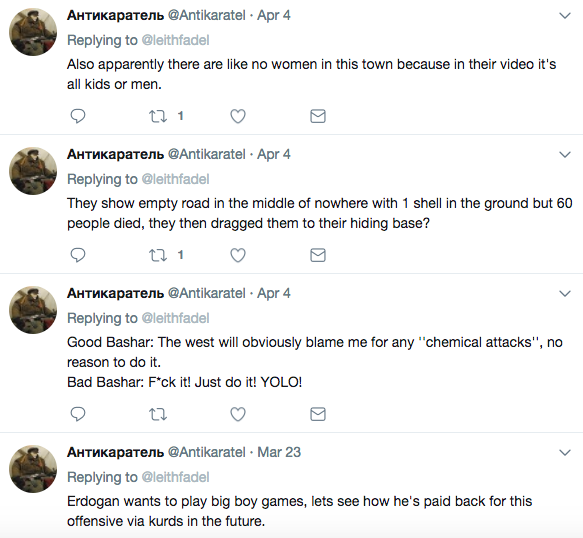 Anyway, last week, Fadel tweeted that US Sen. John McCain would visit Venezuela to support the "Free Venezuela Army," after condemning the situation in the country.
Also, in case you haven't been following: Venezuela is currently in a state of chaos, both politically and economically.
A number of smaller left-wing accounts, had tweeted about a Venezuelan "Baña" prior to this message. But they'd had little pickup.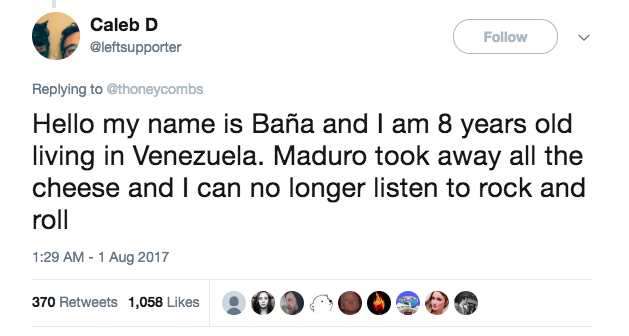 That changed after @Antikaratel's tweet, which prompted a bunch of pro-Russia accounts to start using Bana's image.
Which is how the image of a Syrian girl from Aleppo who escaped to Turkey traveled across the Atlantic to be used by Russian trolls who are mocking the suggestion that the US is intervening in Venezuela.