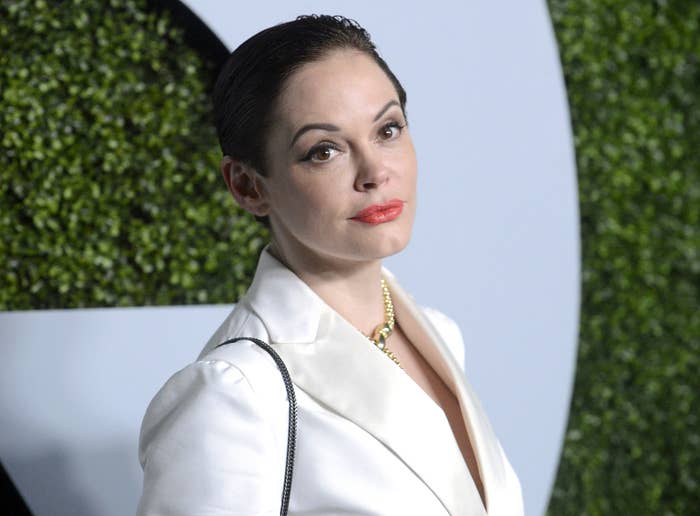 Rose McGowan — one of the first women to call out the alleged sexual misconduct of Harvey Weinstein — said she had her Twitter account briefly suspended by the social media giant on Wednesday night.
The company said she was briefly locked out of her account for tweeting a phone number, violating the terms of service.
McGowan, 44 was one of the first people named as an alleged victim of the Hollywood mogul, who is accused of preying on scores of women over a period of decades. Weinstein denies the allegations.
The actor, who has become an outspoken advocate for women in Hollywood, posted on Instagram late last night that her account had been taken offline: "TWITTER HAS SUSPENDED ME. THERE ARE POWERFUL FORCES AT WORK. BE MY VOICE."
She also shared a screenshot of a message she said she received from the social media giant.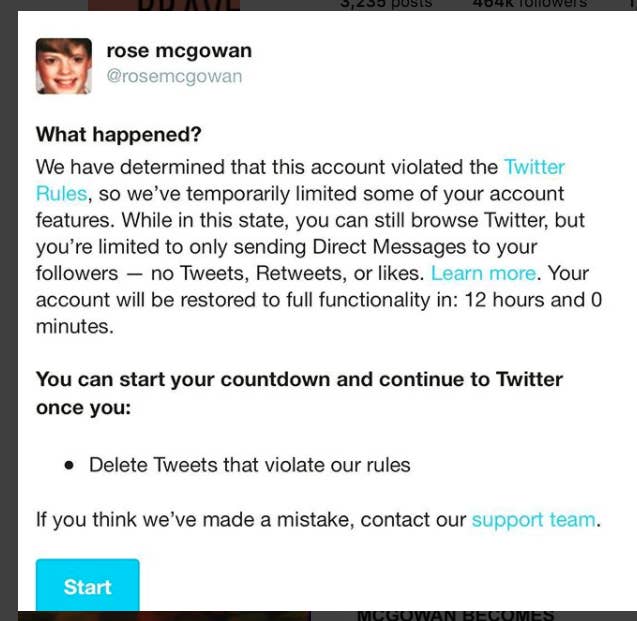 According to the screenshot she shared on Instagram, McGowan was locked out of her account for 12 hours, although as of Thursday morning (BST) the account was active.
"We don't comment on individual accounts for privacy and security reasons," a Twitter spokesperson told BuzzFeed News.
However, the company later tweeted that McGowan's account had been temporarily locked because "one of her Tweets included a private phone number", which violated their terms of service.
"We have been in touch with Ms. McGowan's team. We want to explain that her account was temporarily locked because one of her Tweets included a private phone number, which violates our Terms of Service," the company said.
"The Tweet was removed and her account has been unlocked. We will be clearer about these policies and decisions in the future."
An account can be suspended or a user locked out for a number of reasons, such as security concerns, suspicious behaviour, or violation of Twitter's rules. These guidelines include aggressive behaviour on the platform, or posting abusive or hateful tweets. Under the guidelines the account will be reactivated or unlocked should the user delete the tweets breaking the platform's rules.

Allegations against Weinstein became public knowledge following a New York Times investigation alleging he had sexually harassed women in Hollywood for decades.

Weinstein is accused of pressuring young women into sexual favors in return for promising to advance their careers. Through a spokesperson, Weinstein denied any allegations of nonconsensual sex and has said "there were never any acts of retaliation" against any women who refused his advances.
McGowan was named in the Times story, which claimed she was paid $100,000 as a 23-year-old to keep silent following an episode at the Sundance Film Festival in 1997. She had just starred in Weinstein's film Scream, and would go on to film the TV series Charmed. McGowan declined to comment to the Times.
Subsequently, and following an extensive New Yorker investigation in which three women alleged they had been raped by Weinstein, more and more actors have shared stories accusing the studio executive of sexual harassment. Other figures in the industry have also condemned his actions.
In the past week, McGowan has used Twitter and other social media platforms to support women coming forward, as well as to criticize actors – such as Ben Affleck – who she suggested knew about Weinstein's behaviour and did nothing.

Affleck, whose film Good Will Hunting was produced by Weinstein, posted on Facebook that he was "saddened and angry that a man who I worked with used his position of power to intimidate, sexually harass and manipulate many women over decades".