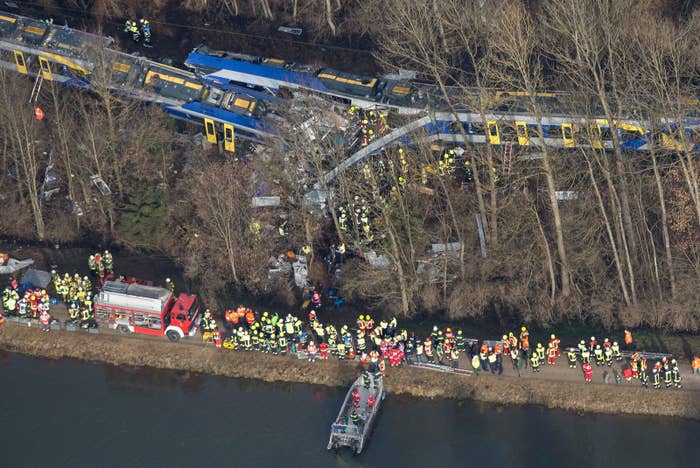 A railway dispatcher was playing a game on his cellphone when two trains he was responsible for collided head-on in Germany, killing 11 people, state prosecutors have said.
85 people were also injured when the trains collided along a single-track stretch of rail on February 9 near Bad Aibling, Bavaria, roughly 35 miles southeast of Munich. It was the worst German rail accident since 1998.
The unnamed 39-year-old man was playing a computer game on his phone when he made the signaling error and then entered the wrong emergency number, according to Bavarian prosecutors.
"On the basis of the timing, one must assume that the attention of the accused was diverted from regulating the [railway] traffic," the statement from Bavarian state prosecutor Wolfgang Giese read.

The statement continued: "Because of this distraction, the accused made some false assumptions about where the trains might cross, gave the wrong signals to the trains and entered a false combination for an emergency call to the trains, so that the drivers never heard those signals."

The man, who is believed to have several years of experience as a rail dispatcher, admitted to the Rosenheim court he was playing on his phone, but denied he was distracted from his job, the statement added.
Rules governing German rail dispatchers forbid the use of cellphones during work.
A warrant was issued for the dispatcher's arrest on Tuesday and he is expected to be charged with involuntary manslaughter, which carries a custodial sentence of up to five years.
He is believed to have been arrested on Tuesday evening, and is being held in investigative custody, German broadcaster N-TV reported.