A priest in northern France was killed early Tuesday after two attackers stormed into a church and used several hostages as human shields before they were shot dead by the police.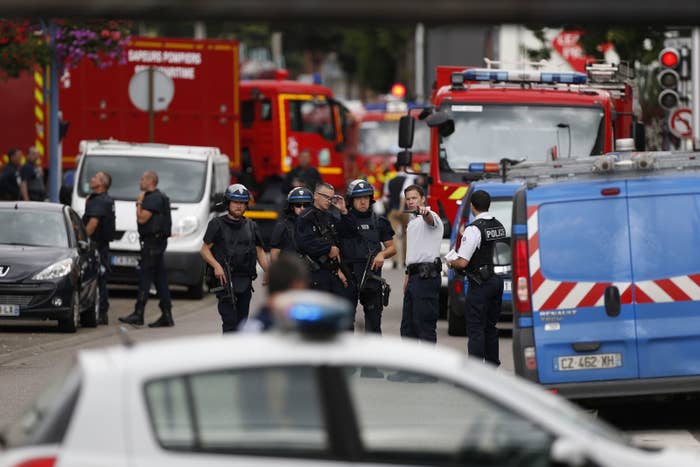 The attackers held five hostages, including the area's priest, after entering the church in the small Haute-Normandie town of Saint-Etienne-du-Rouvray, close to Rouen, during mass at around 10 a.m. local time (4 a.m. ET).

Hours after the attack, ISIS-affiliated Amaq news agency said "two soldiers of ISIS" carried out the attack.
French President François Hollande, who travelled to Saint-Etienne-du-Rouvray with Interior Minister Bernard Cazeneuve in the hour following news of the incident, said the two assailants claimed to be affiliated with ISIS.
Hollande labelled the attack a "cowardly assassination" in remarks to reporters.
"We are facing yet another trial, because this threat is extremely high and remains extremely high after all we have lived through in the past few days and the past few years. We are faced with a group, Daesh, that has actually declared war, and we have to fight this war using all means possible," he said, using an alternative Arabic name for ISIS.
Paris Prosecutor Francois Molins identified one of the attackers as Adel Kermiche, a local 19-year-old who was known to the authorities for his "radical behavior," the Associated Press reported.
Molins said Kermiche, who was wearing an electronic surveillance bracelet during the attack, sidestepped French police twice while attempting to go to Syria, but was arrested once in Germany and a second time in Turkey two months later.
Molins added that after a French judge freed Kermiche, and he was placed under house arrest. For a few hours each morning, his surveillance bracelet was deactivated as part of an agreement. Those hours also corresponded with the timing of the attack Tuesday morning.
Molins also said that one of the attackers — he did not specify which — had three knifes and fake explosives attached to a belt. The other attacker "carried a kitchen timer wrapped in aluminum foil and had fake explosives in his backpack," the AP reported.
Hollande called Pope Francis on Tuesday evening saying "when a priest is attacked, it is all of France that has been hurt," according to a statement from the the president's office.
Hollande also addressed the nation in a televised address, vowing to "win this war" against terrorism, while asking citizens to remain united.
"What terrorists want is to divide us, separate us, set us against each other," he said, according to the AP. "To attack a church, kill a priest, is to profane the republic."
The United States condemned the "horrific" attack in the "strongest possible terms," according to a statement by White House spokesman Ned Price.
"France and the United States share a commitment to protecting religious liberty for those of all faiths, and today's violence will not shake that commitment," Price's statement read.
The priest who was killed was identified as 84-year-old Father Jacques Hamel.
​Sister Danielle, a nun who was in the church at the time of the ​attack, said Hamel was forced to the ground before his throat was slit, the AP reported, citing BFMTV, a national French television news station.
The Archbishop of Rouen, Dominque Lebrun, confirmed Hamel's identity.
"I cry out to God with all men of goodwill. I would invite non-believers to join in the cry," said Lebrun. "The Catholic Church cannot take weapons other than those of prayer and brotherhood among men."
Lebrun added that three people had been injured, one of them seriously, in a statement posted online early Tuesday afternoon.
"He was a man who was always there for others," Philippe Maheut, a man who oversees the parish, told FRANCE 24.
"He was not responsible for the parish, but he was always on hand to celebrate baptisms, marriages, funerals and to meet people. He was someone who was very active," Maheut added.
Interior Minister spokesman Pierre-Henry Brandet said one of the hostages was "between life and death." He confirmed that anti-terrorism prosecutors would lead the investigation.
At around 3.40 p.m., an official at the Paris prosecutor's office, which leads investigations into terror-related incidents, told the Associated Press an individual had been detained in connection to the attack in the church.
The official, who spoke on the condition of anonymity as the investigation was ongoing, declined to indicate either the identity or whereabouts of the person detained.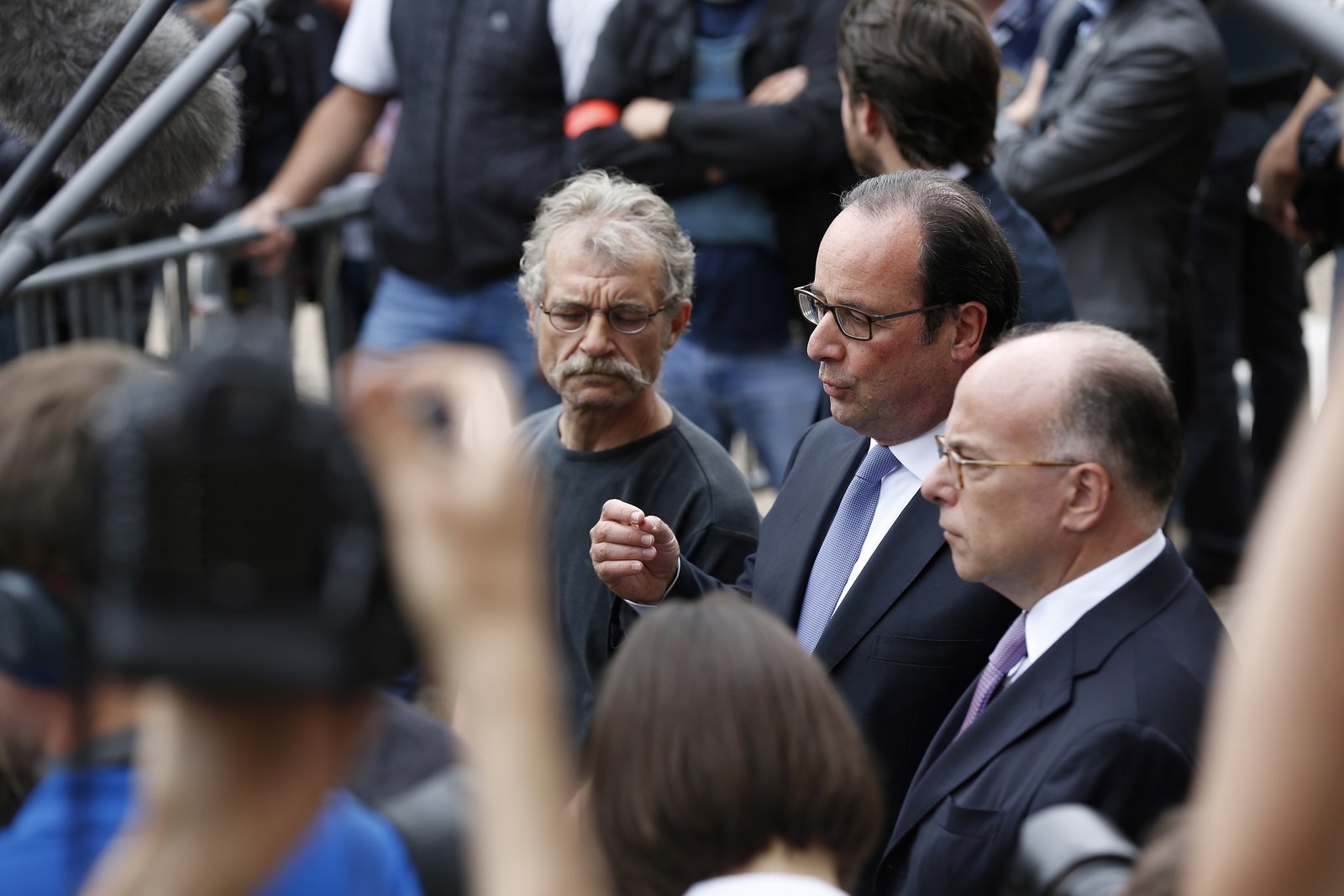 During his visit, Hollande met with local police, although he and his interior minister were unable to enter the church as it was still being swept for explosive devices by security forces.
The local branch of France's Research and Intervention Brigade (BRI), which specializes in major crimes like armed robberies and hostage situations, surrounded the church. The two assailants were shot as they left the building, interior minister Brandet confirmed.
In an address, the French president praised police officers and emergency services who "intervened extremely quickly" in order to prevent further bloodshed. Hollande also expressed his "solidarity" with France's Catholics following the tragedy.
France's prime minister, Manuel Valls, tweeted that his thoughts were with France's Catholic community in the wake of the horrific and "barbaric" attack. "We will stay together," the PM wrote.
A spokesperson for the Vatican, seat of the Roman Catholic church in Rome, condemned the "barbarous killing" of the priest.
Pope Francis felt "the pain and horror of this absurd violence", his spokesperson Federico Lombardi said.
"We are particularly shocked because this horrible violence took place in a church, in which God's love is announced," Lombardi added.
Archbishop of Canterbury Justin Welby, leader of the Church of England, called for people to "pray for France, for victims, for their communities" in the wake of the attack.
Local residents reacted to events with sadness and shock. Eulalie Garcia, who works in a nearby beauty parlour and had grown up in the area, said she had known Father Hamel since childhood.
"He was someone who was treasured by the community," she told the BBC. "He was very discreet and didn't like to draw attention to himself."
Another member of Father Hamel's congregation described him to the Guardian as "a man who did his job to the end. He was elderly but was always available for whoever. He was a good priest."
British Prime Minister Theresa May said the terrorists must not prevail as she met with Irish leader Enda Kenny.
She called on Britain and France to continue working together. "We stand shoulder to shoulder with France and offer them every support we can."
May continued that the terrorists were "trying to destroy our way of life, they are trying to destroy our values, and those values will win through, and the terrorists will not win".
It is the latest violent tragedy to strike France. Only two weeks ago, 84 people were killed after a man drove a truck through crowds celebrating Bastille Day in Nice.
In response to the tragedy, the French parliament voted to extend the national state of emergency by a further six months until early 2017. France has endured a heightened state of emergency since the Paris attacks last year.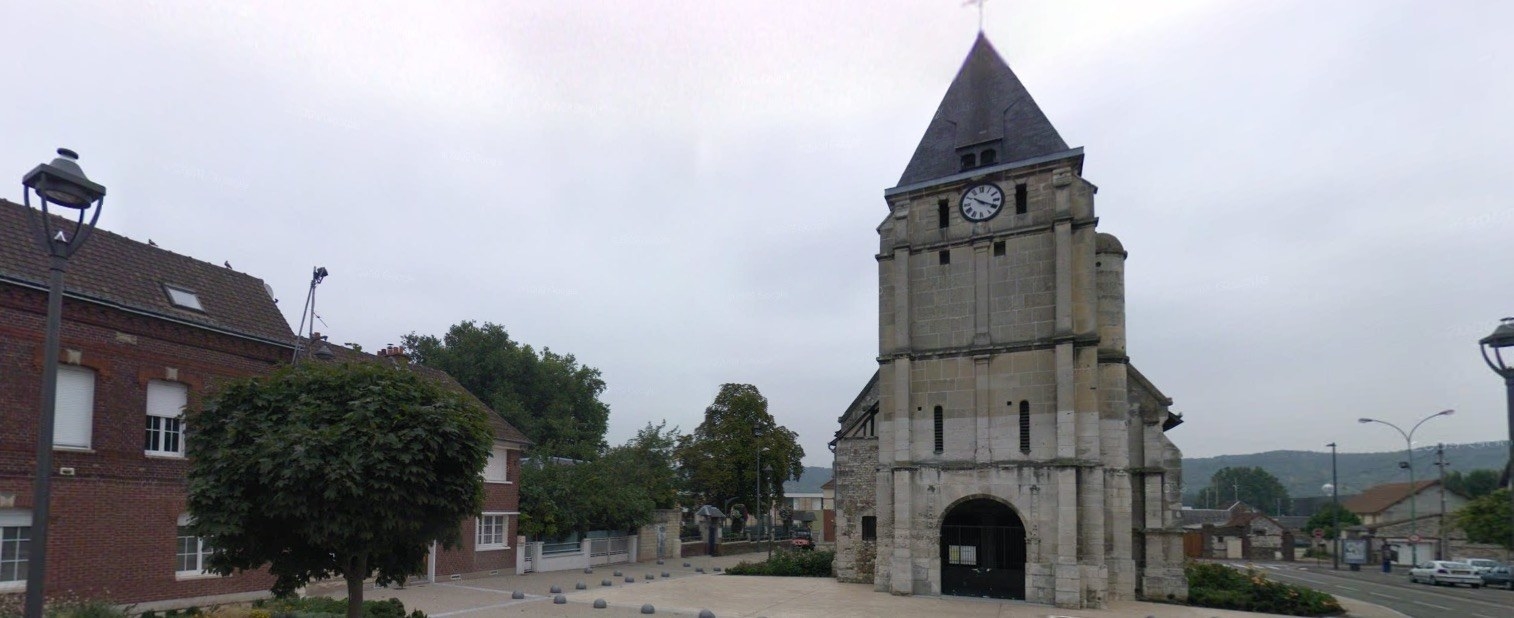 CORRECTION
France's state of emergency was extended by six months until January 2017 in the days after the Nice attack. An earlier version of this story said it was extended by two months.