Premature Babies Die In Hospital Fire In Baghdad
The blaze was caused by an electrical fault, according to the Iraqi Ministry of Health.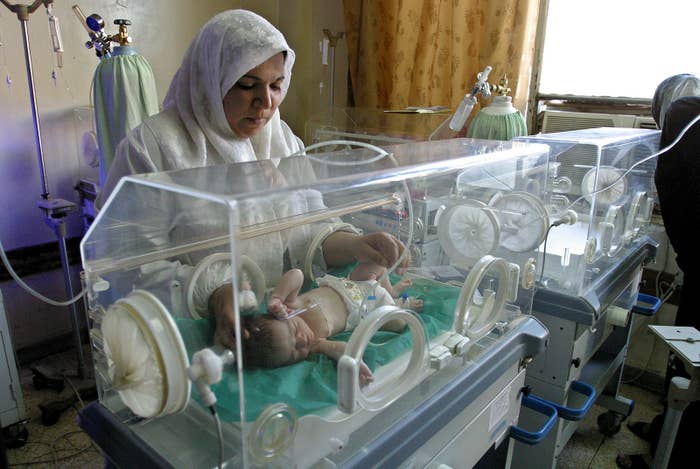 At least 12 premature babies have died after a fire broke out in the maternity wing of the al-Karama hospital in Baghdad.
A large part of the hospital, which has just under 450 beds, is believed to have been damaged in the blaze which was started by an electrical fault.
"I only found charred pieces of flesh," father-of-two Hussein Omar cried after searching for his week-old twins.
Omar, 30, welcomed twins – a boy and girl – into the world last week. Having heard about the fire, he raced to the hospital only to be told by authorities to go to another Baghdad hospital, where many of the children and their mothers were moved to after the fire.
But he could not find his children anywhere, so returned to the teaching hospital, where staff told him to go to the city's morgue.
"I want my baby boy and girl back," he told the Associated Press. "The government must give them back to me."
Two of the mothers caught up in the fire are in critical condition. Scattered reports indicated the death toll may rise, and that several members of staff are among those injured.
Eshrak Ahmed Jaasar, 41, is also searching for missing relatives. Her 4-year-old nephew was being treated at the hospital and while his mother has been found there is no sign of her nephew.
"We pay the hospital employees thousands of Iraqi dinars to allow us in to get our loved ones basic food and milk, which they cannot provide," Jasaar told AP. "It's a corrupt government that doesn't care about its citizens and lets this happen.
Ahmed al-Rudaini, a spokesperson for the government ministry of health, said the fire broke out in the women's lounge of the hospital in the early hours of Wednesday morning.
The hospital was sealed off as forensic teams shifted through the debris of the partially destroyed building. Outside, distraught parents gathered to demand answers.
The fire was started by an electrical fault, according to al-Rudaini. These faults are common in Baghdad, where poor wiring and lack of maintainance can often result in electrical fires.
Iraqi authorities said that 29 women and eight children were rescued from the fire, according to Al Jazeera, and have been transferred to other hospitals in the capital. Some of the children and babies were treated for smoke inhalation and minor burns, a source told the BBC.
It is the latest tragedy to strike the Iraqi capital.
Last month, ISIS carried out their deadliest attack on the city this year, killing 292 people when a truck bomb detonated in the densely packed Karrada neighborhood, a predominantly Shia area, in July.