Fierce Fighting In Aleppo Halts Planned Evacuation Of Civilians
There are reports from activists within the enclave that a ceasefire, declared late Tuesday, has been broken.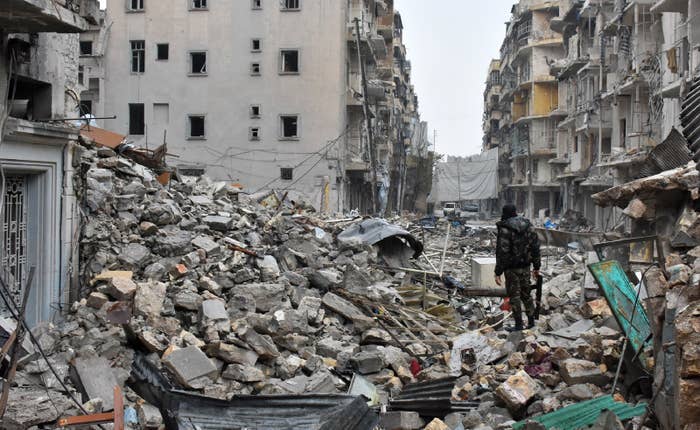 The lives of thousands of Syrian civilians and rebel fighters trapped inside eastern Aleppo hung in the balance Wednesday as squabbling international players sought to hammer out an evacuation deal.
A tenuous ceasefire, declared late Tuesday, appeared to fray amid resumption of Syria regime airstrikes and artillery fire and unconfirmed reports of shelling by rebels from the last remaining quarter of Aleppo under their control.
"Hundreds of shellings, the killed and the injured in the streets, on the ground, no one leave, SOS," one Syrian activist trapped inside told a group of journalists on a WhatsApp group. "We want to leave. We don't want more massacres. What is happening?"
The Syria regime's primary patron, Russia, and Turkey, which backs the rebels, agreed to an evacuation deal Tuesday under which civilians and rebels carrying only light weaponry would be allowed to leave Aleppo and relocate to opposition-held areas of northern Syria.
But the deal began to unravel almost as soon as it was declared, with the Syrian regime and its other patron, Iran, adding new conditions. Though government buses to move people through the front arrived, not a single person boarded.
Neither Syria nor Iran — nor the collection of militias under Iran's command — had apparently signed off on the deal. The Syrian government of Bashar al-Assad is reportedly demanding that its fighters in outlying towns are simultaneously evacuated as well as those from Aleppo. Iran also sought for rebels in other parts of the country to lift sieges on two towns south of Aleppo populated with Shiite co-religionists as part of the deal.
"Iran's sectarian militias besieging Aleppo breached the truce and prevented civilians from leaving by adding new files for their own interests," Yasser al-Youssef, spokesman for the Aleppo rebel group Nouredinne al-Zinki, said in an announcement. "The agreement was between the rebels and Russia and it did not include Iran, and Assad hasn't made an internal decision about it."
One representative of one of the Aleppo rebel groups, al-Farouk, described an extraordinary scene Tuesday during which Russian and Iran officials nearly came to blows over the evacuation. "After we took the injured to the evacuation location, the Iranians came and wanted to interfere," said the rebel representative, in a recorded audio message sent to journalists. "Russians objected and they started arguing between each other."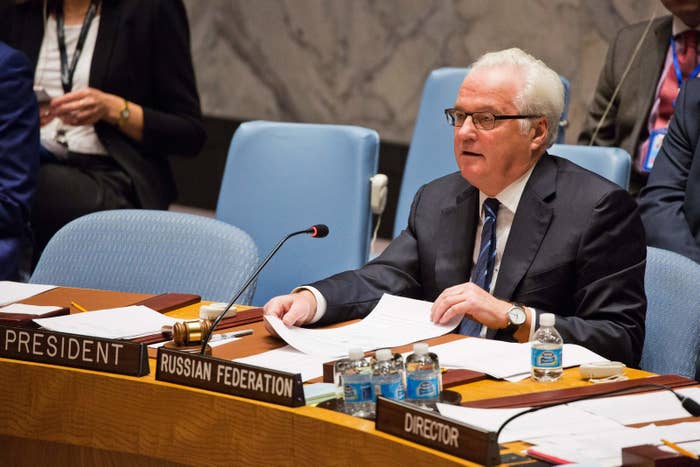 The resumption of fighting appeared to catch Moscow off guard. A day earlier, Russia's UN ambassador declared military action in eastern Aleppo had all but ceased and that the Syrian government had control of rebel-held areas, ending the four-year battle to control the city, the Associated Press reported.
The Russian ambassador, Vitaly Churkin, made the statement at an emergency UN Security Council Meeting, adding that "there is no issue of some cessation of hostilities, or some special humanitarian operation."
"Now it's going to be under the control of the Syrian government, so there is no need for the remaining civilians to leave and there are humanitarian arrangements in place," Churkin said on Tuesday, according to NBC.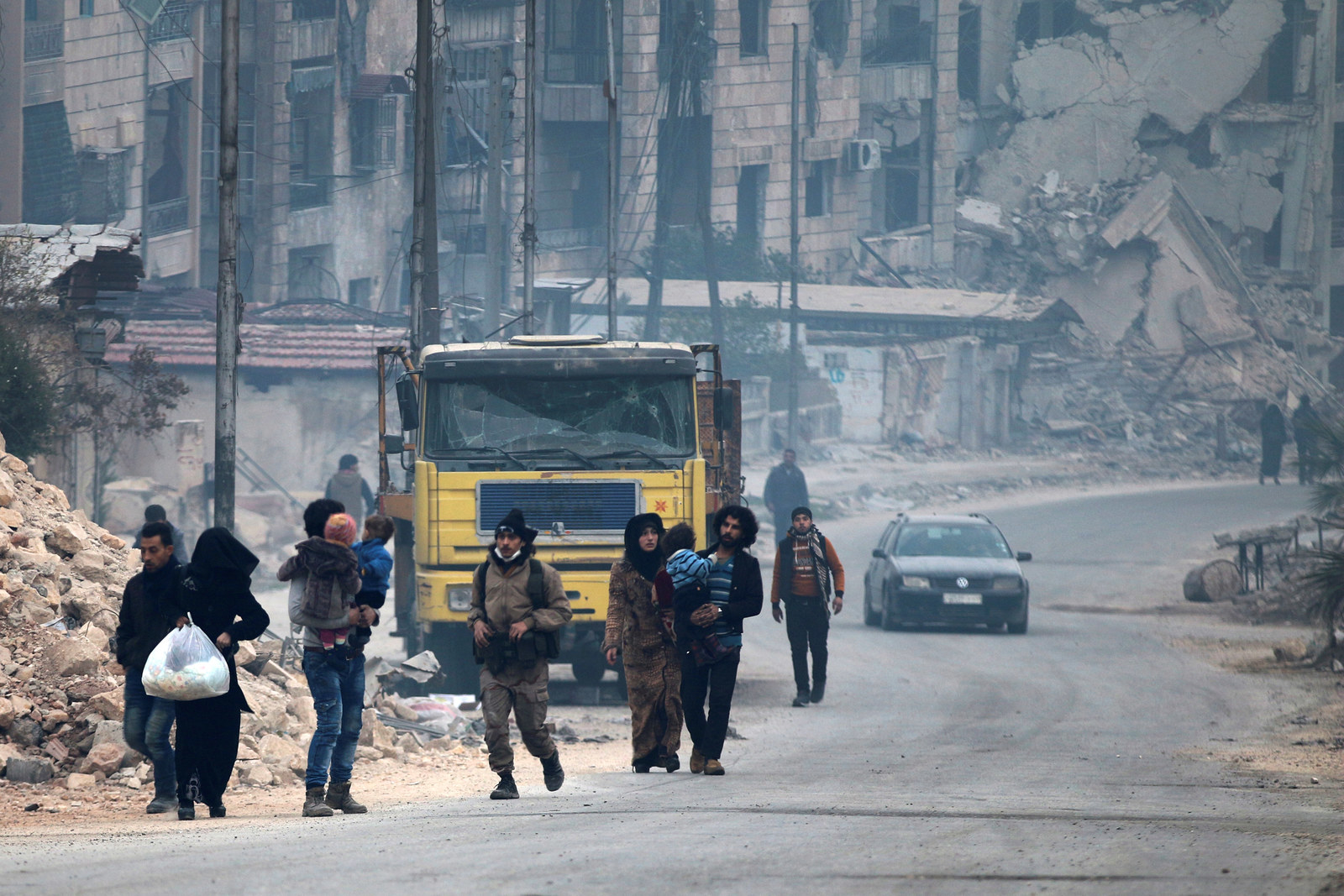 The Syrian government, supported by Russian airstrikes and Iranian-backed militias, has slowly extended control over the once-vital commercial center of Syria, the city of Aleppo. Since the beginning of the offensive in early November, rebel forces have been pushed into a tighter and tighter enclave, cut off from the rest of the country and with rapidly diminishing medical supplies, food, and clean water.
The crisis over the city has caught the world's attention. UN humanitarian spokesperson Jens Laerke described a "complete meltdown of humanity in Aleppo" as reports emerged of civilians, including women and children, being pulled from their homes and shot in what remains of rebel-held east Aleppo.
On Tuesday UN human rights committee spokesman Rupert Colville cited reports of 82 civilians, including 11 women and 13 children, being shot by pro-government forces. UN agencies have cited "reliable evidence" that in four districts (Bustan al-Qasr, al-Ferdous, al-Kallaseh, and al-Saleheen) in east Aleppo, Syrian pro-government forces had entered homes and shot the civilians on the spot. "The reports we had are of people being shot in the street trying to flee and shot in their homes," Colville said.
Speaking at a press briefing in Geneva, he said the UN was fearful there could be "many more" victims.
"Yesterday evening, we received further deeply disturbing reports that numerous bodies were lying on the streets," Colville said. "The residents were unable to retrieve them due to the intense bombardment and their fear of being shot on sight."
In a statement that followed the briefing, the UN cited "multiple sources" for the alleged attacks against civilians. "Civilians have paid a brutal price during this conflict, and we are filled with the deepest foreboding for those who remain in this last hellish corner of opposition-held eastern Aleppo," it said.
The statement went on to express fear for activists, in particular the Syrian Civil Defence rescue workers, often called White Helmets, who "are at risk of grave violations including detention, torture and killing."
"The only way to alleviate the deep foreboding and suspicion that massive crimes may be under way both within Aleppo," the statement said, is to allow external bodies like the UN access to the rapidly shrinking rebel-held parts of Aleppo.
As the government made the final push to take the city, panicked and frightened residents — penned into an area believed to be no more than 1 square mile and under near-constant bombardment — posted desperate final messages on Twitter and other social media.
Abdelkafi al-Hamdo, a teacher and activist, trapped inside east Aleppo, sent out a series of tweets.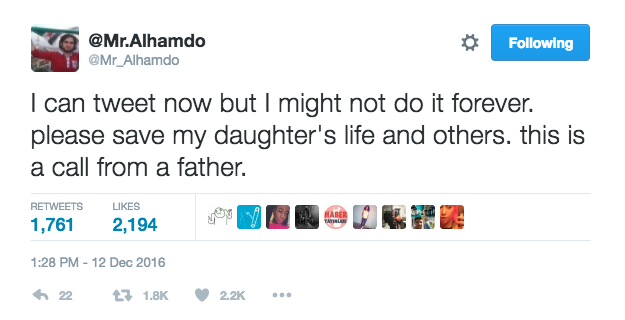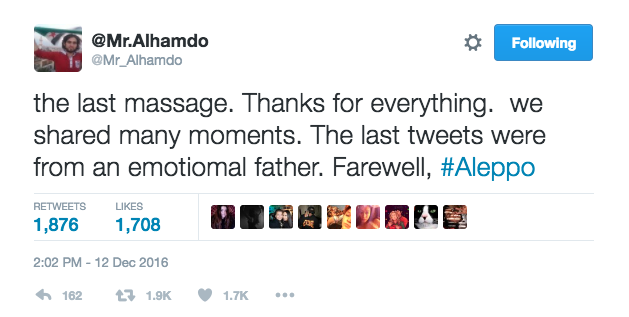 Seven-year-old Bana Alabed's Twitter account, which has attracted international attention, sent out a message in the early hours of Tuesday morning.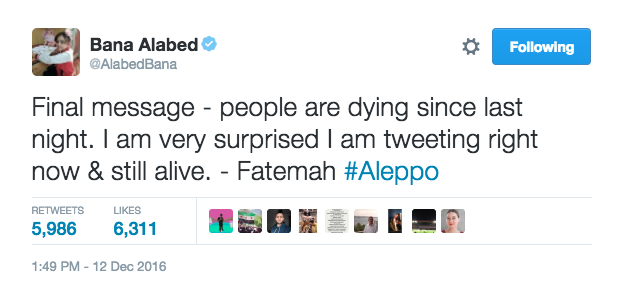 The UK-based Syrian Observatory for Human Rights (SOHR) said Tuesday that 415 civilians and 364 rebel fighters have died in east Aleppo since Nov. 15. In addition, 130 civilians in west Aleppo have been killed by rebel mortar fire.
Aid groups have grown increasingly desperate to gain access to the besieged part of the city. Once bargaining with regime and Russian forces for a three-day window to take out the wounded and children, humanitarian organizations recently pleaded for a three-hour halt to bombing. This was also refused.
The government is now estimated to hold approximately 99% of the city. The number of civilians thought to remain in the east of the city varies. Prior to the latest government assault, the UN placed the population at around 250,000, but officials close to the Syrian government said the figure was less than half that. In the past few weeks, the SOHR said, as many as 120,000 have fled from the besieged area, while Russian observers placed the number at around 78,000.
CORRECTION
The UN human rights office spokesman is named Rupert Colville. An earlier version of this post misidentified him.