This is Omran Daqneesh. He is 3 years old and has never known anything but war. He was injured on Wednesday night in the latest bombardment of the Syrian city of Aleppo.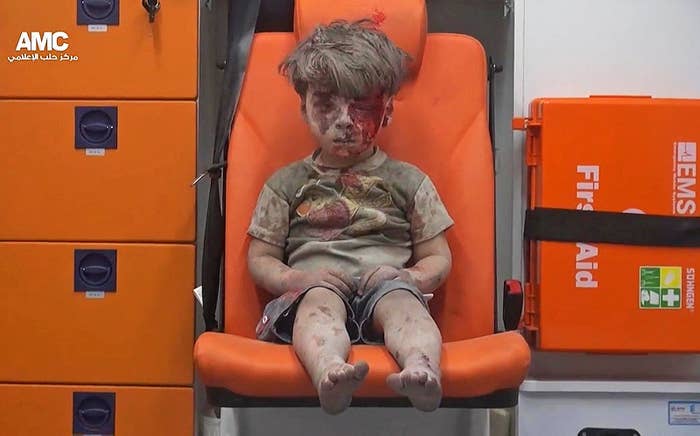 Omran was pulled from the rubble of his home in the Qaterji neighborhood and rushed to a hospital. A video of him wiping away dust in confusion and appearing bewildered was shared by the Aleppo Media Centre (AMC). It has since been viewed more than 60,000 times.
A photograph of Omran sitting in the back of an ambulance was also shared widely after it was tweeted by Daily Telegraph journalist Raf Sanchez. Doctors at the hospital — referred to as "M10" to prevent it being targeted by airstrikes — told the newspaper that Omran was one of 12 children under the age of 15 they treated that evening.
His mother and father, as well as his three siblings — aged 1, 6, and 11 years old — were pulled from the rubble after an airstrike landed around 7.20 p.m., shortly before the evening call to prayer.

Omran was released from hospital along with his family after physicians treated his head injury.
Photojournalist Mahmoud Raslan, who took the original image, told the Associated Press that White Helmet volunteer rescue workers at the scene had passed along three lifeless bodies before they reached Omran.
"When I saw Omran the first moment I was so shocked because he was silent. His face was covered with blood and dust," Raslan told BuzzFeed News. He said one of the saddest things about the image was that it had become "very normal" for people in Syria.

"Warplanes are still killing hundreds of children in Syria, especially in Aleppo," he said. Raslan said his wish was for all the warplanes to stop "destroying my country".

Thousands of people have shared Raslan's image on Twitter.
Many Syrians started tweeting edited photographs placing Omran into situations on the world stage.
Many also tweeted their sadness at how images of Syrian children – such as Omran or Alan Kurdi – often become "icons" for moments, capturing the social media world's attention, only to be forgotten.

Discussing the image with BuzzFeed News, Médecins Sans Frontières' Middle East Humanitarian advisor Evita Mouawad said pictures like Omran's were important as "we forget who pays the highest price".
Mouawad, speaking on the phone from Jordan, said it was becoming "very difficult" to advocate for the Syrian people. "This violence has really become normalized, because we have seen so much of it for such a long period of time."

"Even though, yes, on a day-to-day basis we see these images of women, children, elderly people who are affected, but I think it [the photo] gives back this human face to the conflict," she said.

The image comes amid brutal fighting in the city between the rebels and Iranian- and Russian-backed government troops. The city has vital strategic and symbolic value for both sides. As a result, it has been bitterly contested, and civilians have been repeatedly caught in the middle of the ensuing "Mexican stand-off", as it was described to BuzzFeed News.
According to the Syrian Observatory for Human Rights (SOHR), 233 civilians have been killed in Aleppo city in the past two weeks alone.
Meanwhile, the United Nations envoy to Syria has suspended his humanitarian task force as the fighting continues. Stefan de Mistura said no aid had reached the city for a month, and urged international powers to come to an agreement for the 48-hour pause of hostilities.
In the few hours since the photograph of Omran was shared, more children have been injured by fighting in the city. A video taken from a hospital in the city showed doctors frantically working on a child, only for him to die.
CORRECTION
Omran Daqneesh is 3 years old, his family told the Telegraph newspaper. An earlier version of this story said he was aged 5, based on information provided from doctors at the scene.