A former UKIP politician's comments about an ex-colleague convicted of murdering his wife have provoked anger and shock after he told a reporter: "These things happen."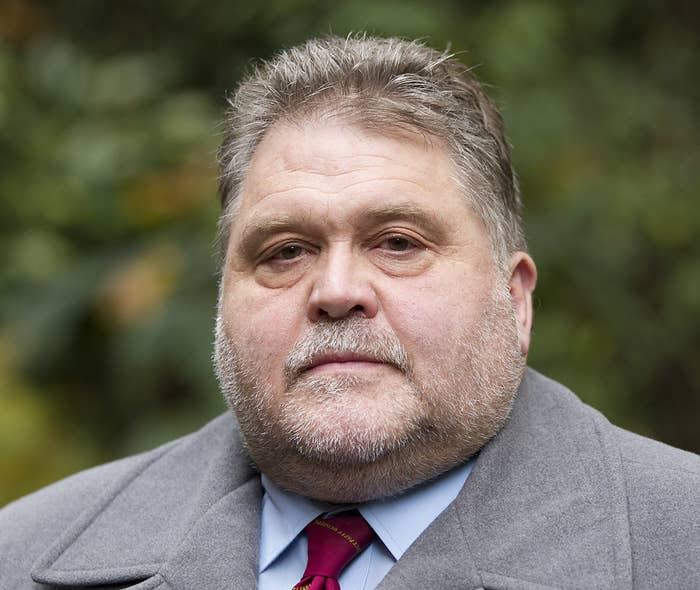 Bill Mountford, the former leader of the UKIP group at Suffolk County Council, spoke to the BBC after UKIP councillor Stephen Searle was sentenced over the murder of his wife, Anne, in December 2017.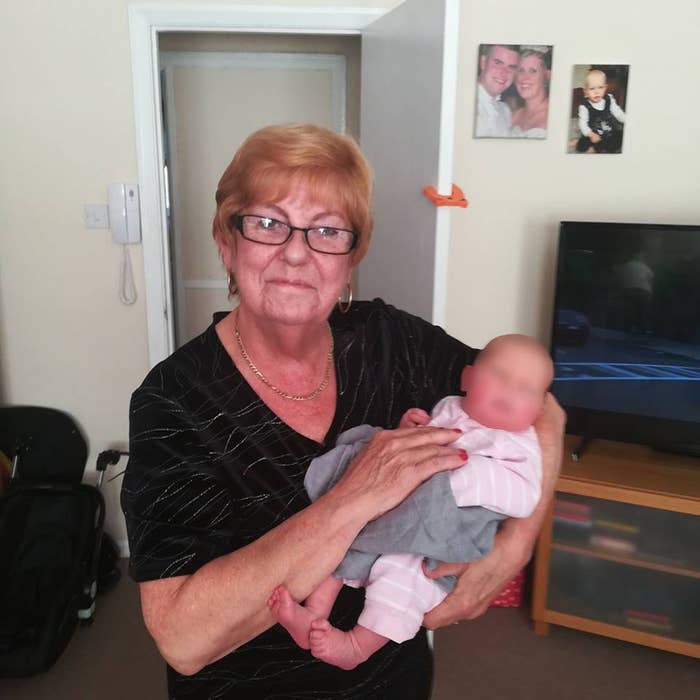 Searle, 64, was found guilty of strangling 62-year-old Anne to death. He had been having an affair with their son's partner, Anastasia Pomiateeva, Ipswich crown court heard. Concluding the trial on Tuesday, Judge Mr Justice Green said Searle's "act of infidelity in one way or another led to this".
He was jailed for life with a minimum of 14 years to be served, Press Association reported Wednesday.
In the full interview to BBC Radio Suffolk on Tuesday Mountford said: "These things happen. They are most unfortunate and tragic but I don't think we should pass judgment on people."
"I know that has been done in a court of law," he said. "I have great sympathy for Steve and his former wife."
Mountford was elected as a UKIP councillor in 2009, becoming leader of the UKIP group in 2013. He was deselected as a UKIP representative in 2017, and stood as an independent but lost his seat.
After his initial comments, the interviewer reiterated that Searle had been convicted of murder, with Mountford responding: "It is shocking; I am aware of that. I feel equally sorry for both Steve and his now deceased wife, because I can't know the circumstances, and I just think that it is very, very unfortunate."
He continued: "I am well aware that domestic disputes get out of hand, in this case with very tragic results. I don't know... There but for the grace of God go I."
Asked if he was condoning the violence, Mountford responded: "I am not condoning it in any way, but I'm aware these things do happen. It is just unfortunate that they happen. I am not in any way condoning it but these incidents do happen to people for all sorts of reasons and it is not for me to pass judgment."
Mountford said he had been in contact with Searle up to December, but he was unaware of any of the circumstances of the couple's relationship. "I just think it is tragic that what was a serious domestic dispute ended in the death of his wife."
"But I still basically regard Steve as fundamentally a decent man who has found himself in circumstances beyond his control," he continued. Pushed again by the interviewer, he said: "Obviously it is not right to take someone's life, but I wasn't there, I don't know what happened. I'm just very, very sad to hear of Steve's conviction. And I was equally sad to hear of the death of his wife."
The comments provoked furious reactions. SafeLives, a charity that campaigns to end domestic violence, called his remarks "incredibly harmful, and sadly all too common".
Chief executive Suzanne Jacob told BuzzFeed News: "Why does Bill Mountford feel able to say that Anne's death is equivalent to what Stephen Searle has experienced? A woman has been murdered.
"We still live in a society in which a man can kill a woman and we offer our sympathy not to her and her family, but to the man who took her life. Enough. We should all be deeply ashamed and frightened of that."
She continued: "Far too often we see domestic abuse portrayed as an isolated incident that has got 'out of hand', rather than what it is: a pattern of control and abuse that sadly ends with the murder of two women a week in England and Wales."
Jacob also criticised the coverage of domestic violence, noting: "It's everyone's responsibility to make sure we get rid of victim-blaming stereotypes and place the responsibility firmly where it belongs – with the perpetrator."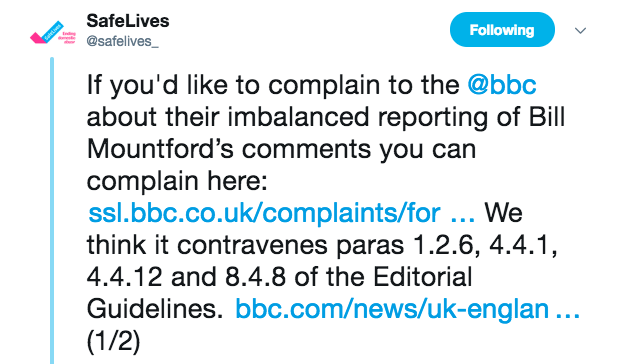 She added: "The BBC – and anyone covering a domestic abuse story – should be aware of the impact of printing comments like these. Not only on Anne's friends and family, but also on the thousands of people currently living with domestic abuse. They should also bear in mind that victim-blaming comments in the press can validate perpetrators' views of their own actions."
Women's Aid criticised the comments, and their publication, stating: "Killing your wife is not 'a domestic dispute getting out of hand', it is an act of control – the ultimate act of control."
Katie Ghose, chief executive of Women's Aid, told BuzzFeed News that the BBC's report "diminishes the severity of the murderer's actions, further silences the victim and provides an excuse for the murderer that the killing of Anne Searle was 'beyond his control'."
"Poor reporting contributes to the normalisation and minimisation of the killing of women by men," she said.
On average two women a week are killed by their partner or ex-partner in England and Wales, according to figures from the Office for National Statistics.
Luke and Ryan Hart, whose father murdered their mother and sister in 2016 before killing himself, were also among those condemning the comments.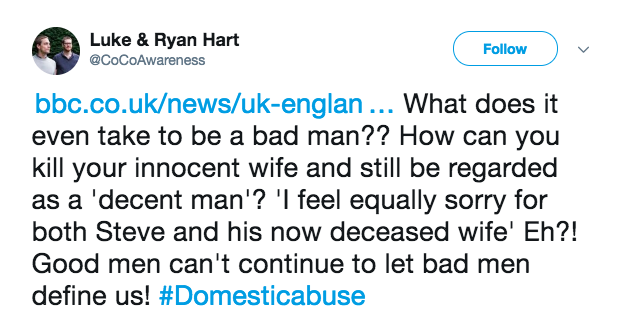 Many people were shocked by Mountford's comments and condemned them online.

Luke Hart said Mountford's remarks were a "disrespectful act of indifference".
"He refers to the murderer who killed an innocent women as 'fundamentally a decent man'. This is setting a very low bar for men indeed; in fact, by that logic it's hard to think of how a man could possibly ever score below par," Hart told BuzzFeed News.
The Hart brothers also questioned the BBC's decision to publish the article, referencing the coverage when their mother and sister were killed by their father.
"We witnessed a commentary that described our father as 'a nice guy', 'always caring', and 'good at DIY'; one journalist even called the murder 'understandable' and the police said that the event was 'incredibly rare'," Hart explained.
"It has nothing to do with emotions or loss of control; it is entirely due to their masculine-fundamentalist belief systems. Therefore, if we don't challenge these beliefs, women will genuinely die as a consequence of media outlets giving voice to the idea that women are of inferior status. In fact, before killing our family the police found that our father had been googling killing his family and would have been reinforced by the biased reporting he saw."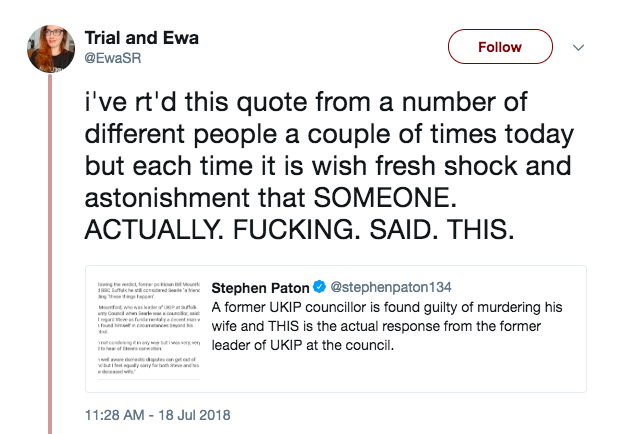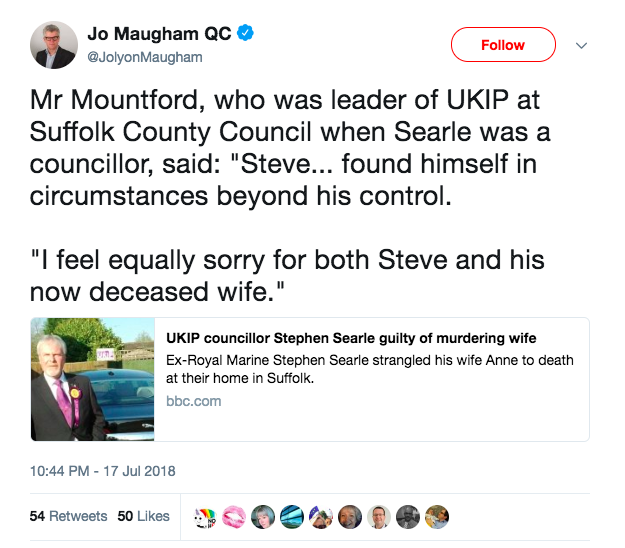 In a statement, a BBC spokesperson said Mountford's views were "challenged throughout the interview".
"Bill Mountford was the leader of the UKIP group at the time Stephen Searle murdered his wife. He was interviewed because of the prominent position that both of them held as UKIP county councillors," the statement said.
"His views were challenged throughout the interview by our reporter. A representative from a local domestic violence charity was interviewed on our breakfast show this morning and tonight we will be talking to Eleanor Rehahn, from the Suffolk Fawcett Society about the perception of domestic violence."
BuzzFeed News has contacted Bill Mountford and UKIP for comment.