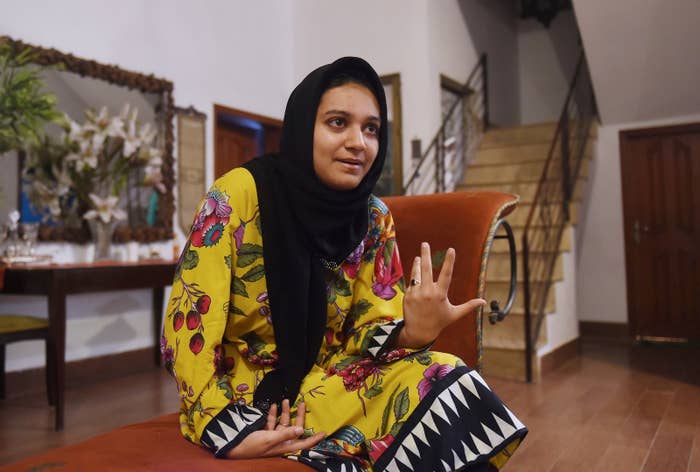 A Pakistani man convicted of stabbing a woman classmate 23 times has had his acquittal overturned, prompting widespread celebration from her supporters.
Khadija Siddiqi, 24, was brutally attacked by Shah Hussein in May 2016 when she was picking up her 7-year-old sister from school in Lahore. Hussein is believed to have attacked her because she rejected him romantically.
Hussein was convicted of assault in 2017, but his sentence was reduced to five years following an appeal. But in June 2018, he was acquitted by a higher court.
"Justice butchered," Siddiqi tweeted after the acquittal, alleging "The only defence [of the accused] was mudslinging and slut-shaming."
Social media erupted. Many posted under the hashtag #JusticeForKhadija or #WeAreWithKhadija to demand the court reconsider, sharing graphic images of her injuries after the attack.
Days afterward, Pakistan's Supreme Court decided to reexamine the case.
On Wednesday, Chief Justice Asif Saeed Khosa handed down a reversal of the acquittal, reinstating the conviction, and Shah was rearrested in the courthouse in Islamabad, Pakistan's capital.

Siddiqi, speaking to BuzzFeed News from Islamabad, described the reversal as "overwhelming."

"This has been a remarkable and landmark judgment," she said. "I felt it was my obligation to pursue this case considering that women are considered second-class citizens and they are not given their due rights."
Siddiqi, who was educated partly in London and is currently a law student, continued, "I was compelled to fight. I had seen victims and women struggling and fighting tooth and nail — and not getting their words heard."
"We were a bit pessimistic, but our hard work paid off," her lawyer, Hassaan Niazi, told BuzzFeed News over the phone from Islamabad.
"[Hussein] is the son of a lawyer," Niazai said. "In Pakistan, the lawyers association are very strong and it is extremely difficult to contest against them, fight against them, stand against them in court. They are very intimidating inside and outside the court and no one wants to have them on the opposite side."
"[Siddiqi] stood strong, and in the end, her bravery, courage, and hard work won," Niazi said. "This ruling is very important for Pakistan, and I would say for the world."
The court's decision was celebrated online, with many tweeting that justice for Siddiqi had finally been delivered, including the daughter of former prime minister Benazir Bhutto, Aseefa Bhutto Zardari.
The decision has also been heralded by human rights activists as a step forward for women's rights in the country.
Similar attacks are often not reported due to a culture of fear, stigma, and shame, a Human Rights Commission of Pakistan report found in 2017.