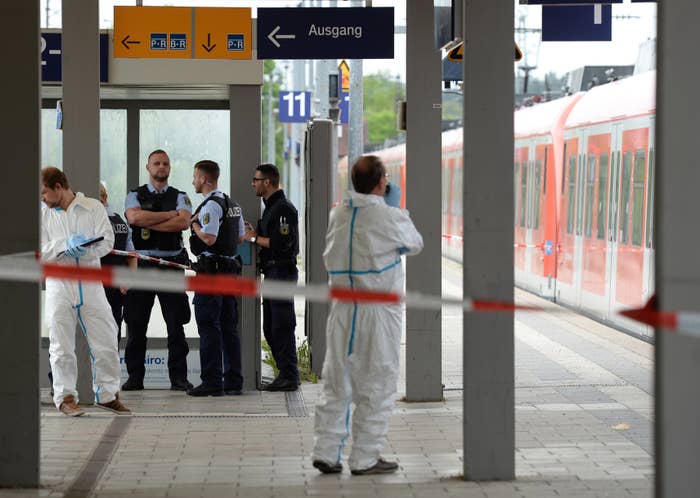 One man was killed and three more were wounded in a stabbing at a German train station early Tuesday morning.
A 27-year-old German citizen was detained by authorities and is facing murder and attempted murder charges for the attack which took place at S-Bahn Grafing train station, roughly 25 miles east of Munich in Bavaria, at 4.50 a.m. local time (10.50 p.m. Monday ET).
In a press conference Tuesday afternoon, police officials told the Associated Press that despite earlier reports, there was "no evidence German stabbing suspect had accomplices or was part of any Islamic extremist network." It appears that the man may have had mental health issues and a drug problem.
The suspected used what authorities say was roughly a 4-inch blade to attack a 56-year-old man on board a commuter train -- that man was rushed to a hospital where he later died from his injuries.
He then got off the train and allegedly assaulted another man in the station. German newspaper Merkur reported that two cyclists, one of whom is believed to have been delivering newspapers, were also attacked. No further details on the condition of the three men, aged 58, 56 and 43, has been released.
Speaking on Tuesday senior official Lothar Köhler, from the Bavarian investigators office, said the suspect had made a "rather confused impression" when questioned by officers. Bavarian state prosecutor Ken Heidenreich added the suspect's statements did not fit together.
Investigators said at the press conference that the man - whose name has not been released – had said he had taken drugs before boarding the train from Munich to Grafing on Monday. Köhler said it is believed that he took the drugs two days ago in Giessen, Hesse, where he is believed to have been from. The suspect did not appear to have any previous narcotics offenses on his records.
Officials said there was a question over whether the man was mentally fit to stand trial, and if he could be held criminally responsible for the crime. Heidenreich said the suspect faces one count of murder and three counts of attempted murder.
Early reports said the attacker, who has been named by local media and on Twitter, may have been in a state of "mental confusion," and that he may have received treatment for addiction in a psychiatric unit.
There was an initial believe that the attack might be "politically motivated" with a number of outlets describing eyewitness accounts of the man shouting "Allahu Akhbar" ("God is great").
During the press conference Tuesday, officer Guenther Gietl confirmed witnesses had reported these statements, and said another woman who witnessed the attack said the man shouted: "infidel, you must die," the Associated Press reported. Investigators later said that attack was not believed to be an act of terror or politically motivated.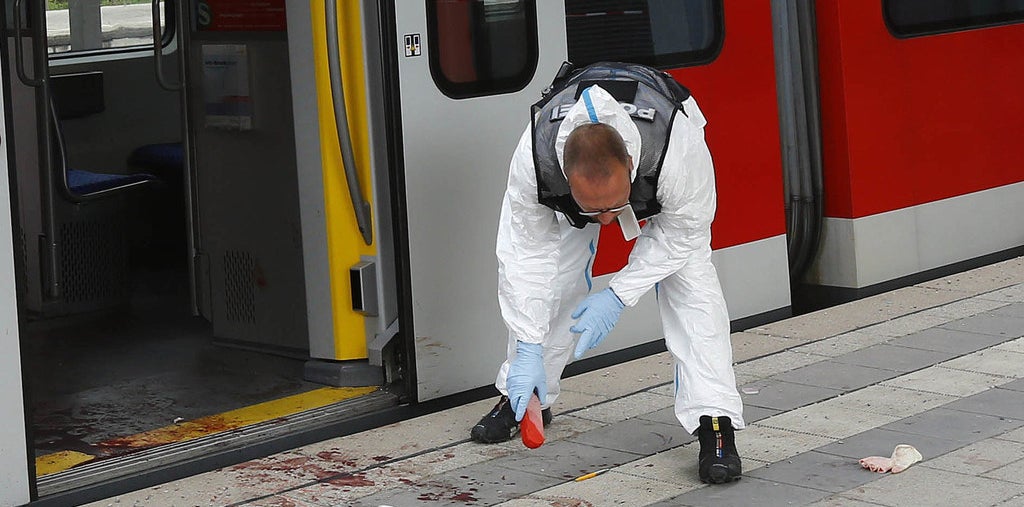 Photographs from the scene showed bloody footprints leading off from the train. Forensic police officers cordoned off the platform, later discovering the suspect's passport, driver's licence, documents, and shoes nearby.
Germany's national train service, DB Bahn, released a statement Tuesday morning. Station workers were thanked after they "intervened courageously and have prevented the perpetrator from further attacks."
The statement went on to say: "We are dismayed and saddened by the violence attack in Grafing Bahnhof. The relatives of the victims and the injured of the attack heard our deepest sympathy."