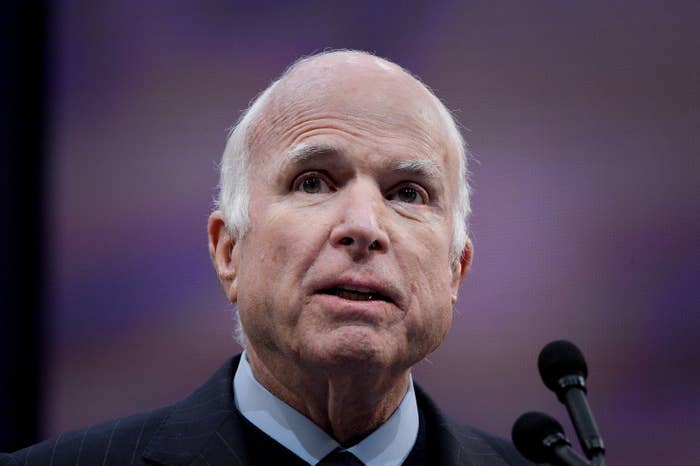 Sen. John McCain will stop receiving medical treatment for his cancer, his family announced in a statement Friday.
The 81-year-old Arizona Republican, who began treatment for glioblastoma, an aggressive form of brain cancer, in July 2017, has chosen "with his usual strength of will" to stop treatment, the McCain family said in a statement Friday morning.
"In the year since, John has surpassed expectations for this survival. But the progress of disease and the inexorable advance of age render their verdict."
The McCain family is has gathered in Arizona, at the family ranch, with sources telling the New York Times that the senator's death is believed to be imminent.
"Our family is immensely grateful for the support and kindness of all his caregivers over the last year, and for the continuing outpouring of concern and affection from John's many friends and associates, and the many thousands of people who are keeping him in their prayers," the statement reads.

McCain's wife of 38 years, Cindy McCain, also released a short statement via Twitter: "I love my husband with all of my heart. God bless everyone who has cared for my husband along this journey."
McCain was diagnosed with glioblastoma, a form of brain cancer that the National Brain Tumor Society described as the "most common and aggressive malignant brain tumor."
In a further statement, the Society said they emphathized with the decision taken by the McCain family. "Members of the brain tumor community understand more than most the many factors and considerations that have led to this decision. We wish the senator and his loved ones comfort and community during the days ahead."
Since his diagnosis, the senator largely withdrew from Washington, DC, to spend time with his family on his ranch in Arizona, but has occasionally spoken out in criticism of President Donald Trump, particularly after Trump's meeting with Russian leader Vladimir Putin.

In September 2017, McCain told CNN's Jake Tapper that he was happy and "getting the best treatment that anybody could get."
"I'm very happy with my life. I'm very happy with what I've been able to do. And there's two ways of looking at these things, and one of them is to celebrate. I am able to celebrate a wonderful life and I will be grateful for additional time that I have."
At the conclusion of the interview, McCain was asked how he would like Americans to remember him. "He served his country, and not always right," he told CNN's Tapper.
"Made a lot of mistakes. Made a lot of errors, but served his country. And, I hope we could add, honorably."
As the news of his decision to cease treatment broke, many politicians and former staffers, like Mike Murphy, expressed their sadness over the news and their gratitude to him for his long service to America.
In a medium post, Arnold Schwarzenegger, governor of California, wrote: "when the time comes, I will mourn you deeply."
"But today, I am filled with gratitude for everything you meant to me and this country. I hope every American takes time to reflect on how they can be more like you."
Schwarzenegger, who said his thoughts and prayers were with the McCain family, continued: "While many of us may be tempted to wish that Senator McCain would continue to fight for his values — for American values — at this important time, his own example tells us to reject that selfish desire."
As a US Navy fighter pilot, McCain was shot down in 1967 during the Vietnam War, imprisoned by the Viet Cong for five years, and tortured during that period. He also emerged as a leader — refusing release at one point unless all those imprisoned with him were also released.
Following his military career, McCain's political life began as a Senate liaison for the US Navy. In 1982, he was elected to the US House of Representatives, and in 1987 he took the seat of another conservative, Barry Goldwater, in the Senate.
He first ran for president in 1999 against George W. Bush, but lost out on the party nomination. Eight years later he secured it, going on to contest Barack Obama in the 2008 election. Following that unsuccessful campaign, in which he famously branded himself a "maverick," he returned to the Senate.