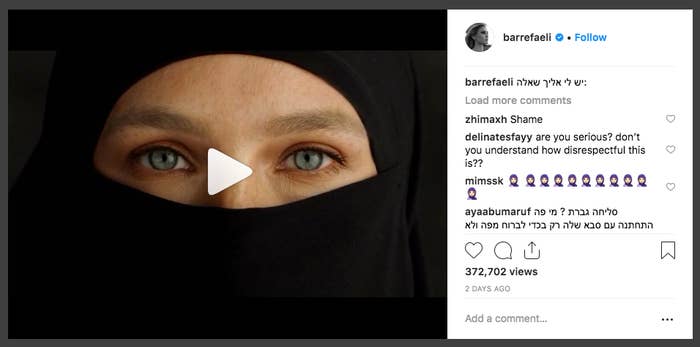 Israeli model Bar Refaeli has starred in an Israeli clothing company's advert that depicts her taking off a niqab in a campaign titled "freedom is basic."

The advert was published Oct. 29 on Instagram and YouTube. On Instagram, the company has just over 60,000 followers. The YouTube video has been viewed over 50,000 times as of Oct. 31.
Refaeli, 33, promoted it on her own Instagram page — which has just under 3 million followers — with the caption, "I have a question for you."
The international model was ranked the second most influential person on Instagram within Israel by the nonprofit Israel Internet Association last year.
Both Refaeli and Hoodies had deleted the posts from their Instagram, as of Oct. 30. A Facebook page linked to the company has also been deleted.
However, versions of the advert remain online. In the version seen by BuzzFeed News, the beginning of the video is overlaid with Hebrew, which reads: "Iran is here?" before showing Refaeli taking off the niqab and hijab she is wearing. The campaign is titled: "Freedom is basic."
Criticism of the advert was almost universal. In the comment section on the Instagram page users expressed their outrage.
Marwa Balkar, 25, was among the first to share the video on Twitter, after seeing it on Instagram.
"I felt like vomiting," she told BuzzFeed News, via Twitter DMs. "I sat there telling myself MAYBE there's a different message I'm not getting from this. I told myself there is NO WAY that someone so famous would do something so blatantly Islamophobic, but I found no justification."
She added: "To say that we don't have freedom of choice, is taking away our freedom of choice. That's the irony of all this. The ones that believe we're oppressed are the oppressors."
As the video spread, other users were also appalled at the concept and content of the advert.
Hoodies is based in Rosh HaAyin, Israel, and was founded in 2007 according to Bloomberg. It's currently headed by an individual named as Yossi Gabison-Sasa, the Jerusalem Post's business pages reported.
Ahead of the advert's release, Hoodies said it intended the campaign to "call out racism and bigotry and support freedom," the Jerusalem Post reported.
In another version of the advert — which remains online on YouTube — different models are seen in a slightly longer clip. Israeli personalities such as the transgender model Stav Strashko, conservative personality Melech Zilbershlag, and Ethiopian Israeli model Tahounia Rubel also appeared in this version, alongside Refaeli.
Rubel posted on her Instagram a printed version of the advert on Oct. 29. She captioned it, "After this year — a legitimate question: 'Iran is here?'"

Two years ago Rubel told an Israeli newspaper: "Israel is one of the most racist countries in the world."
A spokesperson for Refaeli declined to comment when contacted by BuzzFeed News. BuzzFeed News has also contacted Hoodies, Zilbershlag, Strashko, and Rubel for comment.
CORRECTION
Bar Refaeli takes off a niqab in the video. An earlier version of this post misidentified the garment.