Protests have taken place in Ireland after the underwear a teenager was wearing was cited in the trial of a man accused of raping her.
In the course of the trial, defence lawyer Elizabeth O'Connell held up a pair of the 17-year-old's underwear in court, and asked: "You have to look at the way she was dressed. She was wearing a thong with a lace front."

A 27-year-old man was found not guilty of raping the teenager earlier this month.
O'Connell's comments, as reported by the Irish Examiner and others, provoked immediate criticism, with Dublin Rape Crisis Centre calling for legal reforms over the remarks — but Rape Crisis said it was not questioning the verdict of the case.
"These kind of mythologies and stereotypes around rape come up again and again in court cases, because the defence to rape is that the sex was consensual," Rape Crisis chief executive Noeline Blackwell told the Irish Independent newspaper. "So anything the defendant can do to suggest there was consent will be used."
On Wednesday, women gathered at demonstrations across Ireland to protest the handling of the court case.
Their anger built on an online movement around #ThisIsNotConsent after the trial, kickstarted by the campaign group I Believe Her.
"Simply put, clothing is not consent. This kind of victim blaming is archaic and had no place in our court system," Susan Dillon, who was among a group of women who started the hashtag, told BuzzFeed News via Twitter DM, from Ireland.
"We wanted something impactful that would draw attention to the issue hence the use of underwear."
Dillon, 40, continued she was surprised at the wide response. "We knew people would be supportive and would want to support survivors of sexual violence but we have been overwhelmed by the response."
In the days following the trial, hundreds of women tweeted images of their underwear, asking how attitudes around consent remained archaic and deeply problematic. Many of the women who tweeted about the case said that using the teenager's underwear in court was "victim blaming."
Many tweeted out the cartoon of a pair of panties, pointing out that their choice in clothing should not be a factor in deciding sexual consent.
Sarah Shiel, from Galway, who painted the cartoon, told BuzzFeed News via Twitter DMs that it was "really overwhelming" seeing it everywhere.
"We were trying to come up with ideas to express our anger," the 39-year-old said, explaining she created the image after a discussion over the case in her painting class. Afterwards she made it public on her Facebook, and "it took off from there really along with the other women's pictures!"
She added: "I'm a stay at home mum so I knew there wouldn't be much chance to get to march in the protest...so I painted a pic instead!"

Other women, while not sharing images of their underwear, commented on the situation and expressed their outrage over the lack of accountability and difficulty in bringing a rape trial.
The message came through to the Dáil (the Irish version of the House of Representatives) when politician Ruth Coppinger held up a pair of underwear in the chamber.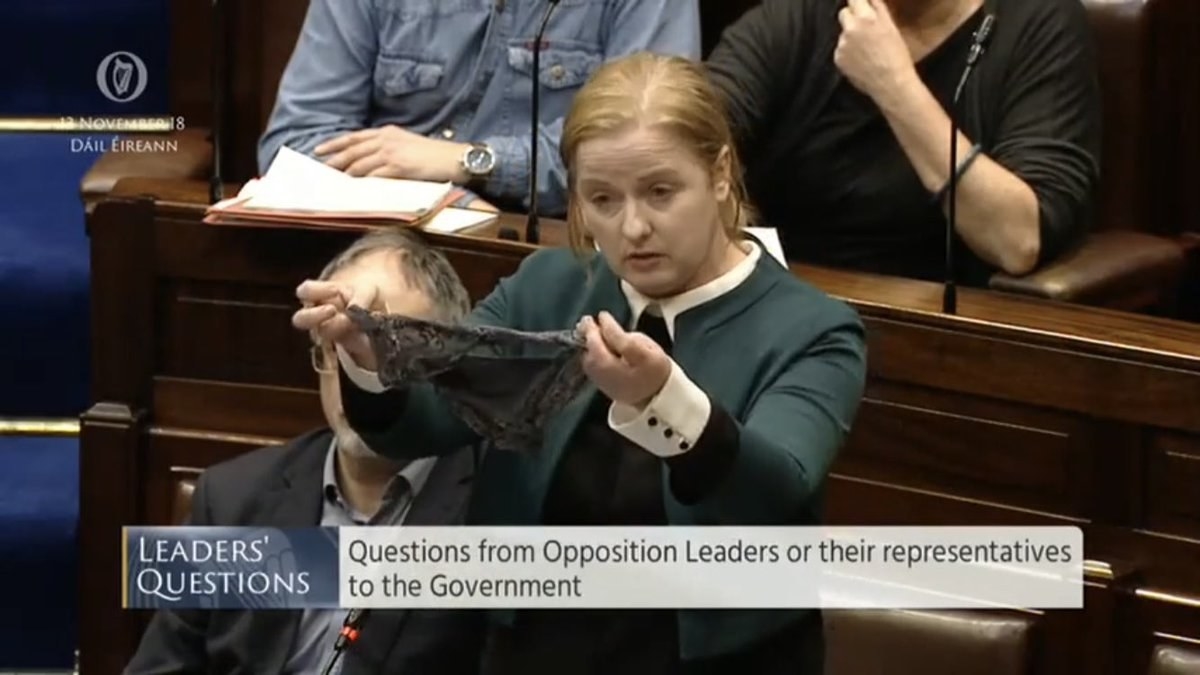 "It might seem embarrassing to show a pair of thongs here," Coppinger said. "How do you think a rape victim or a woman feels at the incongruous setting of her underwear being shown in a court?"

Earlier this year Northern Ireland has made the headlines for its courts' attitude toward sexual consent. Earlier this year the hashtag #IBelieveHer went global following the acquittal of two rugby players accused of rape.
The outrage comes following a new report that found while sexual assaults reports had tripled in the last 18 years in Northern Ireland, less than 2% of these cases ever came to a successful conviction following a trial.
CORRECTION
Sarah Shiel was misidentified in an earlier version of this post.