As protests against the government in Iran have gathered steam, one image, showing a woman waving a white headscarf on a busy road, has been widely shared online.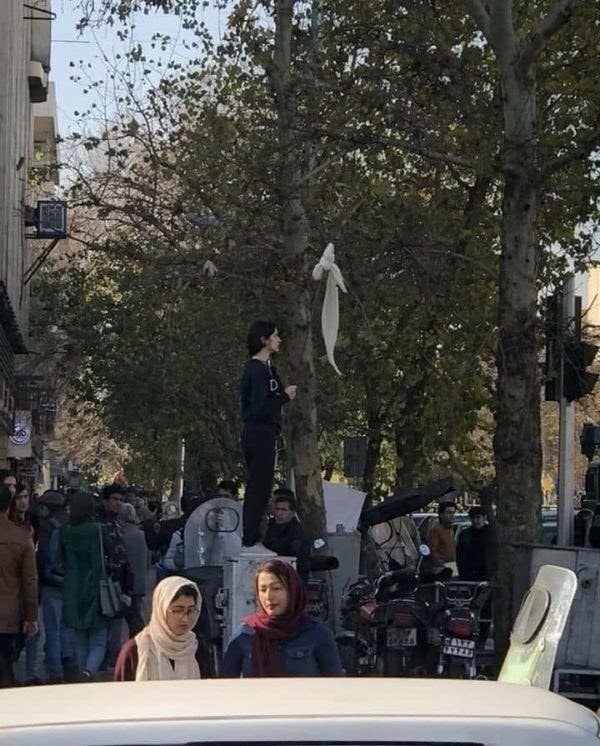 But the image, a still from a video, was first posted online last week — and she had nothing to do with the current protests sweeping Iran. Her personal action was part of a longer-running protest movement against women being forced to wear the hijab in public.
It was sent in to My Stealthy Freedom, a campaign group that advocates for a woman's right to not wear a headscarf.
My Stealthy Freedom's founder, Masih Alinejad, told BuzzFeed News the group had received the video last week and that the woman — who Alinejad has not been able to identify — had been protesting on Enqelab Street, in Tehran, on Wednesday Dec. 27.
Every Wednesday women take off their headscarves and post footage or photos online with the hashtag #WhiteWednesday. In June 2017, Alinejad discussed the movement with the BBC, and praised the women in Iran who were bravely sending in videos of themselves.
"There is no link between the photo and the protests. She made her lonely protest just a day before the uprising," she said over the phone from New York. "We don't know where she is but she has become an iconic picture of the Iran protests."
Following the woman's action, some reports claimed she had been arrested, and tweeted images of the plinth, now apparently laid with flowers in tribute.
Alinejad went on to condemn Foreign Minister Mohammad Javad Zarif's remarks that the authorities would not harm peaceful protesters. "That's a complete lie. We want to know where that girl is, because that girl, she didn't get involved in any violence. It was just peaceful."
Once images of the woman started circulating, right-wing personalities started using them to further their own agenda, making comparisons between her actions and feminists in the West.
The image was picked up by both left-wing and right-wing news sites, which ran it with articles about the Iranian protests and their reformist character.