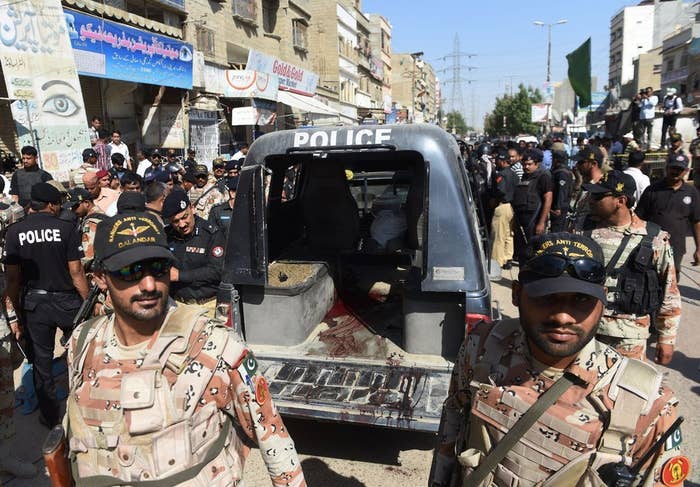 Seven police officers guarding healthcare workers vaccinating children against polio were shot dead Wednesday in Karachi, Pakistan.
Eight armed men mounted on motorcycles attacked the officers just minutes apart at either end of Orangi Town marketplace in the Sindh province capital, early on Wednesday morning, local police official Mohammad Ijaz told the AP.
"One took place at the three policemen who were escorting a polio team, the policemen were on foot when they were attacked," another official, Ali Asif, told The Express Tribune. "In the second incident, four policemen in a police van were targeted."

The men had been deployed to protect healthcare workers vaccinating children against polio as part of a four-day drive in six districts of Karachi, Hyderabad and Kotri tehsil of Jamshoro launched Monday.
Although officials told AP there were no plans to suspend the vaccination campaign, healthcare workers told the Tribune they would not be continuing with their work.
In a statement, Prime Minister Nawaz Sharif condemned the "terrorist attack" and praised the officers who had sacrificed their lives to protect healthcare workers.

Pakistan remains one of only two countries in the world - the other being Afghanistan - where polio remains rampant.

Efforts to vaccinate children have been partly hampered by Taliban commanders repeatedly targeting healthcare workers, believing the vaccinations are part of a conspiracy to reduce Muslim fertility.
Polio attacks the central nervous system. In unvaccinated children under five it can cause paralysis and eventually - in roughly one in every 200 cases - death.
Pakistan registered almost 300 polio cases in 2014, the highest since 1999, the BBC reported. Last year, the number fell to 52, mostly due to a calmer security situation allowing healthcare workers to access previously untouched rural areas.
In January, 15 members of Pakistan's security forces were killed when the U.N.-backed polio campaign offices in Quetta, Balochistan, were targeted by a suicide bomber. Twenty-four people were wounded in the attack, nine of them critically. Since 2012 nearly 80 people have died as a result of attacks.