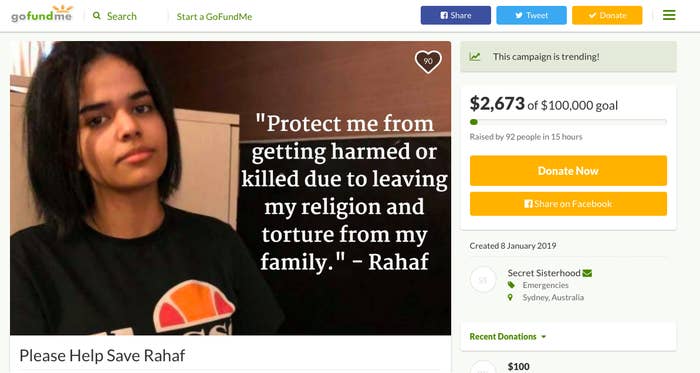 A GoFundMe account claiming to support the Saudi teenager who says she is fleeing abusive parents is not directly connected with the woman herself, supporters claim.

Rahaf al-Qunun fled her family on Jan. 5, live-tweeting as she barricaded herself in a hotel room in Thailand. She has subsequently been recognized as a refugee by the UN refugee agency, and Australia is currently assessing her claim for asylum.
Qunun's story, aided by three women who helped run her account, has been covered all over the world — and inspired a huge reaction. At least two GoFundMe accounts have been set up to raise money for her.
The largest was created by Australian social enterprise Secret Sisters on Jan. 9 in Sydney. As of publication, it remained live and had raised almost $3,000.
The GoFundMe campaign was criticized by people working with Qunun, with an account linked to the running of her campaign retweeting a condemnation of the fund.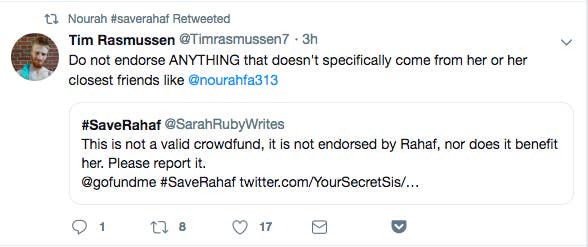 John Coventry, a spokesperson for GoFundMe, confirmed to BuzzFeed News they were monitoring the Secret Sisters account and that "no funds will be released" until they have verified that the money will reach Qunun.

"We are in touch with Secret Sisters and they clearly state that they are trying to contact Rahaf," Coventry said.
Another account, set up by an American woman listed as Susie Sweeney from Kentucky, has already been suspended. Following the suspension, Sweeney went on to tweet she believed Qunun was a "hoax" because she was not accepting donations.
Coventry said that account had been suspended after the user did not respond to requests as to how they would get the money to Qunun.
He added that GoFundMe was still "reviewing a handful of campaigns, but there's been no suspicious behavior, just people wanting to help."
BuzzFeed News has contacted Sweeney and Secret Sisters for comment.