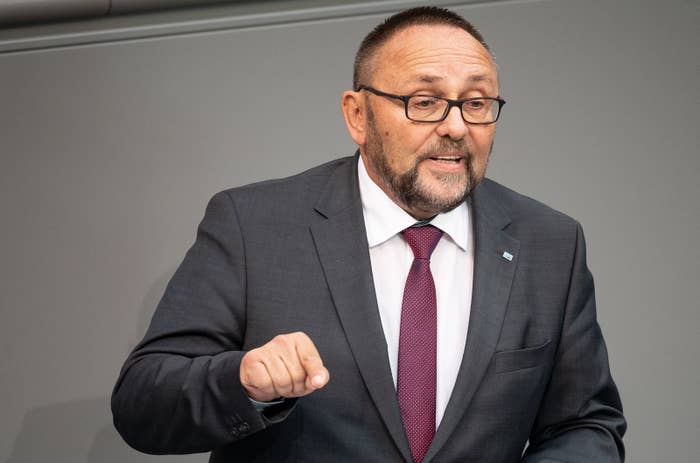 A far-right German politician has been seriously injured in an assault that police say was politically motivated.
Frank Magnitz was attacked Monday evening by at least three masked men in the northern German city of Bremen, where he is the local head of the AfD (Alternative for Germany) party.
The AfD said Magnitz had left an art gallery in Bremen when he was attacked at around 7 p.m. and that one of the men was armed with a piece of wood. According to the party, the politician was rescued by a construction worker who intervened.
Graphic images of the injuries Magnitz, 66, sustained in the assault have been shared by the AfD, showing a heavy gash on his forehead. He was knocked unconscious and is currently recovering in hospital.
Alice Weidel, AfD's co-leader who heads up the party in the Bundestag, Germany's national parliament, said that Magnitz was "the victim of a cowardly and brutal [attempted] assassination."
Police have said they believe that the assault was politically motivated, due to Magnitz's political affiliations. There have been no arrests.
Magnitz has been a member of the AfD since 2013. The party has campaigned on an anti-migrant platform and was labeled "highly dangerous" by Germany's interior minister in October last year.
Jörg Meuthen, the AfD's federal chair, wrote on Twitter that Magnitz had been left "half dead." On Facebook, he described the attack as "indescribably brutal, indescribably merciless, indescribably cowardly, indescribably sickening."
Politicians across the political spectrum joined condemnation of the attack.
German Foreign Minister Heiko Maas, a member of Chancellor Angela Merkel's Cabinet, tweeted: "Violence must never be a means of political debate — no matter who or what the motives for it are. There is no justification whatsoever for this."
Members of the Social Democratic Party (SPD), part of Germany's coalition government, criticized the attack, despite their vehement opposition to the AfD's policies.
Leader Andrea Nahles told German publication Zeit that the AfD is "a political opponent of our tolerant and peaceful society, but whoever violently opposes the party and its politicians reveals these values and endangers our coexistence." Her deputy, Johannes Kahrs, called all kinds of extremism "crap."
"Even against the AfD, there is no justification for violence. Whoever fights hate with hate always lets hate win in the end," Green politician Cem Özdemir tweeted.
Italy's right-wing interior minister, Matteo Salvini, labeled it an "infamous and bestial attack."
Magnitz became the AfD's Bremen branch spokesperson in 2015, and in 2017 he was elected to Germany's national parliament. In a Facebook post from December last year, he criticized Merkel's CDU (Christian Democratic Union) party for its Christmas cards, claiming "integration means for the CDU minister to waive traditional values in Germany."
He has repeatedly spoken out about his opposition to the large numbers of refugees and migrants who have settled in Germany under Merkel's leadership.