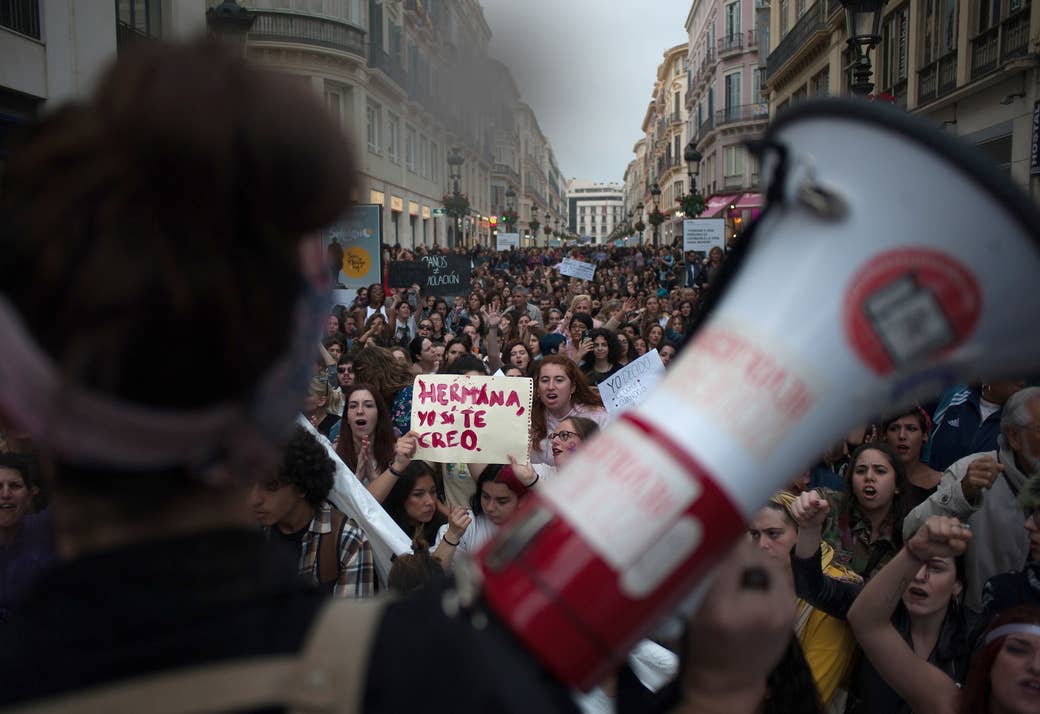 MADRID — Last month, the woman at the center of the rape trial that's currently dividing Spain had all of her personal information spread across social media by anonymous trolls on the country's closest equivalent to 4chan.
"Maybe these bitches denounce us so easily because it's free and does not interfere with their personal lives. It is so validating to know who they are and who she is," a user on the platform wrote.

Others agreed. Users on the controversial forum, notorious among Spain's feminists, began scouring for information about the victim from mainstream Spanish media, which had spent the last two years covering the trial that's now become the center of Spain's #MeToo movement. Details about the victim were cobbled together piecemeal in the span of a few hours. Once they found her, users plastered her information all over Spanish social media.
The "La Manada" case, as it has become known in Spain, has completely engulfed the country over the last few months. The trial came after an 18-year-old woman was separated from her friends during Pamplona's Running of the Bulls festival in 2016. Trying to find her way back to her car, she was shepherded down an alley by five men in their late twenties. There, she was repeatedly sexually assaulted by all five. They videoed and photographed her as they did so, later sharing the images within a private WhatsApp group called La Manada, or "The Wolf Pack." Once finished, the men stole her phone and left.
When the men were eventually convicted, in April this year, they were not found guilty of gang rape, but of a lesser sexual offense and sentenced to nine years each. Spain's women erupted at the verdict. Hundreds immediately gathered outside the Pamplona courthouse in support of the woman, this protest spawning days of consecutive marches, many of them spontaneously organized under the #YoTeCreo (#IBelieveYou) hashtag — later picked up by US actors Rose McGowan and Jessica Chastain. The protests have since evolved into a greater demand that Spain have its own #MeToo reckoning, under the hashtag #CuéntaLo (#TellIt).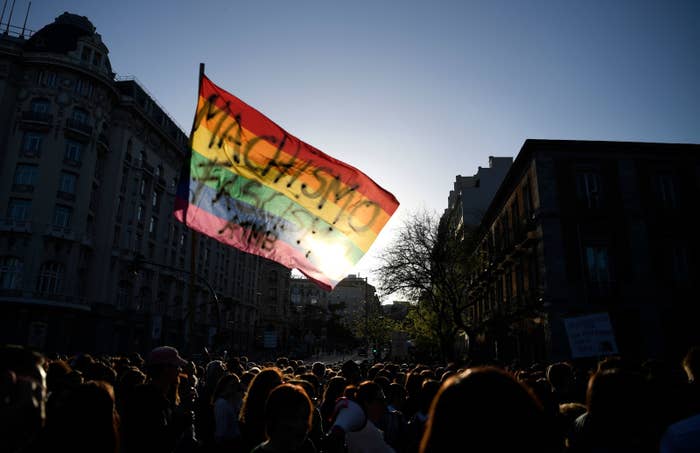 "We are in the 21st century and it is really amazing that there are a lot of young guys that are treating women like trash," Alviana Nieto, 18, told BuzzFeed News while she marched through central Madrid last month, her fourth protest since the La Manada verdict. "There is a problem with rape culture here."
Since October 2017, the #MeToo movement, kick-started by the explosive allegations about Harvey Weinstein in the US, has spread around the world. But after so many of these #MeToo moments, there comes a wave of toxic online reaction carried out almost exclusively by young men.
The La Manada case is only the latest example of how, in the last six months, young men have been able to turn high-profile rape trials into cultural battlegrounds. In Ireland, a rape trial ended in April with the acquittal of the men accused of assaulting a woman at a party, with the alleged victim reportedly named on social media, alongside calls for her to be punished for bringing the trial. Back in 2016, the trial of Ched Evans — the Welsh soccer player accused of raping a woman in a Premier Inn — saw a similar series of events as male supporters named the woman on social media, leading to her being hounded out of her home multiple times.
This sort of rape-trial-as-online-theater pattern is also dovetailing with a violent reactionary movement against women that's on the rise in North America. In the last six months, three men tied to the "incel" — or "involuntarily celibate" — community of men's rights activists carried out extreme acts of violence. William Atchison killed two people before killing himself at Aztec High School in Aztec, New Mexico, after describing mass murderer and men's rights icon Elliot Rodger as a "supreme gentleman." Nikolas Cruz killed 17 people at Marjory Stoneman Douglas High School in Parkland, Florida, after posting online about Rodger. Alek Minassian killed 10 people in a van attack in Toronto after writing "the Incel Rebellion has already begun" on his Facebook page.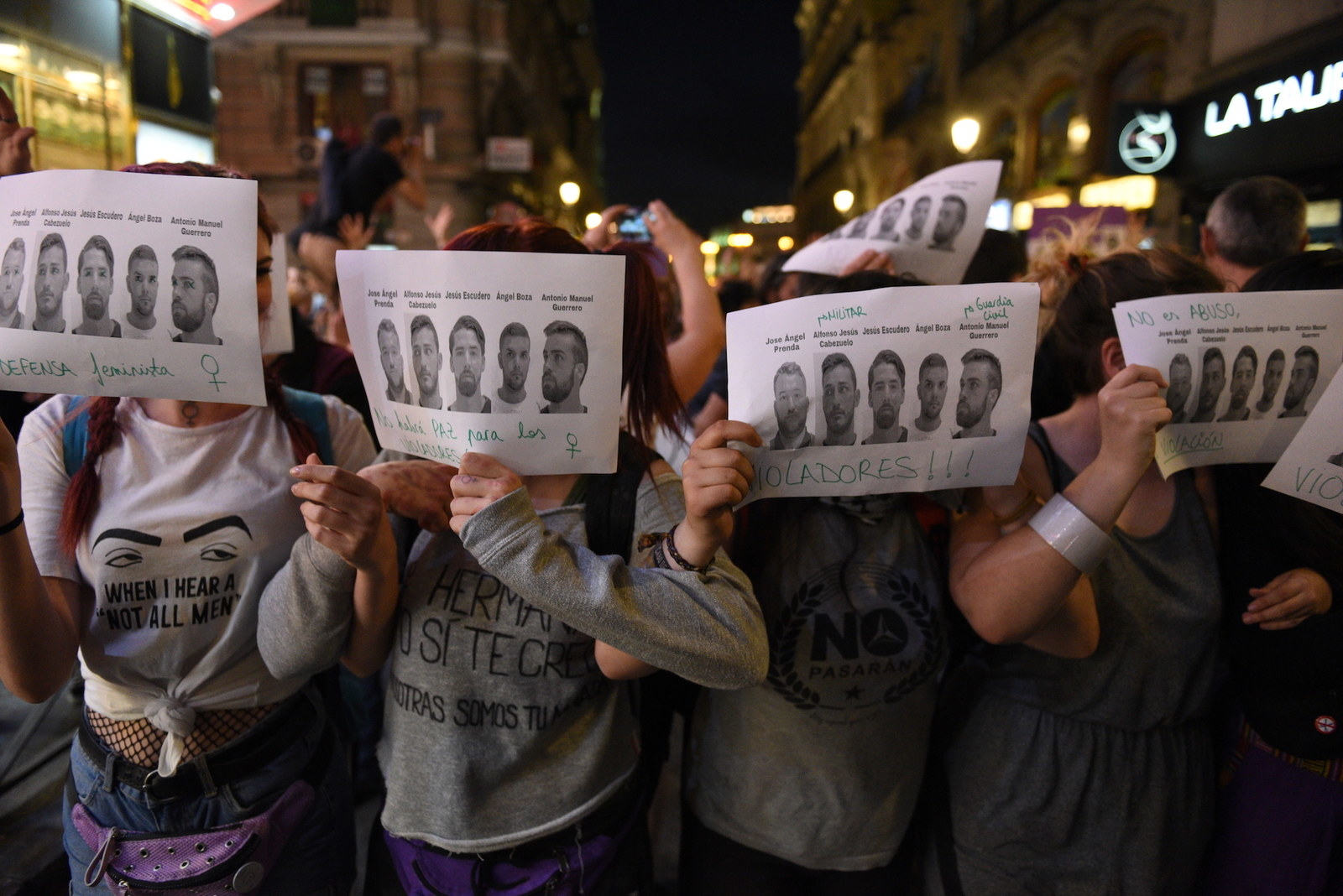 La Manada has shone a bright light on the cracks in Spain's rape laws. The victim's mistreatment online ran parallel to what was happening to her in the courtroom. A private investigator, hired by the five men's defense, was paid to trail the woman for months, even photographing her smiling with her friends on vacation.
And although much of the evidence was excluded from the trial, one of the items eventually accepted was a Instagram post that the woman was tagged in of a T-shirt with the words: "Hagas lo que hagas, quítate las bragas" ("Whatever you do, take off your underwear"), taken from the Spanish version of Jersey Shore. The men's defense presented these images, particularly that Instagram post, hoping to prove she was not suffering after the attack — and that the sexual activity had in fact been consensual.

Details reported by the media from the courtroom became fuel for online trolls, and the nature of the verdict and sentencing only made things worse. While the five were found guilty, the judge found they had committed "continuous sexual assault" rather than gang rape. Under Spanish law, it is almost impossible to prove rape unless the prosecution can demonstrate physical violence or intimidation. The defense capitalized on this, using the videos that the men had taken of the victim — against her will — where she is frozen, with her eyes closed, to claim she had consented.
The prosecution had argued for a sentence of 22 years each. But when all five men were given nine years instead, they said they would appeal even that.
One of the judges presiding over the trial, Ricardo González, said during the ruling, "I do not see in the videos anything other than a raw and uninhibited sexual relationship in a sordid environment," arguing that the victim's face didn't look like that of a woman being assaulted. "The expression of her face is at all times relaxed and, precisely for that reason, incompatible in my opinion with any feeling of fear, rejection, or refusal."
Spanish authorities are still investigating if the leaking of the victim's name on social media was a crime. But that hasn't stopped Spain's male-dominated anonymous forums from continuing to gleefully follow the outrage over the trial's verdict among the country's feminist community.
Spain's closest equivalent of 4chan is the hugely popular board ForoCoches. It's ostensibly a forum for discussing cars, but it's infamous among feminist campaigners for the content shared on its general board.
It was on a now-closed ForoCoches thread on May 3 that users started to expose the La Manada victim's identity. First, a user shared the woman's university, class year, and degree subject. Then another found her deliberately blurred photo ID. Others, searching professional networks for women with similar-length last names, came up with several possibilities, which they shared and examined. Within hours, the community had correctly identified the victim, posting images and several YouTube screengrabs, specifically to jeer at and turn into memes.
The forum is unusual, though — at least compared to huge anonymous forums in the US, like 4chan or Reddit — because you have to apply and be approved by the company in order to view some threads. Which, according to Pepo Jiménez, a journalist with Vozpópuli who covers ForoCoches, is part of what makes everything that happened around the La Manada trial so insidious.
"Most [users] are young men locked in a community with similar concerns (and defects)," he told BuzzFeed News. "This encourages an echo chamber where individuals protect each other and censor everything that comes from outside, including women."
The forum's response to La Manada did not expose necessarily new attitudes, Jiménez continued, but in recent years its audience has grown and with it the "constant abuses that take place there and often go unpunished." The publication of the La Manada victim's identity was only the latest on the site, Jiménez said. He added, "There was a clear intention to seek, identify and ridicule the victim."
"The group is sexist, [full of] machismo and racism," he said, but noted that closing the forum — as some have called for — will only hide the issue. In order to combat the problem, he said, these forums need to be exposed by feminists and reporters like himself, to tackle the macho culture enabled in the closed group.
The founder of ForoCoches, Alejandro Marín Nicolás, did not respond to a request for comment, but in a statement on the forum, he apologized "to all those who have been offended not only in this case but historically by what was said in the forum." He noted, however, that his platform had always been one for "freedom of expression." He also put the blame on the national media, which he said had shown "great irresponsibility" in publishing snippets of information about the victim.

Around the same time as ForoCoches' users were doxxing the victim, Burbuja.info, a similar but much smaller forum, also published information about her. In one conversation on Burbaja.info, users responded to the Spanish #MeToo hashtag, #CuéntaLo, by abusing the women coming forward: "I don't want to be unempathetic, but she can take it in the ass." These same users attacked Marín, labeling him "pathetic" for apologizing.
While the Spanish police's cybercrime unit continues to investigate, Spain's secretary of state for equality, Mario Garcés, has stated there may be a case to close ForoCoches. The suggestion was written up in an English-language 4chan thread, where users described it as yet another assault by the "feminazis" on freedom of speech. Meanwhile, users on the Spanish boards continue to fixate on the details of the trial.
"They keep saying to us, 'This is just fake news; this is just an exaggeration,'" Nerea Novo, an activist with Feminicidio.net, told BuzzFeed News. "They don't realize this is one of 20 cases we have been documenting since 2016 — 20 cases of men, a group of men, raping women. That's in Spain. That's not Syria."
Twenty-nine-year-old Novo, whose website documents cases of violence against women in Spain, said she's not worried about the older generation. It's younger men's attitudes toward women, particularly toward women's reports of sexual harassment and violence, that keep her up at night. One of the bleakest examples she cited unfolded just hours after the La Manada verdict.
Employees at one of the world's most popular porn websites, xHamster, began noticing a trend: One of the most searched terms on their site was "La Manada," the name of the WhatsApp group where the attackers had shared images and videos taken of the woman during the prolonged assault. While the video was never hosted on xHamster — the company's CEO confirmed this in a later statement — it was symptomatic of the larger problem with some young men, Novo said.
"They look for rape and tags like that, so you get a sense of what they get excited about," Novo said. "They are getting hard from harm."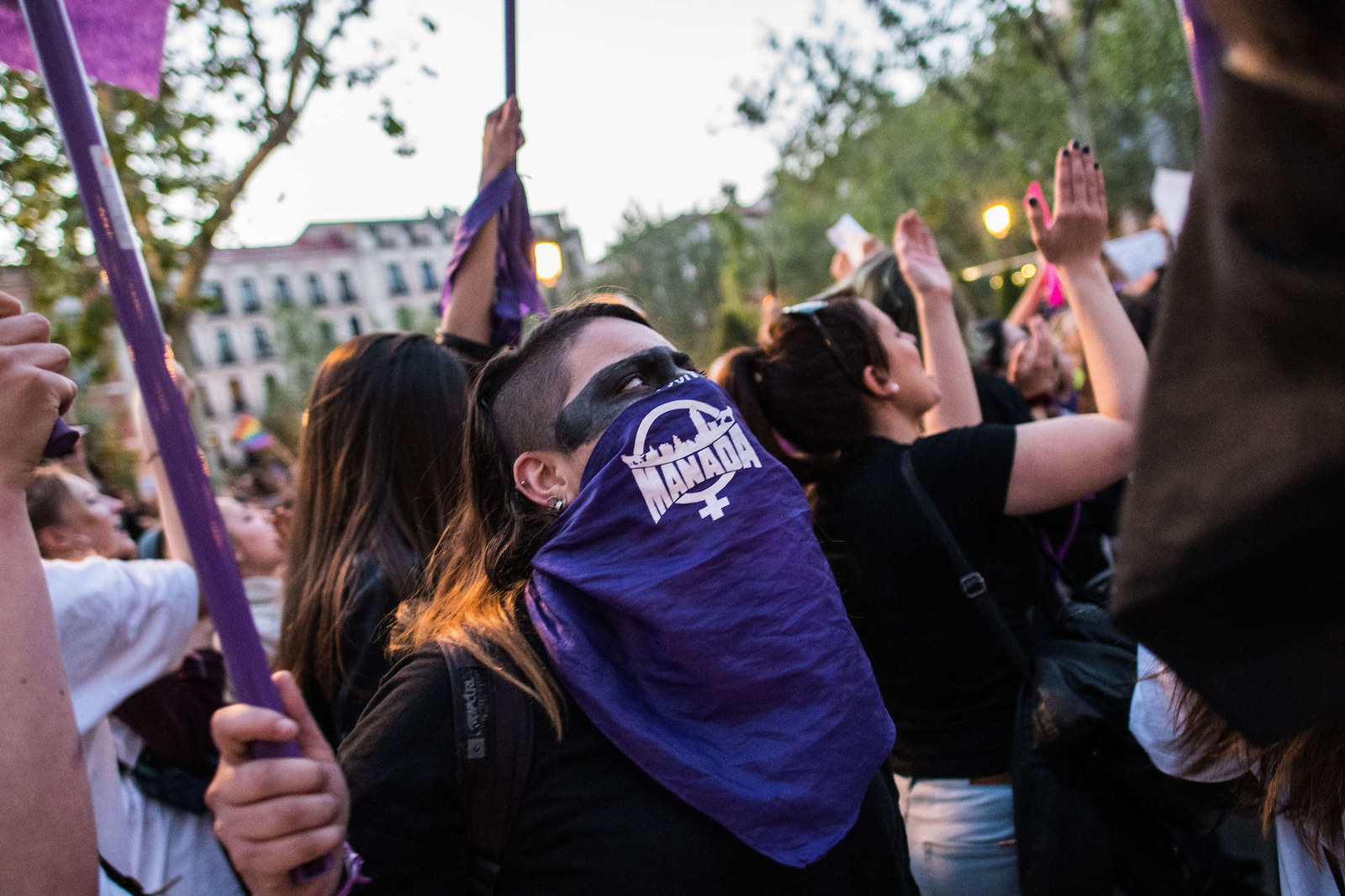 These views were being legitimized by alternative news outlets like Spain's La Tribuna de Cartagena, which published a piece stating "I don't believe you" — a direct rebuttal to the massive Spanish hashtags #YoTeCreo (#IBelieveYou) and #YoSiTeCreo (#IDoBelieveYou). The piece also included the victim's full name, the university she attended, and her photograph.
Tellingly, La Tribuna's director Josele Sánchez also wrote, "It's not that I do not believe that you were raped, I do not believe that you suffered abuse, and I'm also convinced that you enjoyed the orgy."
Sánchez denied publishing the information first, claiming the details were already publicly available. His article was then later amended — removing the identifying information — but the piece remained up. BuzzFeed News has contacted La Tribuna de Cartagena for comment.
The mainstream media coverage of the trial and the subsequent online free-for-all have fed into an unshakeable public perception that something about the prosecution case just doesn't add up.
"People just hear stupid arguments and if it makes kind of sense. They buy it, they say it, they use it," Novo said. "We receive comments every day about how we are making everything up."
Offline, Spain's women are still marching. Thousands regularly pour into the streets, carrying signs emblazoned with #YoTeCreo and calling for justice. But many women in Spain are unsure how to talk to men in their lives and make them understand. "The young men are part of the problem," 18-year-old Nieto said. "We need to educate society, and youngsters as well, because machismo in youngsters is everything." •
CORRECTION
#YoTeCreo means "I believe you." This was mistranslated in an earlier version of this story.