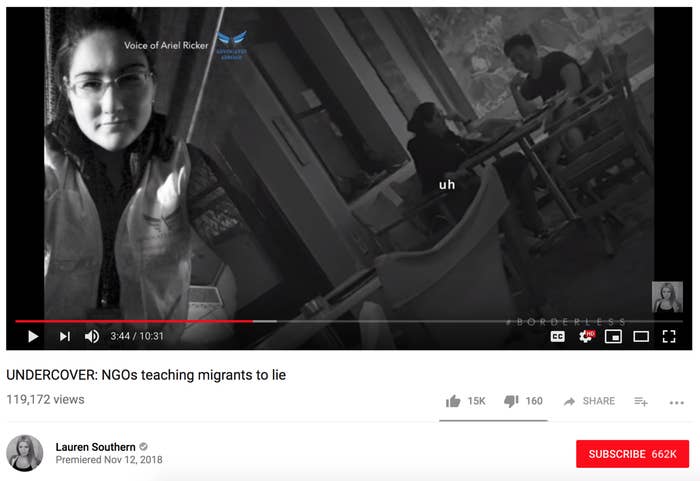 Canadian far-right YouTuber Lauren Southern released a video Monday night that appears to show an NGO worker admitting that she has coached refugees how to speak to immigration officials in order to gain access to Europe.
In the grainy footage released under Southern's Borderless YouTube series, Advocates Abroad executive director Ariel Ricker tells one of Southern's crew, "[The European Asylum Support Office] says, 'This is a refugee in trauma, they have these characteristics,' so we coach people how to have these characteristics."

"We teach them ... how to keep their private trauma private, because all this acting is a shield," Ricker continues. "I tell them this is acting, all of this is acting, it's all acting as though this is theater. So for them to get through they must act their part in the theater, and that is the refugee in trauma, because these EASO officers are so fucking stupid, all they know is written on the paper."
Ricker declined to comment on Southern's video when contacted by BuzzFeed News.
The European Asylum Support Office is in charge of processing claims made by those who arrive on the Greek island of Lesbos. The system has long been criticized by humanitarians for its bureaucratic and drawn-out procedures — resulting in a desperate human bottleneck at Moria refugee camp on the island.

Advocates Abroad has been based in northern Greece since February 2016 and, according to the group, it has run 480 missions in four countries, helping an estimated 15,000 people. The NGO's volunteer attorneys respond to questions and calls for support from refugees and asylum-seekers when the group receives them over Facebook or email. They also have field teams helping refugees on the ground.
It is common for immigration attorneys and advocates to instruct individuals how best to present their case in order to get protections.

Shortly after Southern's video went up on Monday night, Advocates Abroad shut down their Twitter and Facebook pages. Multiple emails sent to the organization have not been returned. In a now-deleted tweet, Advocates Abroad said the clip of Ricker was heavily edited.
"It's raw. We didn't do anything to the footage," Southern told BuzzFeed News over the phone.
Southern said she had reservations about secretly filming the charity worker. However, she believed it was in the "public interest" to have this footage released.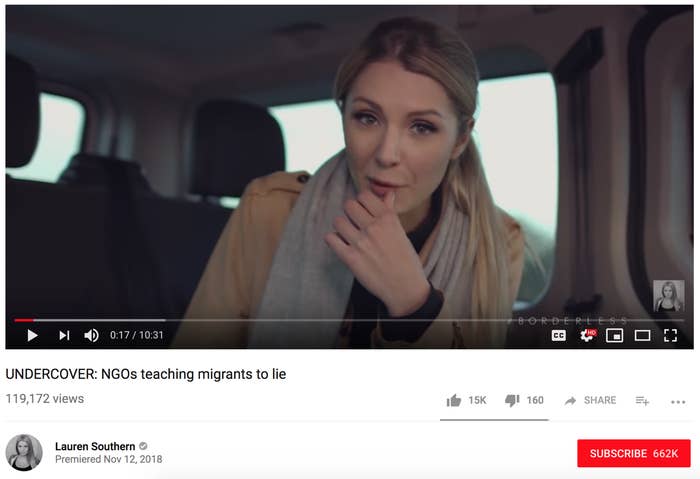 The production of the video, of course, has huge implications for the safety of refugees living in camps across Europe, as well as the NGO workers — the majority of whom are volunteers — trying to manage the crisis.
Southern said that there were conversations among her four-person production team about what kind of effect this would have on the status of NGO workers working in European refugee camps, but said she believed the subject matter was too important. She also said that her team plans to release more footage of Ricker, but wouldn't specify what kind.

Southern's footage has been retweeted almost 10,000 times and viewed on YouTube over 100,000 times. Southern said that her current production team has been using individual donations as their main source of funding. "You don't make any money on YouTube ads," Southern said.
The Moria video was also immediately weaponized by other far-right internet personalities like Stefan Molyneux, Raheem Kassam, and Cassandra Fairbanks. It was also aggregated by Russian state broadcaster Russia Today.
Southern said she had not taken her crew's findings to the Greek authorities. "We will put this story out there, and then the government can respond how they want," she said.
This isn't the first time Southern has tried to disrupt European NGOs attempting to aid refugees. Southern first gained international attention in 2017, when she was detained by Italian police after crowdfunding a small boat and using it to shoot flares at a ship called the Aquarius, a 250-foot-long vessel operated by a charity called SOS Méditerranée and Médecins Sans Frontières (also known as Doctors Without Borders).
When contacted by BuzzFeed News about Southern's video, EASO declined to comment on the clip. But in an email, a spokesperson did push back against Ricker's description of staff as "fucking stupid."

"We strongly reject and regret such crude statements on our personnel working tirelessly to support the Greek authorities," the spokesperson said.
Moria camp has become synonymous with the failures of European states to cope with the arrival of people fleeing war, instability, and poverty. The camp currently houses 8,000 people, according Doctors Without Borders, despite being built for just 3,000.
An estimated 1,500 people live outside Moria in an overflow facility. Women and girls have reported sexual assault in the camp, there are nowhere near enough toilets, and riots are frequent. The Greek police have repeatedly detained and arrested journalists reporting on the camp.

A spokesperson for the United Nations Refugee Agency (UNHCR), who have a long-running presence on Lesbos, declined to comment on the veracity of Southern's video and said that was a matter for Greek authorities.
"Greece has rigorous asylum procedures in place, within a robust legal framework," the spokesperson said. "The majority of asylum-seekers in Greece are families with clear protection needs. In 2018 alone, over 70 per cent of arrivals to the Greek Aegean islands were Syrian, Iraqi, or Afghan and over a third were children."

A spokesperson for the Imagine Project, an NGO that allows Advocates Abroad to use their offices for the group's legal aid work on a different Greek island, said they doubt Southern's video is accurate.
"Rest assured if we do find out that AA has been breaching legal protocol while at our center we will immediately stop their work there," the spokesperson said.