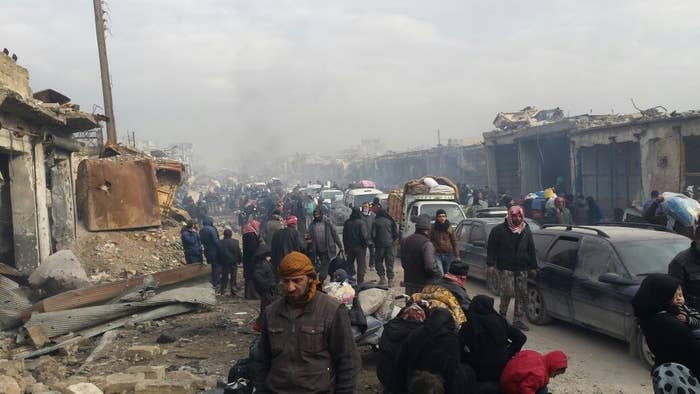 The Syrian government has suspended the evacuation of eastern Aleppo, amid confused reports of pro-government militias attacking a convoy as it headed out of the devastated city.
Around 6,000 people, mostly the injured and civilians, managed to leave the city on government buses and Red Cross ambulances on Thursday. The United Nations warned that as many as 50,000 people still remain in formerly rebel-held territory of Aleppo.
An activist who was waiting to leave the city confirmed to an Aleppo media group on WhatsApp that no one was leaving the eastern part of the city on Friday. "People have been waiting since yesterday morning," he said. "It's so cold and there are no buses at all."
Reporters in Aleppo said ambulances, supported by the International Committee of the Red Crescent (ICRC), were pulling back.
The ICRC's regional director, Robert Mardini, confirmed on Friday that evacuation operations had been put on hold. "We urge the parties to ensure it can be relaunched and proceed in the right conditions," he tweeted.
A Syrian opposition source told news organizations that disagreements between the Syrian regime and its patron Iran obstructed the evacuation numerous times in the last 48 hours.
According to the opposition source, who spoke on condition of anonymity citing the sensitivity of ongoing negotiations, Iran demanded on Thursday that the two Shiite villages of Fuaa and Kefraya be fully evacuated, all Shiite prisoners held by armed opposition groups be released, and the bodies of Shiite militias killed in unspecified battles be handed over.
On Thursday night, armed opposition groups agreed there wouldn't be problems evacuating injured people from Fuaa and Kefraya. But on Friday, Iranian-backed militias allegedly abducted a convoy with hundreds of civilians, most of whom were reportedly children and women.
The exchange of civilians in these outlying towns and villages in still-contested territory was one of the conditions the Syrian government and Iran insisted upon when negotiating the last ceasefire.
Meanwhile, a report on Syrian state television said the convoys had been halted because rebels were trying to leave with heavy weapons, holding hostages, and firing on conveys.
Elizabeth Hoff, a World Health Organization official, told the BBC the orders to halt the evacuation came not from the Syrian government but from Russian forces on the ground, and that there was "no reason" provided.